10 steps: how to get confidence in yourself and your style.
Modern jewelry to complement the elegant style for women.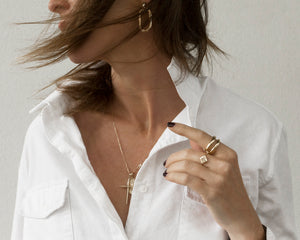 Here you will learn 10 steps to create your individual style, get a piece of advice on how to deal with matching jewelry, and even get inspiring jewelry gift ideas!
Let's start with 10 steps to get confident in your style and therefore in yourself!

1. Learn your body
Knowledge is power. So, the first thing you need: to learn and fall in love with your body and therefor understand what suits you best. If you are aware of what tzpe your figure is, this will help you choose the right clothes to emphasize or hide certain of its features. There are 5 main types of physique:
pear
apple
rectangle
hourglass
inverted triangle
You can easily determine your type, and then follow the advice of stylists for your specific body type.
2. Reflect the personality
Write down a few words that reflect your personality. How would you describe it now? Do you think your style reflects your personality? Learn different styles. What do you like best?

3. What colors inspire you?
Colors can also have a huge impact on your style and your feelings. You can study articles on the psychology of color.
If your style is not rich in colors, you can experiment a little by adding different colors with the help of accessories and see what notes they add to your style and mood.
4. Make an album keeping photos that inspire you
Whenever you see a style you like, take a note or attach a picture on Pinterest. You can make a board on Pinterest or another platform where you will attach your favorite clothing items, images with style details.
After some time, you may be surprised to find that a ready-made style is made up of these pictures. This can become your style, which is better than blindly keeping up with the latest fashion trend.
5. Be critical to your wardrobe
Be honest. What clothes in your wardrobe do you really like? What clothes haven't you been wearing for a long time? What clothes make you HAPPY? Then donate or give the clothes that just lay in the wardrobe without being used. It may be good clothes, but if it does not suit you or your figure, creates a silhouette that distorts your figure, you definitely do not need it. Create, step by step, a small wardrobe, but one that you will love!

6. Make sure every new wardrobe item you buy suits you
I am sure that this happened to everyone: you see a wonderful outfit at an incredibly low price. It does not fit your physique, style ... but you buy it, because the thing is very beautiful or cheap, and the quality is not bad.
This is a mistake. Any outfit that does not suit you will never look good on you.
Therefore, please beware of sales and buy new clothes only when you really like them and they fit properly.
7. Make a diary of your images
You can attach images or take notes about clothes that inspire you, and thus try to understand what clothes make you feel great! Taking photos of yourself and observing your style helps you to analyze more easily how your style develops over time, what you prefer, and what you should work on. In addition, a picture conveys not only a visual image but also a mood, so such recordings can also become a diary of moods, which also depend on how we look and how much we like ourselves.

8. Follow the latest fashion trends only if they match your style.
A truly individual style defies fashion trends. Although it's nice to add trendy things to your wardrobe, you should give preference only to those trends that suit you personally.
9. Basic wardrobe
The appropriate basic wardrobe is different for everyone. Based on the points above, create your own basic wardrobe, which will be easy to complement with time.

10. Pay particular attention to jewelry and accessories.
Having understood the basics of your style, add stylish jewelry and accessories as good spices. Try to add unique notes with them to your style! Accessories are easy to change, combine, and experiment with. What you really should invest in is in a good pair of shoes, an ideal bag, earrings and rings. Here the rule applies: less is better but this 'less' must be truly fine. Jewelry and accessories can be the hallmark of your unique style.
Which of these rules are you following, and which ones will you take note of?
Fashion Jewelry for Women
Here are some finest jewelry pieces to add to your style! Choose what meets your taste best!

Consider the fine necklaces. You can see four wonderful pieces on the picture.

Shiny gold pendant necklace, a seastar charm. Summer jewelry for your elegant look handcrafted of quality 14K gold filled. It comes as a choker necklace, but you can order a longer chain as well. The seastar bead shines as the focal point of the design. It is a beautiful symbol. It represents infinite divine love, stands for guidance, inspiration, and intuition.

A dainty and detailed back necklace is the elegant touch you need for your image! Crystal drop necklace crafted in sterling silver, this charming Y lariat necklace features sparkling crystal accents. Coordinate the piece with a beautiful low back evening dress or choose it as a front Y necklace.
Elegant Necklaces for Women
Romantic gold necklace with a pendant featuring two birds. The sweet birds couple pendant necklace will also be the best romantic gift ever!

14K gold filled choker necklace with a small fish bead. The minimalist style choker looks gorgeous on its own as well as layered with different necklaces. The gold fish is a well known symbol standing for good luck in marriage, relationships. It also represents fertility, abundance and harmony with the flow of life. Make the symbol yours!

Here are cute earrings in the minimalist style that will complement any elegant outfit of yours.

Lovely silver stud earrings, handmade floral jewelry. If you'd like to choose small still eye-catching everyday posts, here they are!
Cute hemp or cannabis post earrings handcrafted of high-quality sterling silver. Hemp is believed to be a spiritual conduit for ideas and creative expression. It is also a symbol of cosmic intuition and spiritual connection.

Long threader earrings handcrafted of quality 14k gold filled, the earrings will always keep the shine. They are lightweight and so perfect for everyday wear, comfy to any occasion. You can also order the earrings in Sterling Silver 925.
Fine earrings
Stylish earrings, tiny skull post earrings for your everyday look. High-quality Sterling Silver studs to add a distinctive note to your image. The earrings are a great choice both for the first and second piercing.
The design features a skull that is a powerful symbol. It is seen as a means of obtaining good luck or avoiding bad luck, as a symbol of toughness, machismo, courage, bravery or indifference to death and danger, as well as a symbol of nonconformity, free-thinking, and rebelliousness.

Geometric style decagon shaped hoop earrings handmade of sterling silver and hammered for shine. Elegant handmade jewelry to make a statement.

One more fine accessory, a delicate ring, a fashionable stacking ring for women. This branch ring is handcrafted in sterling silver and features an adjustable size to fit your finger well. The ring looks great on its own as well as layered with different rings.
Personalized Jewelry for Her
Choose custom jewelry pieces for your style to add something really unique to your image. Personalized jewelry also makes the most beautiful and thoughtful gift ideas!

Have a look at the shiny, personalized sterling silver bracelet with a custom Birthstone crystal. The engraved message of your choice will make the piece unique. I can engrave it outside with a wish, inside - with a secret message - or on both sides for a really lovely gift!
Engraved Bracelets
Sleek and so elegant, this gorgeous name necklace is a brilliant celebration of her birth. Are you looking for an amazing birthday gift idea for your girl? This birthstone necklace is just what you are searching for. The round sterling silver tag can be both sides custom engraved with a name, initials, or a word of love. A birthstone crystal makes the lovely design complete.
Name necklace
Stylish sophistication in the personalized ring for women. An inspirational gift to keep forever!
Handcrafted of high-quality sterling silver, the ring is ready to be custom engraved on both sides. Do you want to send her more than a gift, but an expression of your love and care? Engrave the ring with a quote, some words to motivate and inspire, or just express your love!
Poesie ring
Choose the most beautiful jewelry gifts for yourself and for her that are great to any occasion!
How to combine Jewelry for a stylish look: 7 Tipps
- Try to create exciting contrasts.
In other words, the more feminine your jewelry, the more sporty, masculine, or tough the rest of your outfit might be.

- Do not combine large earrings with statement chains
Huge earrings do not work together with eye-catching statement chains - you just have to decide what of them you choose for a certain look. What always goes well are several filigree layered chains in combination with small stud earrings.
- If you like to layer lots or large bracelets, you should take off the rings and vice versa. Otherwise, the look is simply too overloaded.

- Invest in quality.
The days when people would rather buy a lot of cheap costume jewelry than a high-quality item are slowly over. The trend is going towards high-quality jewelry which is also much more sustainable.
- Mix materials - but carefully.
Mixing different materials works wonderfully if the quality of the jewelry is right. Pay attention to the metal hues, surfaces which should either all be matte or all shiny if you mix gold and silver jewelry.

- Wear rings asymmetrically.
Rings work best if you wear them asymmetrically on your fingers. Two on the right, three on the left, three on the right, none on the left, and so on.

- Try different styles.
Delicate jewelry looks great on some people, bulky jewelry with thick chains may go best for others. I recommend simply being self-critical, trying on different jewelry, and listening to your inner feeling: Is this really the right piece for you or not - no matter if it looks cool on your best friend and no matter what fashion trends promote.

We wish you to create the style to fall in love with yourself again!
Leave a comment
Comments will be approved before showing up.