Wedding Jewelry - Jewelry for the bride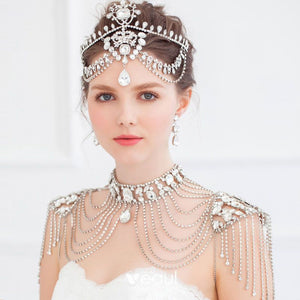 Autumn is certainly a wedding season. Let's talk about the most important woman of the day: the bride. The wedding day is all about her. She wants to be the most beautiful and happiest woman of the day. After all, it's her big day. This is exactly what the bride's jewelry should symbolize.
The do's for bridal jewelry
In principle, the bride can wear any jewelry she likes ;) However, many brides pay attention to the fact that jewelry and wedding dress harmonize well. It is particularly beautiful when the wedding dress and jewelry are kept in similar colors. Warmer shades, such as ivory and gold, go perfectly with each other. If the dress is in pure white, silver is an option, but it is not a must. Because gold is currently experiencing a revival, especially rose gold.
Family jewelry is also an option. But that does not mean that the bride has to wear such jewelry inevitably. Be so honest and speak up if you absolutely do not like this jewelry.

You can also choose your your favorite color for the bridal jewelry as a gem in necklaces and bracelets. Which brings us to the next topic. Necklaces are a popular piece of jewelry for weddings. The necklace and earrings should always be well coordinated. Pearl or diamond stud earrings are particularly popular. They are real artists of variation and go with any other piece of jewelry. Even with the tiara, which has been enjoying increasing popularity again recently.

Hair accessories are playing an important role for more and more brides. It no longer just matters that the hair is pinned up beautifully. On the contrary, many women want to wear loose hair when they say Yes. A tiara requires an accurate hairstyle, whether loose or pinned up. If you want it a little more relaxed, you will surely find what you are looking for in the romantic flower arrangement. Real or artificial flowers are put into the hair, like daisies and small rose petals. An alternative would be wreaths of flowers.

Look at the fine bridal jewelry we offer. The style can be described as minimalist and classic to make sure, it will go with any dress of yours!

Gorgeous white pearl earrings, pure elegance that lasts forever. Amazing stud earrings to add some glam to your look.
These earrings are handcrafted in fine gold filled and freshwater pearls in 2 sizes, small and large. If you are looking for wedding jewelry, these studs are a nice solution. The pearl represents purity, love and sexuality, what else is needed? "A woman needs ropes and ropes of pearls", - said Coco Chanel.
Dainty and detailed, this shimmering back necklace is that elegant touch you need for your image! Crystal drop necklace for her.
Crafted in sterling silver, this charming Y lariat necklace features sparkling crystal accents. Coordinate the piece with a beautiful low back evening dress or choose it as a front Y necklace. Perfect wedding necklace for a bride or bridesmaids!
Natural Pearl earrings, elegant drop earrings for women. Symbolic gemstone earrings as a beautiful sample of wedding jewelry!
These lovely dangle earrings are handcrafted of high quality sterling silver and freshwater pearls in 2 sizes, small and large.
The symbolic pearl jewelry, perfect bridal or bridesmaid earrings! The gem itself has become a symbol of perfection representing purity and love. Pearl symbolizes wisdom, patience and peace as well. The June Birthstone, this makes not just a wedding but also a lovely birthday gift!
Unique choker necklace, a gift for her. Awesome gift for her to birthday, anniversary or wedding!
The sterling silver choker comes with an arrow pendant. The arrow is a well-known symbol standing for swiftness, power, flight, penetration and direction. It is also a romantic symbol of love.
Timeless elegance of pearl jewelry in the form of the pearl bangle bracelet. A delicate gold bangle is complemented with white freshwater pearls. Beautiful combination to complement your elegant outfits or to make a fine gift.
The dont's in bridal jewelry
Of course, the bride alone should determine which jewelry she wears to the wedding. If she feels comfortable with the jewelry, then she has made the best choice. But there are a few style rules that can make it easier for her to choose the right jewelry and make her appearance even more beautiful. And they are connected to a few dont's.

First of all, the bride shouldn't overdo it. What bride would like to run around like a parrot? So coordinate the jewelry pieces with each other. And don't wear too much shimmering jewelry to the wedding. Small example: a large necklace, opulent earrings, bracelets on both hands and a diadem? A little too much, right?

It is also common practice for the bride to wear no other ring than her wedding ring to the wedding. After all, all attention should be on the wedding ring. The only exception: the engagement ring. Of course, she can keep it on and now wear it as a stacking ring with the wedding band.

In addition, you should be without your wristwatch. Because that would definitely destroy the wonderful look that you have created. And so secretly between us, the bride has already saved every minute of the entire day in her head. She doesn't need a wristwatch anymore : )

In general, there is nothing wrong with fashion jewelry. But the wedding can be a bit more sophisticated. That doesn't rule out costume jewelry, but it should be of good quality. In addition to the general appearance, there is another, good reason for this: very cheap costume jewelry can leave marks and discoloration on a hot day. It's certainly not a must-have for the most beautiful day of the bride's life.
Jewelry gifts for the bride
Finally, I have a few recommendations as to which jewelry could be given away for the wedding. The groom, but also wedding guests, can give the bride additional pleasure on the wedding day with jewelry. Popular gifts are stud earrings with pearls or a bracelet that the bride can wear to the ceremony (or to the party afterwards). When the bride and groom start a new phase of life on their wedding day, a charm bracelet can symbolically support this big step.
Personalized jewelry gives a chance to present something really unique, to treasure for years to come.

Look at the beautiful custom bracelet, personalized gift idea. This custom bracelet is crafted of quality 14K gold filled, polished and will be inside, outside or both sides engraved with your message to become truly yours or to make a birthday, anniversary, wedding gift!
Classic, elegant custom bracelet in Sterling Silver or Gold Filled. This will become your favorite one-of-a-kind bracelet if engraved with an inspirational message of yours. It looks fine when stacked with other bracelets as well. Wonderful Christmas, birthday or wedding gift!
Show that your love shines as much as the sparkling heart charm featuring awesome crystals! A personalized bracelet that will become your favorite or will make the best romantic gift for her!
This beaded sterling silver bracelet features a polished plate to be customized as you wish. Add a date to celebrate, the initials of your loved one or a name. You may send her a secret message that will be engraved on the back side of the plate. Wonderful gift to surprise her!

What wedding jewelry piece is your favorite?
Leave a comment
Comments will be approved before showing up.