Very Best Tips: How to Choose 2021-2022 New Year Gifts for Family, Friends and Colleagues. Personalized Jewelry Gifts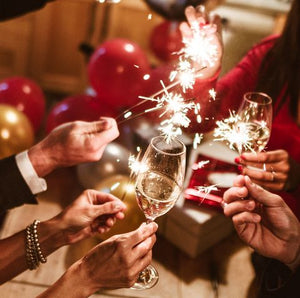 Are you waiting for Christmas and New Year? We all wait for nice gifts, right? But it is worthy not just not create a wish list for ourselves, but also think of gifts for our nearest and dearest.
New Year's celebration comes suddenly: some weeks before the holiday we are starting to plan a celebration, arrange with friends, make a menu for the festive table. Are you going to have a great party? Are you celebrating with your friends, relatives? Are you going to celebrate just with your family? No matter how you will soon look for gifts for the New Year. Of course, you should do it in advance. There is not always enough time to search for presents for all the relatives, friends and colleagues directly before the party.

Start now to look for what they dream about and what they would like to get.
We will help you with useful tips: what to present for the New Year 2020 and how to surprise your loved ones.

New Year 2020 is the year of the White Metal Rat. Therefore, there are a lot of souvenirs featuring it, all are shiny, catchy, positive.
Pillows or blankets with a pattern, knitted souvenirs with the symbol of the year, figurines, Christmas decorations, bizarre candles covered with silver sparkles, etc.

In the year of the Rat, such shades should prevail - white, gray, silver, beige. Choose shiny home decor, as well as gift wrapping in the colors. Pick up a metal color or iridescent package. Wrap with silver patterns, ribbons and a large white bow.
New Year 2020 gifts - most popular ideas
So what gifts can you choose for the New Year? As a small souvenir for guests, you can choose something themed. You can also look for unusual creative gifts that will remind them of this holiday for a long time, or make handmade souvenirs.
It's better to start your search with a gift list for the New Year. Knowing what to look for will save you time and effort.
Read here what gifts can be bought for parents, friends, colleagues, children for the New Year and make your shortlist.

We invite you to consider the most popular ideas for New Year's gifts in 2020:

For colleagues
It is better to choose a gift that is practical. Notebooks, business card holders, pens, tea or coffee sets, wine. You should choose useful things, taking into account the habits or character of each of the colleagues. For example, for women these could be aroma lamps, dishes, household items, and men will appreciate cigarette cases, ties, USB flash drives or headphones.

Parents
Look for something that embodies homeliness. A warm bathrobe, a self-made cake, decor for the home, bedding. Mom can be given personal care products, jewelry, cooking tools, bags, etc. For your father, look for something from the technique (for example, a tablet), a wallet, a warm scarf. For both mom and dad, cook something, or order what matches their hobbies, if they travel, arrange a trip for them, or arrange an evening in their favorite restaurant.

A New Year's gift to your nearest and dearest: husband or wife should symbolize your love, attention, and care.
You may ask what he/she wants, but it is better to observe his/her interests in advance and to choose the gift by yourself. Many men dream of a helicopter or a radio-controlled yacht, so you can please your husband even with such toys for fun, don't be too serious; wives often dream of not practical nice present (for example, a funny toy) or something exquisite, emphasizing her beauty, a personalized jewelry piece, specially for her.
Silver (gold or platinum) jewelry, perfume, a stylish scarf or a trip ticket for two of you - it's a win-win option!
Young couple
If you are going to celebrate the holiday with your best friends who are just married, give them something romantic. This could be a custom jewelry piece. Choose a unisex design, and order bracelets or rings with the same engraving. This can be something really simple, like initials, their names, or the wedding date. Or you can add some phantasy and choose a really unique personalizing. This can be a soundwave engraving. What is it? You may record a piece of their wedding song, get a picture of it and engrave on the rings for both of them. You may also find the GPS coordinates of the place, they both are dreaming to travel to, their travel destination, and engrave the coordinates on the bracelets with a wish to make this trip true.

Children
When choosing a gift for children, it is important to focus on age and gender. For example, for a boy under 10 years old, toys-superheroes, board games, and radio-controlled cars would be great. A teenage boy will appreciate a gift that matches his hobby. For your grown-up son, choose a new phone, camera or other technic stuff he is dreaming of. Little girls love to play with dolls, so you can give them a new toy for their collection or toy furniture. They will like any bright soft toys: they can be picked up in the New Year theme. For young fashionistas, choose makeup, jewelry or pretty clothes. Is the daughter interested in photography? Choose a polaroid camera or photo book of her favorite artist, she will be delighted!

To any gift add some simple but funny New Year 2020 stuff: Christmas decorations, calendars, candlesticks. They are not expensive but suitable for people of all ages and status, and what is important - add that festive atmosphere.
Do it yourself New Year gifts
Gifts that always speak from the heart - DIY crafts. They can be made of cardboard or paper (for example, create thematic cards for each guest), textiles (toys, decorative pillows or tablecloths), decor (decorations for a home or a Christmas tree), jewelry (bracelets or earrings, etc).
Looking for creative and useful Christmas gifts? Try to make them by yourself: you can save time, money, and express your soul in crafts.
One of the interesting ideas is pillows for the home. Making them easy. Knowing what your family's interior looks like, you can pick up a festive fabric design. To make such a pillow associated with the New Year holidays, choose a pattern with Christmas trees and snowflakes. As the rat is a symbol of 2020 according to the eastern calendar, so a similar approach can be applied to decorating blankets, tablecloths, plaids, curtains, and other textile items for the New Year.
In accordance with the symbol of the coming year, you can make your own Christmas gifts for children. These can be not only toy rats but also Christmas trees, snowmen, Santa Claus and other characters.

What can be presented for the New Year from fabric, except for toys and pillows? Housewifes would be glad to get cute handmade bags for storing cereals, bottle covers, kitchen towels.

A photo frame decorated with stones, beads, ribbons, sparkles will also become a lovely decorative gift for the home. You can put a family photo or a picture from a trip if you are going to hand it to friends.

Photo collages, accessories with a pleasant aroma (for example, decorative candles with a relaxing effect), origami paperboard for home decoration, handmade Christmas trees made of cardboard, wood or fabric - nice DIY gifts for every house.

You can also cook something special if you go to your friends' party. You can bake a delicious cake or pie, decorated in the New Year's style. You can also cook it with your children: then both children and your friends will be doubly pleased. Another idea is to bake the sweet symbol of 2020. You can cook gingerbread cookies in the form of a rat.

Here is one more option of a delicious gift - tangerine jam in a decorated package. Instead of tangerines, you can use other useful exotic fruits. It can be prepared long before the New Year to save energy during the festive fuss.
Unusual chocolate figurines make another tasty and easy to implement idea. These and other sweet gifts for the New Year 2020 can be wrapped in bright packaging or placed in boxes wrapped with ribbons to make them look even more festive.

Giving Christmas and New Year gifts is one of the finest traditions. It is enough just to recall your childhood and emotions experienced when you were getting gifts. Fortunately, this custom does not lose its relevance, because giving New Year's gifts is no less pleasant than receiving, not only for children but for adults.

Giving gifts is the tradition that began so long time ago that historians still can not give a definite answer when exactly it all began. The first known references originate from the times of ancient Egypt. The people celebrated the New Year and also had fun while exchanging small presents. The holidays lasted the whole month in September.

To celebrate the New Year in January was the tradition of the Romans that came up during the time of Julius Caesar. It was then that the tradition of presenting New Year's gifts began to appear in a more familiar form for us. People decorated their homes and celebrated the coming of the new year.

Do you love the tradition? And how do you choose gifts?
Leave a comment
Comments will be approved before showing up.