Unique Personalized Jewelry Gift Ideas for Valentine's Day 2021.
10 interesting facts about Valentine's Day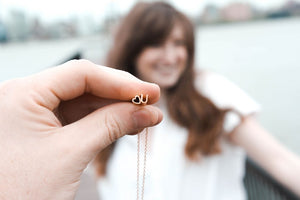 The most romantic day in the year is coming. It makes sense to think about a gift for your loved one in advance! Don't take the decision at the last moment, choose or create a special gift now to make sure, your gift will be treasured. This brings a warm and just good feeling to make a gift that will make her or his heart smile!

Custom jewelry gives you a chance to get something really special and one of a kind for your romantic gift. Of course, a heart symbol takes a special place among other love symbols, but not only this makes a win-win gift idea. Here you will find some wonderful personalized jewelry gift ideas for him and for her.
Gifts for her
Have a look at the beautiful personalized bracelet with a sparkling crystal. The finest sterling silver 925 metal plate is a shiny background for the engraving of your choice. These may be any words, dates, names or GPS coordinates of the place you have met, married or dream to live... The coordinated engraving idea makes the gift really special and touching!
Cute ring with hearts. Fashioned in sterling silver, this band ring features a shiny finish to showcase the engraving of your choice. Add the engraving of hearts outside and some words of gratitude or inspiration inside. This will become her best love ring telling about your feeling. Moreover it's an adjustable ring, great gift idea!
Here is amazing love bracelet, a shiny sterling silver cuff ready to be customized with a special message of your choice. A small heart charm adds even more charm to the piece and together with your love message, it makes an one-of-a-kind gift for her!
Here is a gift you can give to your best friend just to show how much you appreciate the friendship you share. Romantic, cute earrings, open hoops. These are heart earrings handmade of high quality sterling silver. The earrings will add a romantic touch to any wear. Lightweight and comfy, the earrings are great for everyday wear.
Show that your love shines as much as the sparkling heart charm featuring awesome crystals! A personalized bracelet that will become your favorite or will make the best romantic gift for her!
This beaded sterling silver bracelet features a polished plate to be customized as you wish. Add a date too celebrate, the initials of your loved one or a name. You may send her a secret message that will be engraved on the back side of the plate. Wonderful gift to surprise her!
Custom charm gold bracelet. Small sweet charms make the delicate bracelet romantic and one-of-a-kind. The gold filled always keeps the warm shine and the color. The heart and leaf charms will be engraved with initials you want. Perfect gift for her!
Gifts for him
Send him a unique message fo love! You can also order the rings for both of you. Created of quality sterling silver, the wonderful couple's style band rings make a fine gift for her and for him. Customize them both inside and outside with a custom soundwave engraving! Record your message or heart beating to tell about your love and I'll engrave the waveform.
Are you looking for a gift to remember? Consider this personal EKG bracelet, a stylish men's cuff.
The modern bracelet is handcrafted of high quality sterling silver metal. It features an oxidized black finish, but you may also order a shiny silver one. The cuff can be engraved on both sides with a unique engraving! Send me a cardiogram to engrave the band with heart beating. This could also be a romantic gift with your heart beating engraved, saying your heart is beating in unison with his! I can engrave a hidden message inside the bracelet as well!
Choose engraved gifts for men to treasure forever! This love bracelet is just such a one!
Please have a look at this custom made Sterling silver cuff bracelet with Love engraved quote, or write me a message with your text of love! The handcrafted of high quality sterling silver wide bracelet features a shiny finish. Perfect base for your unique personalizing. You choose, how your engraving will look, just write me your idea! I can engrave the band inside as well! Make the best gift ever!

10 facts about Americans on Valentine's Day
1. It turned out that women spend half as much on gifts as men. The average man spends about $ 150 on a gift, while a woman spends only $ 85.
2. The biggest amount of condoms is sold on Valentine's Day. One of the manufacturing companies calculated that on this day the demand for this product grows by 25%.
3. Pregnancy tests are most often bought in March. Valentine's Day with its romantic mood don't pass by without any signs.
4. On Valentine's Day, postmen are very busy - they have to deliver tens of millions of greeting cards (valentines).
5. Valentines are also given to pets. Lonely people express their love to their pets, not just giving them some tasty things, many valentines are bought for the purpose too.
6. On Valentine's Day, romantic gifts for wives and husbands are not most popular and expensive ones. Although it is generally believed that generous gifts on this day are caused by romance, research has shown that the most expensive gifts are given to teachers, children, mothers, and then only to loved ones.
7. These are women who buy most Valentine cards.
8. 70% of men prefer to give flowers to women, rather than any gifts.
9. Japanese marketers have formed the opinion in the country that there is no better gift than chocolate, so women in Japan expect a chocolate gift on this day.

10.15% of American women send flowers to themselves on Valentine's Day. Funny and a bit sad, isn't it?
Funny facts about Valentine's Day
1. Sweet love
The most common Valentine's Day gift is chocolate, especially if it's a gift for a woman. Why is this product so popular? Well, maybe it's because chocolate is a well-known aphrodisiac. Did you know that the legendary lover Casanova ate much chocolate according to the legend to increase his male strength?
2. The holiday
We have been celebrating Valentine's Day for a long time. But do you know when exactly the history of this wonderful holiday begins? In fact, a similar holiday was celebrated in ancient Rome. The festival honored Juno, the Roman goddess, the patroness of women and marriage. Just a few centuries later, King Henry VII of England officially declared February 14th as Valentine's Day.
3. My heart will go to ...
Have you heard the English expression "wear one's heart on one's sleeve"? This phrase is also associated with the holiday of all lovers. In the Middle Ages, on this day, girls and boys wrote names on pieces of paper and threw these sheets into a jug. Then each took out one piece of paper and recognized the name of his or her betrothed. They had to wear the name they chose on their sleeve for the entire week.
Maybe you should revive this long tradition and choose your soul mate in this way? What do you think about it? ;)
4. The best gift ever
Every year on Valentine's Day, lovers give each other countless gifts. But do you know which gift is the most impressive gift that has ever been given to honor love? You will probably be very surprised now, but this is the legendary Taj Mahal mosque in India. This architectural masterpiece was built by the Indian prince Shah Jahan in honor of his beloved wife. So what are you going to give to your loved one this year?!
5. Roses, keep it up!
It is very popular to give flowers on Valentine's Day. And what kind of flowers are given most often? Well, of course, red, scarlet and burgundy roses, which are a symbol of love and passion. Did you know that every year on Valentine's Day, several hundred million roses are sold around the world?
6. Color matters
Do you know that the color of the rose that you give your soulmate for Valentine's Day has a special meaning? Red roses symbolize love and respect, pink roses indicate your partner's voluptuous thoughts, and white ones represent purity. By the way, not only the color of roses, but also their quantity is of great importance. One bud speaks of love at first sight. A bouquet of 12 roses means "I love you". A bouquet of 108 roses is presented along with a marriage proposal. And when your beloved gives you 999 roses, he thus says that he wants to always be with you. Yes, I would like to see how you bring a bouquet of 999 roses to your home!
7. Strange love
Did you know that about 3% of pet owners give gifts to their beloved pets for Valentine's Day? A bit weird, don't you think? But can we judge at last? If you also plan to give something to your pet on this day, then give it some tasty treat or an interesting toy. The fluffy one will certainly appreciate it!
8. Let's get married
People often say that true love is hard to find. However more than 100,000 marriages happen in the world every day. Have you already guessed on which day most people decide to get married? Well, of course, on Valentine's Day! Maybe this year Valentine's Day will bring you good luck too?
9. Let's talk about love
Since Valentine's Day is considered the most romantic day of the year, let's talk a little about love. Do you know how long it takes a person to fall in love? Five minutes? Day? Or maybe a whole year? No! A person falls in love in just five seconds, because love is just a chemical reaction!
Leave a comment
Comments will be approved before showing up.