Trendy Stud earrings: what is up in the jewelry trend? Fashionable studs for women and men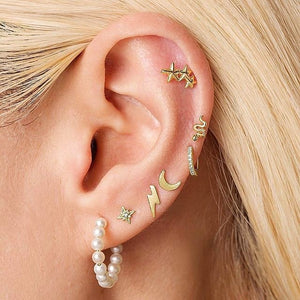 Studs are usually considered comfy and easy and therefore not that sexy, but in recent years the love for studs has only grown. We are sure, studs are much more than written above and: Stud earrings are the jewelry trend you should wear this summer!

After all, timeless style cannot be blamed. Stud earrings with an earring that sits on the earlobe and does not hang from it are a real favorite of every accessory lover. These are usually the first type of earrings a man or woman can wear and are known for their ease of wearing and matching. They are not too flashy like chandelier earrings and don't get as much attention as hoop earrings. But that doesn't mean they can't make a statement. Whether it's a classic or bold style, I've chosen some samples of the studs you can enjoy wearing this season.

Probably the classic stud earrings were your first earrings, and it makes sense as this accessory is timeless and extremely comfortable to wear. In their simpler form, classic stud earrings are usually made from simple gold or silver studs, but in their more complex form, they can include diamonds, gemstones, or even symbolic stones. The classic studs provide an elegant look that always goes well with any style.

Here are Sweet gold studs, leaves earrings. They are made of quality gold filled 14K. Perfect earrings for everyday wear.
Amazing Medium Stars Earrings. Your best Silver Star Studs! Looking for everyday earrings? These solid sterling silver studs are hypoallergenic, great for everyday wear. The stars add that lovely shine to any outfit and any occasion.
Make the gift with the studs for your sister, daughter or best friend with the wish to shine bright as a star!
You have probably already heard, that Pearl earrings are in fashion again.
Pearl jewelry was revived back in 2020, but now the pearl look is experiencing a whole new hype. But don't worry, this does not mean that you necessarily need to buy black dresses and elegant suits for that jewelry. Designers provide various styles where they implement pearls. Thus you can find appropriate designs almost to any wear of yours. It's that magic of pearls..that gives its incredible luster to everything it touches.

Don't know what to start with? We come here to the studs again!
Choose pearl studs!
Gorgeous white pearl earrings, pure elegance that lasts forever. Amazing stud earrings to add some glam to your look.
These earrings are handcrafted of fine gold filled and freshwater pearls in 2 sizes, small and large. If you are looking for wedding jewelry, these studs are a nice solution. The pearl represents purity, love and sexuality, what else is needed? "A woman needs ropes and ropes of pearls", - said Coco Chanel. Pearl is also the Birthstone of June, the best birthday gift for her!
Dark pearl studs. The little studs are crafted of quality gold filled and black pearls. The pearls feature awesome luster and will add a charming touch to your style! Pearl jewelry is always in style!

If one pair of studs seems boring to you, choose the style that consists of multiple stud earrings, for those with multiple pierced ears and who want to have some fun while wearing them. A trend that has slowly gained its attraction, seen by both celebrities and fashionistas, and aimed for a subtle yet interesting expression of their personal style. It's about choosing fun and vibrant designs that can be paired or kept elegant and discreet with a set of classic posts. Just be careful not to overdo with that 'crowding'.

Lovely silver stud earrings, handmade floral jewelry. If you'd like to choose small still eye-catching everyday posts, here they are!
Cute hemp or cannabis post earrings handcrafted of high quality sterling silver. Hemp is believed to be a spiritual conduit for ideas and creative expression. It is also a symbol of cosmic intuition and spiritual connection. The earrings are perfect to go with any wear to any occasion!

One more style is personalized studs presenting your name, initials (or your lover's one) in a new way. Studs may feature letters or even words, and of course, draw attention in this lovely way.
Simple yet interesting everyday stud earrings. Quality sterling silver studs that are ready to be engraved with a monogram of yours! Nice gift idea to any occasion.

Stud Statement

While stud earrings are regarded to be much less "distinctive" than other earring styles, stud earrings can also be eye-catching, feature abstract shapes... and of a bigger size, though this doesn't really matter when it comes to statements!
Stylish earrings, tiny skull post earrings for your everyday look. High quality Sterling Silver studs to add a distinctive note to your image..
The stud earrings are a great choice both for the first and second piercing.
The design features a skull that is a powerful symbol. It is seen as a means of obtaining good luck or avoiding bad luck, as a symbol of toughness, machismo, courage, bravery or indifference to death and danger, as well as a symbol of nonconformity, free-thinking, and rebelliousness. Choose the posts right now!
Fine studs for men
Here are most popular designs of stud earrings for men.

Diamond CZ studs for guys, Sterling Silver earrings for him. Shiny accessory for men. The small earrings for men are crafted of sterling silver and clear cubic zirconia crystals in 3 sizes. Be sure, the studs are comfy and so perfect for everyday wear. Cool accessory for guys to complement any style!
Minimalist style black earrings for men. Gem stud earrings! These nice studs are handcrafted of 925 Sterling Silver and black Onyx. The lovely and comfortable earrings go perfect with any wear style. Wonderful gift idea for your boyfriend who appreciates cool modern accessories!
Shiny diamond shaped stud earring. Elegant jewelry to complement any outfit in any style. The sterling silver stud earring is designed in a unisex style. Great both for guys and girls, for the first and second piercings!
To put on the earring you just need to open it and then press it tightly a bit. Choose quality jewelry to enjoy it every day!
How many studs do you have in your collection and what is your favorite style?
Leave a comment
Comments will be approved before showing up.