Top 10 amazing bridesmaids gift ideas. Stunning facts about Wedding Traditions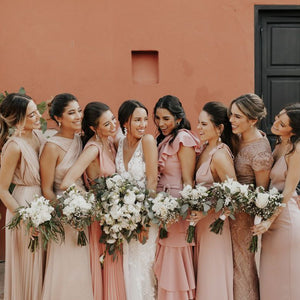 Wedding Saison is right here! Nowadays a wedding celebration is getting more and more Hollywood style everywhere .. Beautiful decor, thoughtful colors, and floristry... There are a lot of beautiful wedding traditions. Here we will tell about that connected with bridesmaids. Those are very special girls at the wedding. And they deserve a special treatment.

As a sign of gratitude, nice gifts are usually given to bridesmaids. I have put together some cute gift ideas, both big and small, that will for sure delight your girls. So, the hot wedding season is here, and if you have a truly Hollywood wedding with bridesmaids and all the attributes, then these ideas will definitely be useful for you.

There is a variety of gift options for beauties, including jewelry, bags, and other fashion accessories. You can also choose customized gifts that can be personalized with engraving, symbolic stones, photographs. Here are 10 ideas so that not just you, but also your closest friends shine with happiness on your wedding day.
Unique jewelry gift ideas
10 stunning gift ideas for bridesmaids
Silk sleep mask
A beautiful pure silk sleep mask is what your friends need for relaxation. You can choose a classic mask, or you can find one with a funny inscription or pattern, suitable for the occasion.
Another bag
Let's be honest, there are never too many bags. If your budget allows, and you can buy quality handbags for your girls (how many of them you have there), perhaps this is an off-budget option nothing can compare with. These can be clutches that will complement their outfit at the wedding. Choose the favorite color of each of the girls, and if you choose handbags to match their dresses, then let them be decorated with a symbol for a unique, memorable gift that they will cherish for many years.
Diary of an adult girl
The tradition of keeping a diary has changed its forms 100 times but has not disappeared. If your friend writes down her thoughts, loves to keep diaries, a beautiful diary will definitely delight her. There are many options for fitness diaries, notebooks giving inspiration, with reproductions of paintings by famous painters, which will delight not only little but also adult girls.
You can also order a special diary, personalized with her name or embroidered on the beautiful fabric cover words, which will become her new motto.
Candle
Depending on her birthday, present her with a candle with the symbols of fire, earth, air, or water that will sync with her astrological sign. Manufacturers offer many unexpected flavors: coconut, pink pepper, orange blossom, charcoal, and clove. It can be a stand-alone gift or part of a relaxation gift set, completed with bath salts, masks, and a nice playlist for candlelight nights.

Pajamas
Do you want to present gifts not on your wedding day, but at a bridesmaids party? Have a pajama party and present the girls with cool soft pajamas made from natural materials in warm colors.
Personalized jewelry
Choose bracelets for your friends and order the engraving of a word or quote that matches each of them. These can also be words for motivation or inspiration. Or choose a ring, earrings with their initials engraved. How about an initial pendant necklace? Choose jewelry in a minimalist style, then a bracelet or earrings will definitely become her constant companion and favorite jewelry.
Custom jewelry for her
Cosmetic bag
It will definitely come in handy on the wedding day, where your friend can put all the essentials there: lipstick, mirror, hairpins, jewelry, and a phone. When giving her the makeup bag, fill it with fun knick-knacks or personalized gifts and a thank you card.
There is an ultra-chic accessory, something between a clutch and a cosmetic bag. The envelope clutch is elegant enough for bridesmaids to wear on their wedding day. Practical or not .. but it's a delight, how cute it is!
Insta-camera
Again, not a budget gift. But these cute cameras, which are both a camera and a printer, a magical and fashionable accessory, will add fun already on your wedding day when your girls will click and immediately reveal moments that will remain in your memory and theirs forever!
T-shirts with an inscription
Order the same bridesmaids' party T-shirts with a fun inscription or a funny themed pattern for all the girls.
Wine set
Present the girls with a basket with a selection of good wines. It is not necessary to explain why this gift is a good idea, right?
Share your experiences or ideas! Or maybe you have a wedding soon? Have you taken care of gifts or are you waiting for gifts by yourself? ; )
Custom Jewelry Gift Ideas
Here are more wonderful personalized jewelry gift ideas your friends will simply adore! Personal, lovely, and with a unique touch!

Ready to wear at a moment's notice, this personalized initials bracelet is a charming finish to your fun and flirty attire! Custom monogram cuff for ladies. Handcrafted in high-quality gold-filled, this dainty design is ready to be both sides engraved. Customize it with a one-of-a-kind monogram made of your initials outside and a hidden message, inside engraved.
Wonderful bridesmaid gift idea!
Gold cuff
Uniquely personalized for you cuff bracelet, a fine sterling silver bangle. This sterling silver cuff is shiny, eye-catching, and just perfect for stacking. Touch her heart with the inspirational bracelet, engraved with a motivation quote, names, or a secret confession inside.
Custom silver cuff
Special romantic gift idea, beautiful Initial necklace. The piece is made of gold filled and comes with cute leaf and feather charms. Each charm can be personalized with an initial. The infinity sign - one of the most beautiful meaningful symbols - compliments the necklace beautifully and turns it into a romantic gift for her!
Initials necklace
Personalized thumb ring in Sterling Silver. Fashionable accessory for her.
The wide ring is handcrafted of high-quality Sterling Silver 925. Add some shine to your hand and overall style! The thumb ring can be personalized with any engraving you wish. The custom ring is adjustable and makes a perfect gift!
Engraved ring for her
Surprise your mom with this precious customized ID necklace. Crafted in sterling silver, this child's name style necklace is centered with a petite name tag personalized with the name you choose.
The sterling silver necklace looks awesome. Polished to a bright shine, it secures with a spring-ring clasp. The custom tag is engraved with a name, date, or words, but not only: I can engrave it on both pendant sides. A tiny crystal complements the design.
Birthstone pendant
Fine birthday zodiac sign pendant necklace. A delicate sterling silver chain comes with a round pendant that is ready to be both sides personalized - with any zodiac sign on one side and with initials, a name, text - on the other side. A charming gift to remember!
Unique gift
Oe-of-a-kind soundwave bracelet to become your favorite piece. A delicate chain comes with a polished hammered plate to be engraved for you. I can engrave it with a Voice Recording.
Soundwave bracelet
What of the pieces you would choose for your best friend?
Stunning Facts about Wedding Traditions you didn't know before

1. Engagement and wedding rings are worn on the ring finger, as it was once assumed that a vein in this finger leads directly to the heart.

2. Queen Victoria put the beginning of the trend for white wedding dresses in 1840 - before that, the brides wore just their best dresses.

3. Similar dresses for bridesmaids also have an ancient origin! The tradition of choosing maids similar to the bride goes back to Roman times when people believed that evil spirits would come at the wedding to curse the bride and groom. Bridesmaids had to dress exactly like the bride to confuse the spirits and bring good luck to the marriage.

4. Likewise, brides traditionally wear veils because the ancient Greeks and Romans believed that they protected them from evil spirits.
5. The bride's custom of wearing "something old, something new, something borrowed, something blue" comes from the old English rhyme. Something old stands for continuity; something new inspires optimism for the future; something borrowed symbolizes borrowed happiness; something blue means purity, love, and loyalty.

6. The wedding cake tradition comes again from ancient Rome, where the guests broke bread over the bride's head for the sake of fertility.

7. Do you. know where the phrase "tying the knot" comes from? In many cultures, including Celtic, Hindu, and Egyptian weddings, the hands of the bride and groom are literally tied to demonstrate the couple's connection to each other and their new bond.
8. It is according to tradition, the groom carries the bride across the threshold to bravely protect her from the evil spirits.

9. June weddings are popular for a reason. The Roman goddess Juno rules marriage and birth.

10. Honeymoons weren't always like today, that luxurious. Old Norse couples hid after marriage for a month, and family members brought them a cup of honey wine for 30 days - or one moon - so the term 'honeymoon' appeared.
Leave a comment
Comments will be approved before showing up.