Tips for choosing Christmas presents: creating the checklist and the best personal gift ideas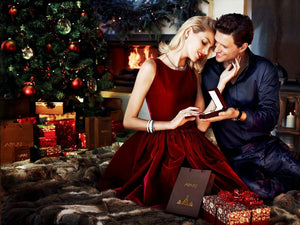 Instead of being under stress, you should be well prepared when choosing and buying your Christmas gifts. Then it will bring that Christmas mood and fun! I have here for you not only a great variety of gift ideas to choose from but also a small but fine checklist. If you have in mind the following points, nothing can go wrong!
Checklist for Christmas Gifts
Budget
Before you order, set your budget and stick to it! So nothing can get out of hand and many decisions are made automatically based on the price tag.

The list of recepients
List who you would like to give gifts to and tick off as soon as you find an appropriate gift. This allows you to keep track of things and avoid unintentional orders.

Deadline
Start looking for Christmas presents at the right time! It is best to set a deadline, a point in time when you would like to have all the presents in your gift bag.

Plan
Don't leave anything to chance! Don't just buy your Christmas gifts at random, but proceed carefully and make notes.

The best thing to do is to create a simple table, similar to a schoolchildren's timetable, and write down the name of the recipient, the type of gift, and the budget planned for it. You can also save the list for the next year - so you can keep an eye on the Christmas gifts of the past and don't get caught up in embarrassing similar purchases.

Christmas gifts for everyone
Custom Jewelry Christmas Gifts
Christmas gifts are sometimes a terrifyingly wide field! They can be anything, for example, razors, socks, toy cars, or vouchers. The big choice of possibilities for Christmas presents may turn into unpleasant stress, cause it's just too much sometimes to deal with all the possibilities!!

So that you can take it easy, our ultimate guide for Christmas gifts gives you a good overview: I will introduce you the best Christmas gift ideas and provide you with many practical tips on how to choose the right gift for every occasion.
Christmas gifts for men
It is often said that men are easy to please. Beer, football, and something tasty is by no means the realization of all dreams for every man. Nevertheless, there are of course a few things that are particularly suitable as Christmas gifts for men and usually also get positive feedback.

Most men love gadgets. Technology of all kinds is generally welcomed, it can be the latest electronics or a new tool. Blu-ray players and drills are real classics among Christmas gifts for men, which rarely fail to make an impact!
When choosing the technique, of course, the interests of the man should always be taken into consideration; a man who doesn't share the interests of a craftsman will not be able to do much with even the most sophisticated power tool. So first, make sure, the man is really a technique fan, don't choose some technics just cause it's a gift for a man. Also, high-quality technology is usually not that cheap and therefore must be chosen with consideration.

If you want to give something memorable, one-of-a-kind, consider personalized jewelry for men. Here you can try yourself in a role of a jewelry designer, cause it's you who decide for a final design. Pick up a thoughtful engraving that may become a moto or a protective mantra for the whole year to come.

Here are some fine jewelry gift ideas for you

Surfer gift idea, fashionable leather bracelet with a personal touch. Custom engraved gift to remember!
The adjustable bracelet is crafted of top quality leather in black or brown color and stainless steel metal. This is a custom bracelet that will be unique as you choose the engraving. It can be customized with a date, names, or a motivational quote. A special symbol can turn it into the best gift for a surfer, or Ocean lover!
Wonderful jewelry as a fine Christmas gift idea!
Custom bracelet for men
Wide Pinky Ring for Men. Fine Anniversary Gift for Him, engraved jewelry for men.
This engravable gold filled band is a perfect wedding, statement, or couple's ring. Measuring 13 millimeters wide with a comfort fit shape, you can wear it all day. This is a unisex band available for both men and women. Personalize it on both sides: with some motivation, a love quote or just a wish!
Ring for him
Noble drinks, which are very popular as Christmas gifts for men, are always welcome. A fine whiskey or wine makes a lot of difference, but of course those are the wrong choice for convinced non-alcoholics. So before choosing drinks or some snacks, learn, if your friends are vegetarian or vegan-oriented, what they drink and not.

Vouchers for a special event are also nice Christmas gifts for men. This can be a ticket to a soccer game or an unusual adventure trip, for example, a jump with a parachute or a ride in a racing car. Of course, different personal likes and tabus should also be considered even with this type of gifts that seem to be universal.

A pleasantly fragrant aftershave or a high-quality perfume provides an intimate touch. Girlfriend and wives also benefit from such Christmas gifts for men - after all, it is much more pleasant when the man smells good.
Christmas gifts for women
Every man knows that women are very special, and so each woman requires a special gift with a special attitude. However, here the rule is the same: Christmas gifts for women also depend on their preferences.

Many women love jewelry and are usually very happy about a tasteful necklace, bracelet or wristwatch. The whole thing can be combined with a candlelight dinner and a beautiful bouquet of flowers to create a unique gift arrangement.
Order a custom jewelry gift in advance. Bracelets or rings engraved with a secret message are very romantic! Engrave some words of love just for her eyes, inside the ring or cuff, and be sure, such a present just can't leave indifferent.
Here are beautiful personalized jewelry gifts for women

She'll be reminded every day how much she means to you with this cute bracelet. Gorgeous gift idea for women to anniversary, birthday, or any other occasion.
Lovely cuff bracelet handcrafted of high quality sterling silver. Add your engraving to make the design personal: some meaningful words, a wish, or an inspiration quote. Prepare a fine girlfriend gift with a secret message inside inscribed. Beautiful gift, the cuff features an adjustable size and so will certainly fit!
Christmas gift for her
Dainty and detailed, this shimmering back necklace is that elegant touch you need for your image! Crystal drop necklace for her.
Crafted in sterling silver, this charming Y lariat necklace features sparkling crystal accents. Coordinate the piece with a beautiful low back evening dress or choose it as a front Y necklace. Perfect wedding necklace for a bride or bridesmaids!
Necklace for women
A fine pair of shoes or an elegant accessory are also a good option as a Christmas gift for women.
When buying clothes, however, you should be careful, because most women have their own taste here, and not everything that looks good on the photo on the Internet also fits the style of the woman.

I'd also recommend to avoid the category "kitchen and household". This could be a nice gift for a different occasion, but Christmas is about some magic, not just practical stuff. Many women are troubled enough with this over the year and want a more personal present, especially at Christmas.

So rather a voucher for a relaxing wellness weekend or tickets for a concert by your favorite singer! Such Christmas presents for women mean a good time and ensure a good mood.

As a rule, women also have a big heart for everything that makes everyday life a little more colorful and fresher: a friendly cover for the smartphone, fluffy slippers, a mug with a print - things with a personal touch are particularly popular.
Make Christmas presents for everyone by yourself

Christmas gifts that are handmade always have a very special charm. If you want to make your Christmas presents yourself, you should think carefully beforehand about your strengths - otherwise, the good intention can quickly lead to an embarrassing result.

There are plenty of ideas for self-made Christmas gifts, the possibilities are almost limitless: The easiest and most common method is to make something for a holiday mood: Christmas stars made of glossy paper, Advent calendars made of paper mache, candlesticks made of cork, and much more.

The possibilities for DIY Christmas gifts are by no means exhausted! If you are one of those enviable people with a lot of manual skills, you can also dare to undertake more complex projects. Nothing stands in the way of your own wooden dollhouse, or perhaps an individually designed piece of clothing!
A good place to make Christmas presents by yourself is also the kitchen at home! Home-baked Christmas stollen with lots of good ingredients is always a great idea.

If you would like to make your own Christmas gifts, you will find plenty of helpful suggestions on the Internet and in relevant guides.
In addition, you should definitely estimate your own skills correctly: In order not to embarrass yourself with your self-made Christmas presents, we recommend choosing a project that is appropriate to your crafting or baking skills. After all, the gift should not be a cheap stopgap solution, but rather represent a very special highlight!

Share with us, are you creating check lists for presents? or maybe you have your win-win strategy for choosing only the best gifts?
Leave a comment
Comments will be approved before showing up.