One-of-a-kind personalized jewelry. Engraving ideas for You and Your loved ones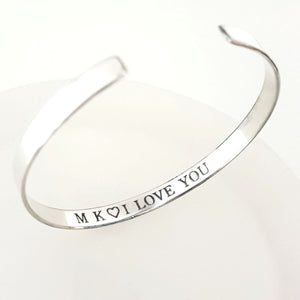 Personalized bracelets are available in a variety of materials from sterling silver metal to leather cord. They come in a range of styles, from delicate and dainty to statement pieces. Birthstone charms and engraved messages make these pieces even more special. Some even include engravings of names, dates, or messages of love.

Custom engraved bracelets can be a great gift for any occasion. Whether it's for a birthday, anniversary or just because these custom-made pieces are sure to make someone feel special. These bracelets are also a great way to show someone you care, as each piece is unique and made with the recipient in mind.

These handcrafted pieces are a great way to add a personal touch to any look. Whether it's a casual or standard outfit, customized bracelets are sure to make a statement. With so many styles to choose from, you are sure to find a cuff that's perfect for you.
Decorating an accessory with an engraving is the best way to make it unique. What are the chances of meeting another guy with the same watch and exactly the same initials?

Whether you want to have your new bracelet engraved or give a gift to a loved one, adding a custom engraving is a surefire way to turn your gift into a keepsake.
The idea of ​​personalization may sound exciting. But it can also quickly turn into a decision that you regret.

It is important to take your time before entering your text in the field and pressing send. You don't want to end up with a cufflink set that says "I love you, Fater" instead of "Father".
Think of it as a type of tattoo. Get it right the first time or wear long sleeve shirts and sweaters for the rest of your life.
Make sure, the engraving is quality made and also think twice what to engrave.
Engraved gifts for men
It doesn't matter whether you are shopping for your father, brother, best friend, or one of your wedding party, every man values ​​a gift with meaning.
And nothing is as meaningful as an individual engraving ... specially made for him.

Engraving inspiration
The term "personalized engraving" says it all - it's personal!

Deciding what to engrave on an accessory sounds pretty easy ... until you have to deal with the input field, which is limited to 20 characters.
We are asked every day: "What should I have engraved?" Finding meaningful words or trying not to sound like a stalker is not easy.

Everyone could use a little inspiration. We have compiled our favorites from real engravings and added a few of our own. All within the maximum permitted number of characters of 20 characters.

Engraving ideas for dad

Whether it's your father, stepfather, father-in-law, or grandfather, telling him how you really feel is not easy. It's even more difficult when you have to tell him with 20 characters or fewer.
The decision to give him something with an individual engraving is an easy one. But what are you going to say? Here are some suggestions to get you started:

I love you dad
Love you daddy
You helped me be me
You made me who I am
Best dad in the world
Better than a beer
Nobody is like you
I want to be like u! (I want to be like you!)
You are my hero
I owe you
Papa, my teacher.

Our gift idea for dad.
Looking for Personalized Birthday Gifts for Dads? Nothing can be better than this personalized bracelet to remind him of your love and gratitude!
The men's bracelet is handcrafted of high quality sterling silver in elegant minimalist style. Ready to be custom engraved for your dad! The cuff can be both sides personalized. Customize it with names, initials outside and with some words of gratitude and love inside! Meaningful gift to Father's day your dad will treasure!
For him

Hey ladies, not good at choosing the right words? Your husband knows what he means to you ... but let's remind him.

Whether you choose to engrave your significant other, your fiancé, or your groom, it can be difficult to find something that is beautiful, meaningful, and not borrowed from a cheesy romantic comedy at the same time.

Sorry, he's taken
My heart Belongs to you
Yours forever
You are Love
The future is ours
My prisoner forever
Legally mine
Forever and ever
I love you...

Our gift idea for him.
Pinky ring for men, sterling silver ring that will be engraved with a name, initials or some words of your choice. Best men's gift to birthday, anniversary, engagement.
Engraving ideas for friends
Finding the right message for your buddy that says how important he is to you without getting weird and emotional is not easy.
You can always choose the safe route - name, initials, date of birth, special date or coordinates that you both share - or you can be inspired by our ideas.

I am the smart one
Remember the time ...
Do good. Be good.
I know your secrets
Our Powers Combined
I feel lucky, punk
Hasta la vista, baby
The need for speed
Get Busy Living
Are you talking to me?

Our gift idea for best friend.
Drawing ring, custom engraved gift for her. One of a kind artwork ring, the gift she will treasure!
This band ring is handcrafted of shiny sterling silver. It will be both sides engraved for you. Engrave a drawing, like on the picture: The Little Prince. Or send me a picture with your customized art to be engraved. Add a hidden message inside with some words to inspire! Meaningful and truly unique gift idea for your wife, sister, special one or best friend!
Treat yourself with something special

Choosing a personal engraving for yourself is much easier than having a gift engraved for your best man or father.
Whether it's your name or an inspiring verse from the Bible, Torah or something from the Harry Potter series, the end result should be personal.

Tell your story
Never give up!
Carpe Diem
Be a warrior!
Do it. End of story
To do or not to do
Think BIG
Have courage
Now is a good time
Authentic

Awesome gift idea for women, charming strength necklace. Surprise her with this elegant jewelry gift.
This shiny silver pendant suspends along a delicate chain and is ready to be personalized. This may become a faith necklace as a gift that encourages her to have faith and make her own way. The design offers a totally on-trend look. Engrave both the front and back of the tag charm with a name, mantra, significant date or thoughtful message.
Choose personalized jewelry for birthday gifts, gift for mom and friends to love forever!
Don't want to limit yourself with characters for engraving? Here are fine designs that allow you to engrave even poems...

The sweetest gift for her, this pendant necklace is sure to delight. Fine quote jewelry for a perfect gift.
The necklace is created of a delicate silver chain and a polished round pendant, ready to be custom engraved for you. Add some words to inspire or motivation for every day. This quote necklace makes a cute gift for a girlfriend, mom's necklace, birthday gift etc.

Choose engraved gifts for men to treasure forever! This love bracelet is just such a one!
Looking for 1st Anniversary, 2nd anniversary gift, 3rd anniversary gifts for husband? Please have a look at this custom made Sterling silver cuff bracelet with Love engraved quote, or write me a message with your text of love!
The handcrafted of high quality sterling silver wide bracelet features a shiny finish. Perfect base for your unique personalizing. You choose, how your engraving will look, just write me your idea! I can engrave the band inside as well! Make the best gift ever!


What engraving idea did you like most?
Leave a comment
Comments will be approved before showing up.