Special Forces Gift - Personalized Army Gift Ideas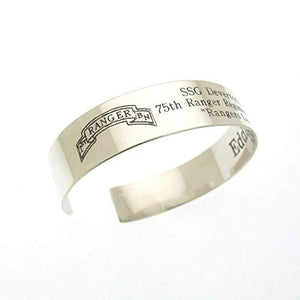 To help you choosing the perfect gift for your hero in 2022, the one who is serving in special forces, we've created a military gift guide. Personalized Memorial Gift for him!
Thanks to the popularity of online shopping, buying gifts for your special ones has never been easier. While the purchase might be easier, knowing what to buy to the hero of your life might be not that easy. Whether your soldier knows how to share gift ideas with you or not, we've put together a list of gifts that won't disappoint in any case.

Let's start with something personal.

Create a gift to show your appreciation and attitude. A gift to remember.
This could be a piece with a message, to encourage and motivate as well.
You can do this all when choosing a piece of personalized jewelry for men.
Here you will find ideas to choose from to any occasion.
Have a look at the fine samples of custom military jewelry to honor the soldier, veteran or fallen hero.
Here you will also find fine engraving ideas, US Special Forces emblems and symbols to engrave.

If he is serving in Marine Corps, choose this Personalized USMC Ring for him.
Tribute Men's Ring, Marine officer custom engraved jewelry. Personalized USMC Rings makes a great tribute gift. The band ring is handcrafted of high quality sterling silver in shiny or black oxidized finish. The wide ring is in minimalist style and suits any style well. The band will feature a custom engraving on the both sides: initials, symbols, emblems - everything you wish.
What to engrave? This could be US navy flag.

The seal of the US Navy stands for support of the shore. A eagle with outspread wings atop an anchor is protecting a ship at sea. It is depicted in the center of the Navy Flag and can be engraved on the jewelry piece.
Honor the work of the rangers with this Army bracelet! Ranger Battalion Bracelet.
This is an open adjustable bracelet in high quality sterling silver. You may choose it in a shiny or black finish. Engrave it with a message, logo, or any other symbols to create a meaningful piece. This can become an ID cuff, KIA, SSG bracelet, personalized on the both sides as you wish. Custom cuff bracelet to make a thoughtful gift to Independence day.

What to engrave? This could be US Army flag or its motto.

The United States Army flag includes the Army motto "This We'll Defend", the motto is written on a scroll and protected by a snake. The center of the emblem features a Roman cuirass, a U.S. Army symbol of strength and its mission to protect America.
Give your man who is serving in Air Forces the personalized Air Force bracelet.
The Military Pilot bracelet that comes in silver, in oxidized or not oxidized finish, as you wish. It can be both sides engraved for a truly unique gift!
Fine Fighter jet graduation gift idea. Engrave the band with: US flag, USMC Eagle sign, the department sign, words, dates etc. to make it really personal. With a hidden message inside, this makes even more meaningful gift.

What to engrave? This could be Air Force Flag.
At the center of the flag is the Air Force crest, a bald eagle with wings spread, surrounded by 13 white stars representing the 13 original colonies. The outstretched wings of the eagle cover three of these stars to specify the three branches of the National Defense: Army, Navy, and Air Force.
One more sample of military jewelry - Bracelet to Honor the Fallen friend.
This could become a memorial bracelet to honor the fallen hero, KIA bracelet, Til Valhalla Jewelry etc.
Universal present - Independence Day, Veteran, Father's day, graduation gift! American flag cuff.
Army/ Air Force / Navy Seal / Veteran gift idea. Solid Sterling Silver 925 band that can be made in oxidized or not oxidized finish. This is a wide cuff that features much space to be custom engraved on the both sides.
Engrave a sign, emblem outside and a hidden message inside to send your hero a prayer or some words to let him know you are proud of him.

More military gift ideas
Multiple tool
It makes a great practical gift for any soldier who needs a screwdriver, scissors, pliers, etc. at all times. The most commonly used multi-tool in the military is the Leatherman, but any multi-tool will find its place in his routine.

Portable Cell Phone Charger
What can be worse than draining your phone's battery? The portable cell phone charger is ideal for long days on the trail.

Portable solar charger
If your soldier is deployed for several days, a portable charger may not be enough. Solar chargers make it easy to charge your phone when the sun is shining.

Tactical flashlight
An excellent practical gift for your soldier is a tactical flashlight. Whether your man needs a flashlight for work or just for fun, a tactical flashlight is a wonderful gift to add to their everyday tool belt.

Hiking Gift Basket
He is certainly spending a lot of time camping. A gift basket with everything you need for a campaign is sure to make a great gift for your soldier. It may include:

Moisturizing basics
Dry Climate Hygienic Lipstick
Foot powder to prevent blisters on feet
Voucher for new combat boots

Bluetooth headphones
Perfect for the gym or listening to a podcast, Bluetooth headphones are a super gift for Soldiers. There is a big variety of different types of headphones to choose from.

Army Prayer Journal
If he is religious, a personalized Army prayer journal makes a personal gift for him.

Also consider the Christian Survivor Cuff.
The open adjustable cuff is handmade of high-quality sterling silver. Fine military gift idea for survivor, engraved with a prayer - inside or outside the band. You may order the cuff to keep the memory of your friend and get a memorial bracelet.
High-quality bracelet for men, unique with your words engraved.

What would you choose?
Leave a comment
Comments will be approved before showing up.