Silver and leather bracelets for men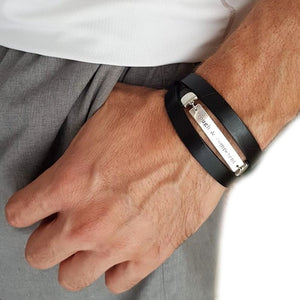 Bracelets were the first accessories that people wore for diverse reasons. Let's figure out what they are?

Have you ever wondered about an origin of bracelets? Initially, they were invented by ancient men to protect them from the bites of wild animals.
Mens Leather Bracelet
When men hunted bores and bears, they supposed to be injured by animals and bracelets took hits and bites thanks to hard materials.
Secondly, when archaeologists dug out archaeological sites as ancient tombs, they revealed the bracelets exactly on men's hands as those men were honored deans or leaders of tribes.

And now let's will talk about top 5 bracelets for men made of silver and leather, go through them together, and choose ones for appropriate cases when your man needs to look extravagant and strong.

Genuine leather braided bracelets with sterling silver details and adjustable cuffs can become a favorite accessory for your men.
Genuine Leather Braided Bracelet for men
It is possible to wear it on daily basis or special cases. On average the weigh of product is 12-14 grams, the length is 6.5-7.5 inch( 17-21 centimeters) and made by true masters of their craft, US company, founded in 2022.
The jewelry of this brand is of high quality, designed with a good taste and uniqueness what gives the customers an opportunity to wear only trendy things and feel confident.

Minimalist style was always very popular because of comfort and adaptability to any case. It's a good idea to choose silver bracelet of 8-13 mm 3/8 to 1/2 inches width, and 6.3-7  inch circumference.
Engraving on jewelry is innovation of modern fashion and is a trend which has been recently spread around the world.
Black or silver cuff can be manufactured on request and engraved with personalized text, as a gift to your dearest person. The text can be typed or handwritten according to customer's wish.

The size of the bracelet is absolutely adjustable, you can just bend it to close on your wrist. Besides sterling silver our professionals manufacture oxidized and golden cuffs on every taste and request. Pay attention on soundwave cuffs for men in case you want to make a unique and memorable present
Sounds strange, but your beloved will be delighted when sees a gift. Providing you want to make a surprise, just ask to record a necessary message on the smartphone, make a screen of it and send to our company.
Stylish mens bracelets
Men can wear our cuffs as a set or individually depending on their mood or a case.
Suppose you have a party at the boss, what you would put on to look stylish and elegant at the same time?
We would recommend choosing for one bracelet. So, occasion is only one side of the coin. What about other aspects?
Accessories for men is an important part of their image and sometimes connected with their profession, hobbies or interests.
If you are going to make a gift, approach this issue with responsibility to emphasize on man's style and personality.
Adjustable mens cuff bracelets

First of all, pay attention on the size and length of the product. The most common sizes are 17 - 18 centimeters (6.69 - 7 inches) for a narrow wrist, 19-20 ( 7.5-8 inches) for a standard hand. The longest bracelets are of 21 - 23 centimeters (8,5-9,5 inches) which fit the biggest wrists. The piece on a cake is a bracelet with an adjustable clasp.

For instance, Magnetic Clasp bracelets are locked easily especially if you hurry somewhere. Secondly, if you want your man to become iconic among friends or colleagues, order an engraving on the bracelet.
We suggest anniversary names and dates, religious engraving, the names of the kids, initials, medical alert Id, favorite melody text and a lot of others.
Kids names bracelet for husband
Thirdly, choose only leather and metals of high quality, so skin will not give an allergy reaction or be colored.

For many centuries people transform ways of wearing bracelets. In colonial era the jewelry was mostly functional and worn by leaders as an element of traditional costume.
Renaissance was a period of new craze - very heavy bracelets for artists and nobles. In Age of Enlightenment the accessory played the role of signal for doing different actions relatively where the owner put it on.
To sum up, evolution of bracelet today is a long way in history that suggests nowadays result - wearing it on the wrist, ankle or forearm.
The last tradition moved to America and Europe from Muslim countries and is popular among women. Despite this, European men adjusted the tradition and wear accessory on the forearm.
Despite this, European men adjusted the tradition and wear accessory on the forearm. So, join us to look stylish and unforgettable!
Have a look my 925 Sterling silver bracelets for men
here you can find personalized mens leather bracelet.
Leave a comment
Comments will be approved before showing up.