Pearl Jewelry - Everything you need to know about the jewelry trend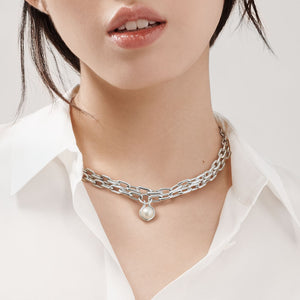 Pearl jewelry is getting more fashionable now than ever in 2020! The noble pearl jewelry pieces, which have been regarded as conservative for a long time, are currently celebrating their big comeback. And so this year we just can't get enough of stylish pearl jewelry. Pearls are represented in a modern and extravagant way, so that they get so much attention as they didn't for a long time. Pearls come in unusual shapes and in combination with a lot of gold.
Pearl jewelry made of natural precious stones is also a big trend in 2021 and we have already fallen in love with it!
GRANDMA'S JEWELRY BOX
Classic pieces of jewelry, which could well have come from grandma's jewelry box, are again in trend in 2021. Elegant, timeless pearl necklaces and small pearl ear studs now give the looks a classy touch. Maybe you even have an old pearl necklace from grandma or mom in your jewelry box. Now is definitely the perfect time to dig out those old treasures again.

CLASSIC & MODERN: BAROQUE PEARLS

In addition to classic pearl jewelry, baroque pearls are also a big trend in 2021, which can currently be seen everywhere. The unprocessed pearls with irregular shapes make a wonderful eye-catcher. Each pearl is unique and as unique as the person who wears it. We especially recommend to wear the extravagant pearls as statement earrings or as pendants on delicate chains.

Gorgeous sterling silver wire wrapped pear stud earrings. Classic white pearl studs that are relevant in all times and are perfect for any occasion. Pearls are also available in different colors. Choose timeless jewelry!
Drop pearl earrings for an eternally classic and beautiful look. Perfect bride and bridesmaid gift.
Handmade of freeform Freshwater Pearls, and a small ball stud on the top and bottom, the long earrings come in silver or gold, as you choose. Lightweight and really comfy for wear.
The pearl represents the journey of the soul or spirit along the path to perfection. It is also said to symbolize the purity, generosity and loyalty of its wearer. As the traditional June birthstone, the pearl makes a wonderful and meaningful birthday gift! Just perfect as bridal jewelry!

REAL PEARLS OR FRESHWATER PEARL?
Opinions differ when it comes to pearls. While some would never resort to cheap costume jewelry, others are reluctant to spend so much money on a real pearl necklace. With classic pearl jewelry in particular, the investment in real pearls is definitely worthwhile. The timeless pieces of jewelry will probably never go out of fashion and are therefore gladly passed on to later generations. However, real pearl jewelry needs a little more care so that it looks beautiful for a long time. And when it comes to trendy jewelry, freshwater or even fake pearls are definitely worth considering. First of all, freshwater pearls are high quality too, but even artificial stones do look great and now are made with excellent technologies.

Pearl jewelry in minimalist style
Check beautiful modern pearl jewelry in my shop! Such jewelry is just perfect for your casual look, so that you stay in trend every day! Moreover it comes in affordable prices, so that you can surely afford it!

What about this amazing charm necklace, classic jewelry. A tender silver chain comes with a wire wrapped white pearl pendant. Beautiful wedding jewelry piece, a bridesmaids' gift. Classic necklace, a must have for any collection.
Gorgeous white pearl earrings, pure elegance that lasts forever. Amazing stud earrings to add some glam to your look.
These earrings are handcrafted of fine gold filled and freshwater pearls in 2 sizes, small and large. If you are looking for wedding jewelry, these studs are a nice solution. The pearl represents purity, love and sexuality, what else is needed? "A woman needs ropes and ropes of pearls", - said Coco Chanel. Pearl is also the Birthstone of June, the best birthday gift for her!

Pearl necklace designed with the upmost elegance. Surprise her with a pearl birthstone pendant as remarkable as she is.
Nestled in a gold filled setting, the pearl gemstone emit pure beauty. This stunning and formal design suspends from a delicate chain with a spring-ring clasp. Makes a fashionable addition to her jewelry box. A feather is a lovely symbol that stands for freedom, transcendence and communication with spiritual realms.
June birthstone gift for your loved one!
PEARL JEWELRY MADE OF NATURAL GEMS

Nature is currently a big topic in fashion. Designers prefer to use natural fabrics rather than synthetics and natural colors are also one of the hottest trend colors. And so it is no wonder that the current jewelry trends are also inspired by nature. This trend is also reflected in pearl jewelry. Pearl jewelry made of natural and precious stones is enjoying increasing popularity. The chic pearl bracelets and chains are the ideal companion, especially for everyday life, as they can also be combined well with casual outfits. But mostly jewelry made of precious and natural stones is a great eye-catcher for elegant evenings outfits.

HEALING STONES

Jewelry made from natural or precious stones is not only a great eye-catcher because it is said to have a healing effect on body and soul. Personally, I find this topic very exciting and have therefore been wearing jewelry made from so-called healing stones for years.

The bracelet made of jasper, for example, is supposed to give more courage and perseverance. In addition, jasper helps to cope with problems. The bracelet made of tiger's eye and black onyx also has similar effects. Tiger's eye gives courage, protection and security, protects against stress and increases concentration. Onyx is said to increase self-confidence and leads to greater inner harmony.

Of course there are also many other stones with very different effects. There is a lot of good information on the subject of healing stones on the Internet and in books, so that you can quickly get an overview of which stones suit your personality and the current situation in life.

The pearl jewelry made of precious and natural stones is definitely not just a beautiful eye-catcher but also meaningful stone!

Natural Pearl earrings, elegant drop earrings for women. Symbolic gemstone earrings as a beautiful sample of wedding jewelry!
These lovely dangle earrings are handcrafted of high quality sterling silver and freshwater pearls in 2 sizes, small and large.
The symbolic pearl jewelry, perfect bridal or bridesmaid earrings! The gem itself has become a symbol of perfection representing purity and love. Pearl symbolizes wisdom, patience and peace as well. The June Birthstone, this makes not just a wedding but also a lovely birthday gift!
HOW DO I PROPERLY CLEAN PEARL JEWELRY?
Real pearls are a natural product. Cleaning is therefore particularly important so that the pearls do not lose their shine. You should be particularly careful here, because incorrect care can quickly result in real pearls looking dull or even damaged. It is best to maintain your real pearl jewelry about once a year with a small drop of olive oil. You should definitely use a soft cloth for this so that the pearls do not scratch. Since real pearls are quite soft, they should always be stored separately and not come into contact with other pieces of jewelry.
Fake pearls or freshwater pearl jewelry are not that demanding when it comes to care. Nevertheless, you should remove any dirt residue from time to time with lukewarm water and dry the jewelry with a soft cloth.

Just like with other pieces of jewelry, when wearing pearl jewelry you should make sure that it does not come into contact with cosmetic products or perfume. Sweat also attacks the surface of real pearls and pearls made of gemstones over the long term.
Leave a comment
Comments will be approved before showing up.