Men's Style Guide: Choosing and Wearing Bracelets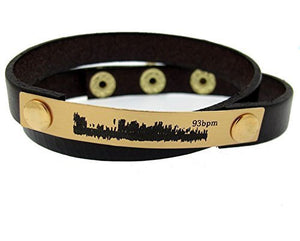 Too much jewelry for men? If you still think that bracelets are pretty much just a women's thing, the article is probably not for you.
But if you agree that, like any jewelry, bracelets can be part of a stylish men's wardrobe, welcome to the style guide.
Bracelets and men's style
The role of a well-chosen bracelet is not much different from the role of any other piece of jewelry, such as a necklace or a ring. It should add a distinctive accent, even if not become the centerpiece of your outfit, but definitely be an important part of the image.

What bracelet to choose closely depends on what outfits you like to wear. If you regularly wear a suit and tie, a metallic sophisticated cuff will suit you naturally. If your wardrobe leans more towards wraparound trousers and tropical shirts, leather, rope, and beaded bracelets will probably work best for you to create a natural look.

However, keep in mind that the role of the bracelet in both cases is the same: it emphasizes the individuality of your overall look. If You're not just a guy who puts on a suit because he has to, but you're a guy who takes the time to make the suit look good, the bracelet definitely helps with that.

It's good if a men's bracelet looks a little worn. Too fancy and shiny metal and design often looks unsuitable. If you want make an impression you have owned the bracelet for years and had heartbreaking and exotic adventures with it, pay attention to its design.

One more piece of advice - choose the right size and pay attention to the bracelet's weight, it should be comfortable to wear and not get lost.
Men's bracelets
How to wear a bracelet
One of the problems with men's bracelets is that there is no place for them in most classic men's suits. This means, the cuffs of a suit and shirt will compete for the same space on your wrist as bracelets (and like a watch, if you wear one). Does it mean that you can wear bracelets just with short sleeves? No, you can also pair them with long sleeves - just use a little common sense.

Here are some good tips on how to wear a bracelet:

- Bracelets like wristwatches should stay on your skin under any sleeve long enough to cover them up.
- Pair cord bracelets on one wrist, but don't layer a few thick metal bracelets.
- Wristwatches look good paired with thin cord bands, but not with a thick metal cuff.
- If you prefer large chunky bracelets, don't wear them on the both wrists.

All "fashion rules" have exceptions, and there will always be men who will make that exception look great. But if you're not sure, stick to the guidelines, especially if you're just starting out to experiment with accessories.

Keep it simple and stick to minimalist style until you get the hang of the bracelets.
Bracelets for men: styles
Here are some of the main styles:
A metal cuff is probably the classiest style of bracelet for men and the one you're most likely to see paired with suits and ties.

The variety of cuffs is pretty much limitless, but the overall effect is the same: a solid, bold statement on your wrist. Laconic and distinctive.

A single metal bracelet is great when you want something eye-catching and bold. Pair it with simple yet elegant outfit and let it speak for itself every time it peeks out from under your cuffs.

You may need to make your shirt sleeves a little shorter, depending on the thickness of the bracelet and where it sits on your wrist. Don't wear it over a shirt in any case!

Stay away from anything too flashy. A metal color will do the trick, there's definitely no need for gems. If a minimalist style is too boring for you or doesn't express your individual style, go for custom jewelry.

Personalized bracelets for men: simple yet making a statement

The advantage of minimalist metal cuffs is that they are very easy to personalize. You may ignore the trends of the moment and wear your personalized jewelry that are always trendy, and most men don't care about latest trends anyway.
Look at the custom bracelet to add some shine to his outfit. Finest birthday gift idea for your special one. Do you have a plan to order a name bracelet for him? Well, here it is. Or maybe you look for a jewelry piece to carry some motivation for your days? This sterling silver bracelet can be personalized with a name, a quote or message on the both sides. Looks great on its own as well as layered with some other simple cuffs, with or without engraving.
Stylish and understated, this wide bracelet for men makes a statement. Fine gift idea for your loved man to any occasion.
This is an oxidized sterling silver cuff bracelet personalized outside and with a hidden inside engraved message. Choose any words to share your love, or inspiration to send them to your special one. This custom engraved bracelet features a brushed texture and looks with any wear great.

Leather bracelets

Solid or braided leather cuff in black or brown for classic punk style. It pairs great with black jeans and a black band logo t-shirt.
Colored leather is a slightly different creature and can be worn by men who are not afraid of experiments.

Here are some fine leather bracelets for any taste.
Showcase a fashionable style with this double layer bracelet. Elegant cuff in quality leather with a magnetic clasp!
This is a braided bracelet, high quality is guaranteed. Crafted of leather in three colors to your choice: blue, black or brown and accented with bright gold details. A safe magnetic clasp finishes the design. Perfect choice for everyday wear. Fine gift idea for husband, gift for boyfriend etc.
With its understated design, the personalized bracelet is a perfect choice to make an unforgettable gift for him.
The cuff is handcrafted in quality leather and an identification plate that can be personalized with any message you wish. The plate on the pictures is customized with a Philippians 4:6-7 quote. Choose the text or write me the engraving you wish to make the design complete. Ended with safe buttons, the band is adjustable.
What would be your choice?
Leave a comment
Comments will be approved before showing up.