Men's jewelry - Expression of Style and Elegance. Custom mens bracelets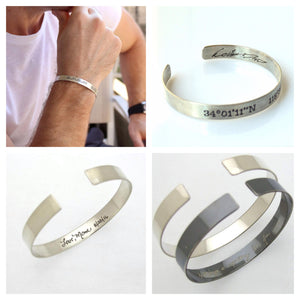 Choosing the right men's jewelry with a sense of style and fashion can optimally complete your own outfit and make it an extraordinary eye-catcher. Whether discreetly minimalist or deliberately extravagant, elegant mens bracelets accessories complete the style, increasing fashion consciousness.

There are several types and various styles of classic men's jewelry, such as rings, necklaces, bracelets or wristwatches. When used and combined appropriately, the men's jewelry underlines the character and personality.

Whether discreet, elegant or extravagant - with beautiful and stylish men's jewelry, fashion-conscious men stand out from the crowd and look elegant. Accented accessories such as necklaces, bracelets or earrings make fashionable highlights.
WHAT TYPE OF MEN'S JEWELRY FOR WHICH OUTFIT OR OCCASION?
As a basic principle, the men's jewelry should not stand out too visibly from the outfit, but rather harmoniously emphasize and underline your own style. Men's jewelry can be worn in everyday office life, but keeping the minimalist style.

For the leisure time, men's jewelry made of solid stainless steel, sterling silver or elegant leather is ideal. A subtle chain or a narrow leather bracelet and a matching watch go well with the casual, sporty type. Men's jewelry made of timeless precious metals such as gold or platinum are particularly suitable for suit wearers. Neutral men's jewelry made of metal or dark leather harmonizes in color with almost any outfit.

Here is an example of modern men's jewelry for those who appreciate sophisticated style of elegance. Gold Bracelet for Men, a memorable gift for him.
He will surely wear the cuff all the time, cause it's comfy and fits well due to the adjustable size. It complements any style well. This gold filled bracelet is high quality and will keep the shine. I can engrave initials in Old English font, names, sacred words, love words.. You may also add a hidden message inside as well!
The difference between men's jewelry and women's versions is the more masculine design, which is expressed by men as heavy and coarse. Gentle and delicately designed men's jewelry looks quite out of place on men.

In the meantime, the selection of men's jewelry is so large and varied that your own style and personal individuality can be complemented in everyday use and correspondingly perfectly represented.
Casual, sporty or elegant, men's bracelets are individual companions in every situation and life situation. They may emphasize the personal uniqueness of the wearer in a variety of ways. They can be combined in many ways, can be worn for any occasion and spice up any chosen outfit.

The current trend is for narrow bracelets made of leather, which combined together adorn the wrist well. Different types of leather are often combined here and worn on top of each other. Different layers and design forms set impressive accents.

Solid bracelets made of silver or stainless steel are timeless classics. Dense and stable chain links give king bracelets made of silver a noble and elegant appearance. Leather bracelets are characterized by their extreme versatility. In the appropriate version, they go equally well with a suit, jeans & T-shirt or rocker boots with leather jacket.

Surfer gift idea, fashionable leather bracelet with a personal touch. Custom engraved gift to remember!
The adjustable bracelet is crafted of top quality leather in black or brown color and stainless steel metal. This is a custom bracelet that will be unique as you choose the engraving. It can be customized with a date, names, or a motivational quote. A special symbol can turn it into the best gift for a surfer, or Ocean lover!
WHICH BRACELET FOR WHICH TYPE?
CASUAL

In everyday life, bracelets can be easily integrated into everyday outfits due to their numerous variations in shape, design and style.

A bracelet made of sturdy stainless steel chains or sterling silver can easily be added to everyday clothing and completes the casual look. Have a look at these stylish options.

Give him a unique look and a protect talisman with this personalized cuff bracelet. Jewish gift idea for him, Bar Mitzvah Gift!
Crafted in fine sterling silver, this modern style bracelet is engraved with a Hamsa symbol. Hamsa hand is a protective talisman against evil eye. It takes a special place in Judaism, but it is also a respected symbol in Islam, Christianity, Hinduism, Buddhism. Send your special one a secret message inside as well.
Engraved in Hebrew, it makes a fine Judaica Gift!
Solid antique silver chain bracelet for men. Metal bracelet to become his favorite accessory.
This chain bracelet is handcrafted of Stainless Steel metal.
The high quality material band will keep its original look. The massive bracelet comes with a durable and safe clasp that is closed with a double click. You won't lose it! Great band for every day!
For those who like dark tones, vintage black bracelet in a minimalist style for men. Antique finish cuff.
The black cuff bracelet is handcrafted of oxidized sterling silver. A shiny finish is available as well. The rustic style cuff is adjustable. You may order a plain cuff or this can also be both sides custom engraved as you wish. Great for men's style to make a statement with personal accents.
ELEGANT

To combine with a shirt, sweater and trousers, a classic stainless steel or silver bangle is ideal as a complementary fashion accessory. This should then be integrated more discreetly into the overall picture, less as an eye-catcher than as a combined component.
Off some character to it with the personalization. Here are some custom bracelets to bring your message with your style.

With its understated design, this Latitude Longitude Bracelet is perfect for men. Great Mens Birthday Gift!
Choose the Custom Coordinates cuff bracelet for a beautiful gift. The sterling silver band makes a great base for your engraving. I can engrave the Latitude Longitude of a special place for a really one-of-a-kind gift!
With some heartful words inside engraved, your loved person will for sure always keep the bracelet. Amazing birthday gift idea for him!
ROCKY

As an expression of fashionable rebellion, the outfit is given a bitter, individual charm by a high-quality leather bracelet. Either as a simple example made of leather or as a braided version with extravagant details, the accessory on the wrist in combination with skinny jeans, a black T-shirt and a leather jacket gives a rock expression with a rebellious character.

Showcase a fashionable style with this double layer bracelet. Elegant cuff in quality leather with a magnetic clasp!
This is a braided bracelet, high quality is guaranteed. Crafted of leather in three colors to your choice: blue, black or brown and accented with bright gold details. A safe magnetic clasp finishes the design. Perfect choice for everyday wear. Fine gift idea for husband, gift for boyfriend etc.
Make Easter gift with the Christian cross bracelet he will certainly love! Elegant men's jewelry in minimalist style.
This is a modern design any man will like. The bracelet is simple yet distinctive and looking smart. It is crafted of high quality leather cords and sterling silver metal components. The handmade band features an adjustable size coming with a chain part. One can change its size by choosing a link of the chain and locking the safe lobster clasp on it.
What style is yours?
Leave a comment
Comments will be approved before showing up.