Men's bracelets - underrated accessories in everyday life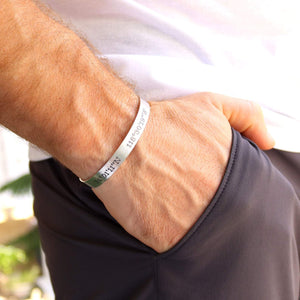 Is there such a thing as too much jewelry for men? Sure, but mostly it's a matter of your own subjective assessment of the topic. In addition to wedding rings and a wristwatch, most men do not wear jewelry. You may fluctuate when considering buying bracelets for men, as they are usually associated with women and are therefore rated as too feminine.
But it isn't so, because like any jewelry, bracelets can also be a part of a stylish men's wardrobe. It's an option, not a necessity of course - you can go through life without a single one - but a good chosen bracelet surely adds a stylish touch!
Men's bracelets and their style
Now that we agree that men's bracelets are quite an option in everyday outfits, let's get a little more into the details. After all, there is not just one bracelet, but different styles and little things that you should pay attention to when choosing. It is important to recognize the importance of a men's bracelet in your own outfit. A bracelet is no different from other pieces of jewelry for men, such as a necklace or a ring. The bracelet is worn to set a special accent - but not to be presented as the centerpiece of the outfit.
In everyday life you should think about it before putting on a bracelet. A rather reserved, metallic and even elegant bracelet goes well with an outfit that uses a suit and tie. If you prefer to wear comfortable linen trousers with a tropical shirt, then leather, rope and beaded bracelets make this look. In any case, a men's bracelet has the same task in each of the two aforementioned outfits: It makes the overall image distinctive.
A men's bracelets completes the task: it shows that you want to look the way you present yourself. In other words, you don't just wear a suit and tie because you have to, but you wear this because you want to. So much so that you have thought about which details and accessories will round off the outfit in terms of appearance.
You should pay attention to metallic bracelets, so that they look a little worn. Too much shiny metal isn't what you need. After all, you want to give the impression that you have owned the bracelet for a number of years, have a story with it and not just bought it on the day of the event.
For bracelets of all kinds, it is also important to ensure that they are the right size. A large, chunky metal bracelet that slides back and forth on your arm just doesn't look good. Here you can orientate yourself on a simple style specification. Bracelets with a corresponding weight should be worn closer to the wrist. Lighter bracelets such as leather, rope and bead bracelets can be worn a little looser and wider.
Look at the fine bracelet for men. For those who like dark tones, vintage black bracelet in a minimalist style for men. Antique finish cuff.
The black cuff bracelet is handcrafted of oxidized sterling silver. A shiny finish is available as well. The rustic style cuff is adjustable. You may order a plain cuff or this can also be both sides custom engraved as you wish. Great for men's style to make a statement with personal accents.

How do you wear men's bracelets and what should you watch out for?
One problem with wearing bracelets for men is the fact that most classic menswear doesn't leave room for them. Unless you pay attention when buying the clothes that the suit and the shirt cuffs offer enough space to wear a bracelet. However, this is usually not the case, so you can see most bracelets just in summer if you wear appropriately short clothes.
Still, there are a few guidelines to keep in mind:
- Treat bracelets like watches - they stay on your skin, hidden under your sleeve, long enough to cover them.
- Stack as many thin leather and rope bracelets as you like on the same wrist; but don't do the same with thick metal bracelets
- The same applies to wearing thin bracelets with your own wristwatch - no problem.
A thick metal bracelet in combination with a wristwatch isn't the best style
- Do not wear the same bracelets on both wrists. An absolute no-go.
Of course, rules can be broken. Nevertheless, when you start wearing men's bracelets, you should pay attention to the rules. At least until you have developed an appropriate feeling for wearing and combining bracelets.
Styles of men's bracelets
As already mentioned at the beginning of the article, there are different bracelets for different occasions. Here we'll have a closer look at 2 most popular bracelet types: metal and leather bracelets.

Metal bracelets for men
Metal bracelets are probably the highest quality and most popular with men. Still, these come in a variety of designs and styles. These are most likely to be worn with suits, shirts and ties. But even with chinos and polo shirts, they look good, even if, in my opinion, a leather bracelet fits better here. Metal bracelets for men are solid, cool, minimalist and therefore ideal for everyday wear.
This type of bracelet is intended to add a small but fine accent to your outfit that occasionally flashes on your wrist. A real eye-catcher, especially in combination with high-quality clothing and a chic watch on the other wrist.
Do you want to keep it special? Have a look at personalized cuffs.

Here you can see some fine samples.
Modern men's jewelry for those who appreciate sophisticated style of elegance. Gold Bracelet for Men, a memorable gift for him.
He will surely wear the cuff all the time, cause it's comfy and fits well due to the adjustable size. It complements any style well. This gold filled bracelet is high quality and will keep the shine. I can engrave initials in Old English font, names, sacred words, love words.. You may also add a hidden message inside as well!
Solid antique silver chain bracelet for men. Metal bracelet to become his favorite accessory.
This chain bracelet is handcrafted of Stainless Steel metal.
The high quality material band will keep its original look. The massive bracelet comes with a durable and safe clasp that is closed with a double click. You won't lose it!
Great band for every day! Nice gift for him!


Leather bracelets for men
There are so many designs of leather bracelets, any other style could compete. Either solid and simple, sophisticatedly braided or even in a striking punk style - everything seems possible. The latter variant in particular goes wonderfully with a pair of rough boots, slightly torn jeans and a simple black T-shirt. Simple designs go also well with a watch. Here you should make sure that the leather of the bracelet matches that of the watch.
Especially in summer, with short shirts and polos, leather bracelets are my first choice. Mostly a little playful, intertwined and often in different strengths. Looks good, can also be left on while swimming and the brown tones of the leather bracelets match most outfits without having to hide.

Choose yours from modern leather bracelets right now.
Personalized bracelet for men, cool dad gift. Leather band in adjustable size.
This trendy bracelet is handmade of high quality leather in black. The focal points are metal charms that can be engraved with the word "dad", or a name, initials, date, up to 4 symbols. You can add 1 to 5 charms.
The bracelet features an adjustable size with a comfy snap clasp.
Lightweight high quality bracelet for men. This braided leather cuff features a trendy design and is ready to become yours.
The double bracelet is handcrafted of genuine leather in blue, black or brown colors. Gold accents make it even more distinctive. Two layers wrap around the hand and finish with a magnetic clasp. This would be a perfect piece to any men's outfit! Gift idea for your special man to birthday, anniversary, Father's day etc.
Custom gift idea for men, a uniquely personalized bracelet. The finest leather cuff can be engraved with a message on the metal plate. These may be GPS coordinates to remember a place where you were most happy or the dream city you're going to live in!
Follow the rules, set your own ones, if you want, but remember, a bracelet definitely makes your style richer.
Leave a comment
Comments will be approved before showing up.