Lord of the rings: or how to choose rings for men's style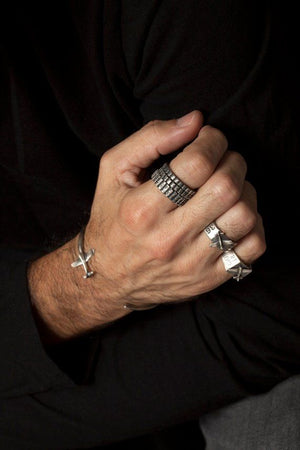 "The only jewelry for men is a good watch": this idea is over. Modern men naturally wear rings. But how do men choose multiple rings? How can they be combined with an outfit? How man becomes Lord of the Rings.

The only jewelry men should wear is a good watch. Conservative style guides preach this rule nowadays as well - but then you meet this one cool guy at a friend's party: straw hat, wild beard, colorful tattoos that protrude from under the Haiwaii shirt, and various rings on the fingers. And he has an exciting story to tell about each one! A guy like Jack Sparrow from "Pirates of the Caribbean", which brings us to Johnny Depp - the loveliest ring-fan. It shows that rings do not make men feminine. On the contrary. They make them even more manly. Ideally. If you take these five tips to heart on how men wear rings, you will complement your style more confidently.
5 Tips for choosing rings 

The right source

Looking for men's jewelry on the Internet is not always much fun. Unfortunately, there is a lot of cheap and not quality stuff. And the Google Shopping search is still not so good that men can quickly find the jewelry which quality is out of the question. Stay away from materials such as tungsten and, unfortunately, often also stainless steel. The latter just scratches too quickly, so that rings quickly look like the much-used saucepan in the kitchen. In contrast, a beautiful silver ring is available for affordable prices as well as gold-filled rings.

Attention, unfortunately, a branded logo doesn't always mean quality. What many do not know: the brands sell their trademark rights to manufacturers. It has already happened to me that a logo was only glued to the ring and fell off after a few weeks. It's a disappointment, of course, when you think you have bought quality that unfortunately turns out to be cheap. That is why I recommend buying the rings directly from manufacturers' online shops, so that you make sure who create the products. Thus you get a bigger guarantee that you get what you expect.

Here you will find find examples of men's rings to choose from.
Band rings for men
Personalized rings make wonderful gifts for men as well. Here you are!

Personalized ring for Mountain Bikers. Personalized accessory to treasure.
The wide band ring is created of the finest black sterling silver and hammered for a distinctive finish. This can be both sides engraved with any words, dates or symbols you wish. With the drawing, it makes a great and funny biker gift!
The wide ring features adjustable size.
Men's modern jewelry, fine Rugged Ring. Inside engraved gift idea for boyfriend!
This handmade ring is adjustable and will fit well. The oxidized sterling silver ring features a faceted finish and is ready to be personalized inside. This is a black ring, but you can order the same made of shiny silver.
Choose it for your boyfriend who likes minimalist style accessories. Fine birthday gift idea!
Match the look to the ring or ring to the look

Let's be honest, the rings just looked good on that wild guy at the party because they went well with the entire outfit. But a skull ring doesn't make a rocker and a signet ring doesn't make a popper. The ring should go well with clothing and the rest of the accessories.

Who wears rings stylishly? Johnny Depp used Keith Richards. Both wear many and rather heavy rings. Same goes for Pharrell Williams. You can learn by those men, who have much experience with rings ; )

Get more rings!

This custom pinky ring for a stylish look. Message ring to make a wonderful gift for him.
The ring is perfect for a man who prefers simple-yet-powerful expressions of love. Fashioned in high quality sterling silver, the signet ring looks great as it is, or can be both sides custom engraved. Send him your love message, for him only, inside the ring engraved.
Beautiful boyfriend gift for birthday!
Are you looking for a gift from bride to groom? Or maybe a custom wedding band for him? Consider this handwriting ring for men.
This is a high quality sterling silver band ring. It can be both sides inscribed with a message of yours, moreover - handwritten by you. It may be a name, a protective prayer, or a quote you wish. Inside engraved, it makes a wonderful love gift!
The ring features an adjustable size and is ready to be custom engraved!
Give him the measuring tape ring as a symbol that everything in life has its value measure. Fine sterling silver ring for men, inside custom engraved.
The ruler ring represents a handsome sophistication of sterling silver. The band ring features a cool engraving and can be also engraved with a secret message inside.
The ring is adjustable. Be sure, it will fit well.
The right ring for the respective finger

The ring finger is the first choice for beginners. Both simple rings and larger rings such as signet rings can be worn on it. Statement rings that are heavier are best shown off on the index finger. The aristocrats and kings in the Middle Ages already knew this and wore their large coats of arms and precious stones on the finger. Professional wearers put an eye-catching ring on their thumbs. And on the middle finger, simple rings come into their own. If you have big hands, so more likely you should wear massive rings or layer filigree rings.
Personalized ring for him, he will surely love the minimalist style ring made specially for him. Awesome men's birthday gift.
This is an adjustable band ring crafted of fine gold filled. The adjustable ring can be one or two sides engraved with initials, names, words or dates you wish. Add a meaningful engraving and the perfect gift is ready!
Unique Elder Futhark Runes Sterling Silver Norse Ring! Custom Runes ring for men.
Give him this truly unique runes ring. Quality craftsmanship, you won't find anywhere else. "Elder Futhark" is the runic alphabet which is a composite of the runic symbols. Send your viking a personal message that can be engraved outside or inside the ring!
Perfect gift idea for men!
Stylish biker ring, sterling silver signet ring for men. Meaningful ring for him!
The big ring is crafted of sterling silver. The design features a skull. The skull is often used in biker culture as long as there have been bikers. It is often used as a symbol of nonconformity, free-thinking, and rebelliousness. Perfect men's ring, regardless of wear and accessories style. Its adjustable size is one more advantage to choose it!
Unique black ring with a sound wave engraving. The silver band ring is handcrafted of quality sterling silver, hammered and oxidized to the fine black finish. But the main thing - I can personalize it with a sound wave message!

Wear multiple rings

Be careful if you want to wear several rings: they require stylish instinct. My tip from my own experience: adjustable rings can be worn flexibly on different fingers. Also: slack rings (stackable rings). If you don't know your ring size, you can measure with a tape measure. Caution: measure at the right time of day. In the afternoon, the fingers are thicker than in the morning after getting up.
how do you wear rings and what rings do you prefer?
Leave a comment
Comments will be approved before showing up.