Jewelry trends 2022: the most beautiful pieces for the new year!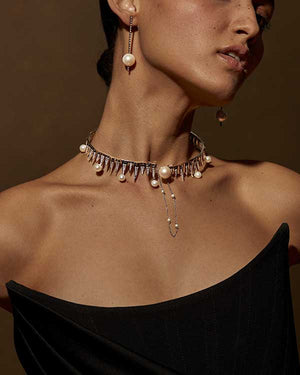 Fantastically beautiful, there is no other way to describe the latest jewelry trends for 2022. We'll tell you what you should definitely invest in ...

With the jewelry trends 2022 you can expect sweet and noble, because the pieces for the new year are colorful, catch the eye and should help your good mood! And we still have some good news: one or two jewelry love stories from last year will continue ... so, for example, the link chains, but also the baroque pearls, will remain with us. Oh, we can't wait anymore, let's look at the treasuries and maybe even choose some pieces right now!
Jewelry 2022: These are the 7 most beautiful trends
1. Ring Stacking
The so-called ring stacking is still one of the most popular ways to wear rings, true to the motto: more is more! Mix what you feel like, grab gold and silver jewelry and combine whatever it takes!
Pick up some ideas for you right now!
Minimalist style ring, bypass ring in sterling silver. Cute gift idea.
The statement wraparound ring is crafted of Sterling Silver and is a perfect addition to your minimalist style rings. Stack it up or wear alone. The hammered ring also makes a great custom gift for any occasion, as it may be engraved with initials. The design will surely suit your mood and style.
Looking for bracelets for stacking? Here is a fine one for you!
Classic, elegant custom bracelet in Sterling Silver or Gold Filled. This will become your favorite one-of-a-kind bracelet if engraved with an inspirational message of yours. It looks fine when stacked with other bracelets as well. Wonderful Christmas, birthday or wedding gift!
2. Chunky chains
Sure, filigree chains are always in you collection, but the curb link chains speak loud and make a statement: the bigger they are, the better. Especially the Chunky Chains in XL have really impressed the fashionistas. This applies to both jewelry and chain bags. The versions with pendants are also particularly beautiful and we also love to combine the link chains with other jewelry, accessories and the most beautiful fashion trends of 2022!

3. Baroque pearls
Earrings, necklaces, rings - pearl currently adorns so many pieces of jewelry and each of them is unique. With their asymmetrical and diverse look, the baroque pearls make it easy for us and we want to wear them every day!
Wonderful pearl jewelry, wedding earrings. These are Gold Filled wire wrapped freshwater round pearl studs. Classics that is a must be in every jewelry collection.
Drop pearl earrings for an eternally classic and beautiful look. Perfect bride and bridesmaid gift.
Handmade of freeform Freshwater Pearls, and a small ball stud on the top and bottom, the long earrings come in silver or gold, as you choose. Lightweight and really comfy for wear.
The pearl represents the journey of the soul or spirit along the path to perfection. It is also said to symbolize the purity, generosity and loyalty of its wearer. As the traditional June birthstone, the pearl makes a wonderful and meaningful birthday gift! Just perfect as bridal jewelry!

4. Candy rings
Candy rings sweeten our fashionable everyday life in a very special way, because they are available in countless colors, shapes and sizes. In addition, they are also called chunky rings, not least because of their chunky look, which are made either of plastic or glass. Another specialty are colorful pearls, stones and motifs with which the sweet pieces can be decorated. For the next summer it is already clear: Without a bag of candy rings, nothing works!

5. Artsy earrings
Artsy earrings are artistic pieces of jewelry that catch our eye directly due to their special design. These can be different materials, sweeping lines, extravagant processing of precious metals such as hammered gold, or abstract shapes. So cool!
These pull through earrings are handcrafted of high quality sterling silver. The long earrings are eye-catching, simple enough for every day, fancy enough to complement a dress for a party. They are lightweight and so comfy for every day! Choose them for extra shine!
Nice for women with a long neck, cause they accentuate the beauty of the lines. Also great for tall women!
6. Signet rings
The signet ring used to be a symbol of power and authority, then it became a symbol of community and togetherness - and today? It is mainly used as a fashion accessory. The signet ring is classic and eye-catching at the same time, which makes it easy for us to style it to our looks. The rings can be stacked, but this also makes a statement on its own.

7. Colorful stones
It's going to be colorful in 2022! We find the colored stones mainly in rings and as pendants for chains. For a long time, the jewelry trends in terms of color were more reserved and, above all, more minimalist. We are now going for colors like pink, green or blue, just to name a few examples. It doesn't matter whether the stones are real or not.
Awesome Genuine Blue Opal Necklace. Symbolic Christmas Gift For her.
The minimalist style necklace is handcrafted of high quality sterling silver and a genuine blue opal stone. Opal is considered a healing stone and is regarded as a lucky symbol. It is believed to bring happiness and love. It is also the birthstone for people born in October and November! Makes a great birthday gift!
What of the trends is your favorite? 
Leave a comment
Comments will be approved before showing up.