How to choose the right bracelet for men or women?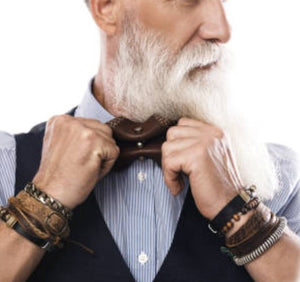 Choose the right bracelet!
If you ask a jewelry specialist about art of choosing the right bracelet, he will definitely recommend you to pay attention on classification by design.
Both of them have their own advantages and disadvantages.
Soft bracelets are introduced in different designs: chain, braided, combination of leather and metal.
Another not less amazing type is charm bracelet which also belongs to soft models, but is quite reliable and comfortable when worn.

Hard metal bracelets do not deform when compressed, so if the small kids play with them, nothing goes wrong.
Moreover, hard designed bracelets include springy, closed and hinged models.
Delicate Leather bracelet for men
So, if you want your bracelets speak elegance and class every time you put them on, we advise you to take into account the tips of jewelry masters.
First of all, pay attention on numerous options at once, don't judge on the look.
Advisably, consider the metal, weaving, type of lock and shape of pendant.

Metal bracelets:
We specialize on the production of bracelets made of sterling silver and gold-filled metal.
These materials are quite robust, however there are some pros and cons.
If you buy a piece of jewelry for a kid, you can take silver as the first in his or her life.
In case of birthday or anniversary gift, then it is better to take gold-filled bracelet.
But if you desire to make a precious gift, remember about golden and silver samples.

The higher the sample, the better the alloy. Honestly, golden jewelry is better to take gold standard, for silver the choice of sample will be more than 925.
In addition, combination of different samples attracts attention to your accessory because it sparkles and really enhances its quality.
This is optional if you are unaware what your girlfriend likes.
When buying a bracelet with online delivery, please consider the color of gold.
The discreet and elegant classic gold filled will be preferable by most of women, however, white or Sterling silver color is gaining popularity among young girls.

Clasp type:
Whatever exquisite materials are and even are embellished with all the possibilities, remember the clasp mechanism is an important element of any piece of jewelry.
When you or your partner buys a bracelet on the webstores, look at the photos of pieces of jewelry, read the characteristics.
A reliable clasp is a guarantee that the jewelry will be worn for a long time.
There is a variety of clasp mechanisms, though pay attention on carbine mechanism, magnetic mechanism and spring clasp.

The carbine mechanism works with the help of connecting the ring to the carbine - a small loop with a brace.
The clasp is in a spring-loaded condition, due to which reliable fixation is achieved. Absolutely amazing benefit of the carbine is the possibility of repairing, which distinguishes it from other clasps.
The biggest advantage of magnetic mechanism is their accessibility.
For example, there are customers who have a limited mobility in fingers and wrist due to arthritis and magnets are easier to fasten single-handedly.

Spring clasps are secure because of a tiny spring that keeps arm closed until you push on the lever.
They are somehow easier to open because they don't require fingernails.
Apparently, these are not all types of comfortable and easily-fastened clasps, but these types are considered by jewelers to be the strongest.

Charm shape for bracelets:
A number of bracelets have additional decorations, some of them are called charms – link bracelets with tinkers or special charms, dangling from a chain.
These decorations represent meaningful to an owner things or sentimental values, like love, tenderness or friendship.
Charms are not hung on a bracelet, but strung.
Charms are mostly classic pendants of small size . Designers create different shapes and decorate them with stones, metals, plastic or gemst
Charms can vary from simple shapes to angels, hearts, infinity symbols, butterflies, flowers and geometric symbols.
The advantage of this category of bracelets is the ability to independently collect your own accessory.
For example, the son wishes to make a gift to his mother on the Mother's Day if she collects pendants or charms on her bracelet.
Bracelets with additional trinkets are very popular among children, teenagers, young girls and sometimes men. Anybody can design their style with personalized charms.
Why not to underline your uniqueness by sophisticated feathers or small colorful stones?
Additionally, religious charms will be reminder of the faith that is essential for most of people or constantly remember about your beloved people by relationship reminders.
"Hobbies charms will represent your passion, e.g. somebody is a musician and guitar or key charm will be a benefit for such people."
Please have a look our bracelets categories
Personalized Sterling Silver bracelets
Leave a comment
Comments will be approved before showing up.