How to choose jewelry.
Women's elegant earrings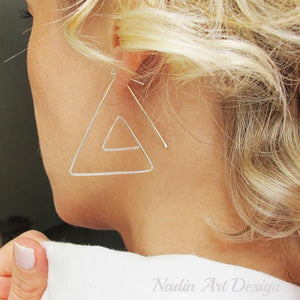 Jewelry has always served people as a decoration and has played an important role in creating one's own look. Both women and men have since ages adorned themselves and thereby underlined their status in society, later - their personality and style. Jewelry makes also a good and unforgettable gift.
First, to choose jewelry, you need to clearly understand: for whom it is intended (a man, an elderly / young woman, or it will be a piece of jewelry for a child). Second, it is also a good idea to clarify the status and age of the person, as well as his/her taste, style of outfit and personal preferences.

It is worth noting that there are unspoken rules for wearing modern fashion jewelry. Do not give a young woman the jewelry with large stones, which will look rather provocative on her, but the older a woman is, the better such jewelry emphasizes her individuality. Also, do not wear jewelry intended for evening outings during the day - you will be seen as a person with bad taste. From the above it can be seen that a well-chosen jewelry will not only delight its owner and trigger unforgettable emotions in him, but also emphasize his or her personality.
How to Choose Earrings
Let's have a more detailed look at women's modern earrings.
Earrings are an indispensable accessory for the fashion-conscious woman, a continuation of her style. When choosing earrings, parameters such as weight, size and type of clasp play a role. But also many of us overlook the fact that one should pay equal attention to the color, shape and arrangement of the stones. The focus is on the balance between the shape, size and arrangement of the stones, if there are some.

For women with a round face shape, the earrings in different shapes, with or without a stone, are perfect. The earrings, decorated with one or more contrasting colored stones and patterns, visually elongate the wearer's face.
For women of small height, earrings that are too long are not recommended, the optimal length of the moving part of the earring should not exceed 4 cm.
The round or square hoop earrings emphasize the charm of women with balanced facial features.

Have a look at the eye-catching big hoop earrings, fashionable geometric jewelry. Handmade of gold filled, they are shiny and look really amazing. These are lightweight hoops, perfect for any wear and any occasion.
Omega Hoop Earrings, high quality sterling silver accessory. The wonderful large hoops are lightweight, ans so great for everyday wear, for any outfits.
The women who have an oval face can choose earrings of any shape and size.
Like this modern jewelry for your elegant style, long narrow earrings, handmade and hammered for shine and strength. The earrings are great for everyday wear, as they are lightweight and comfy.
The owners of square-shaped faces appreciate dangle earrings or earrings on a chain. The important thing is that they shouldn't be massive or too heavy. In addition, the earrings with English clasp in round or teardrop shape fit them. The main requirement when choosing earrings for these people is to avoid complex geometric ornaments and patterns, but rather to give preference to laconic and soft lines.

Long fashion earrings for you. These dangle earrings are handcrafted of shiny gold filled and little crystals. They are comfortable enough to be your everyday earrings and at the same time fancy enough to complement your party outfits.
You can choose any crystal color to make the accessory suitable for your dress. It can also be the color of your birthstone, thus you will get both: a stylish accessory and a talisman. If you don't know your birthstone, just write me your birth-date and I'll select the appropriate color for you.
It's also an awesome gift for any occasion. Beautiful and charming.
The ladies who have a triangle face shape can choose the earrings that, thanks to a properly chosen shape and design, will perfectly balance the face. Trapezoidal or triangular earrings (pyramid) fit best here. Avoid the shape that resembles the heart. The ideal solution in this case will be stud earrings, earrings with an English clasp or drop earrings. For a brighter image, choose earrings with colored stones or pearls.

Geometric earrings are in trend! Choose the hoops made of the finest sterling silver! They look elegant are lightweight and ready to complement any fashion or everyday look of yours!
Fine Triangle hoop earrings, hammered shiny hoops. The earrings are big still lightweight and very comfy. Beautiful accent for your elegant style!
Fashionable geometric style spiral triangle earrings to shine!
Choose the big triangle earrings carefully handcrafted of high quality sterling silver. I make the earrings and guarantee high quality of each pair. These are wonderful earrings for everyday wear, as they are big still very lightweight!
If you choose earrings with an attractive design, you should also pay attention to their clasp. It should be the most comfortable for you. Let's consider several variants of closures:

Earrings with an English clasp

Earrings with an English clasp - the most popular and convenient option for every day. When choosing, consider the weight and size of the earrings so that they look perfect on the earlobe. For a deeply pierced earlobe, we do not recommend heavy and massive earrings, as there is a risk of them sagging.
Hoop earrings
Hoop earrings (Creolen Ohrringe) - are ideal summer accessories for romantic women. It depends on your personal preferences, but keep in mind that the heavy weight hoop earrings will look more harmonious on a denser earlobe.

Look chic and elegant in these shiny, eye-catching hoops.
These lightweight hoop earrings are handcrafted of 14k gold filled. They feature 5cm in diameter and are extremely lightweight. The high quality is guaranteed. Be sure, they are lightweight and very comfy for wear! You won't find such earrings in regular jewelry shops or at the famous jewelry brands.

Sexy hoop earrings, large hoops to make a statement! These giant gold filled earrings are big but awesomely lightweight. You will be amazed how comfy they are!
Stud earrings

Ear studs - the advantage of this type is that you can easily adjust the earring to the earlobe. A variety of models and shapes of ear studs make it possible to use them as a stand-alone accessory and also for multiply piercings. There are no specific standards for choosing these earrings. Pick the ones you like most.

Sweet gold studs, leaves earrings. They are made of quality gold filled 14K. Perfect earrings for everyday wear.
Gorgeous pearl stud earrings. Classic chick gold studs for brides, bridesmaids and just to look elegant to any occasion!
Hook fastening earrings

Hook earrings - are usually chosen for children and teenagers, although there are no specific stereotypes and age restrictions. It is just the most comfortable model of earrings that is comfortable to wear. These earrings are a great option for kids who have recently had their ears pierced.

What earrings do you prefer for every day and special occasions?
Leave a comment
Comments will be approved before showing up.