Father's Day in the United States: the origin of the holiday. Gifts to Father's Day 2022 to remember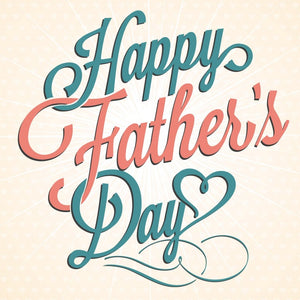 Father's day in US a special day for any man. After all, on this day in love for fathers not only a wife, daughter, mother, but also beloved friends or brides who will soon become wives can be found.
Father's Day in the United States is celebrated on the third Sunday in June each year and is as important as Mother's Day. Here you will learn everything about the origin and traditions as well as interesting facts of this US holiday!

Origin of Father's Day in the United States
The first documented fathers' event in the United States took place on July 5, 1908, when a church in West Virginia had a special Sunday sermon to commemorate 362 men. They died in an explosion in a coal mine in December of the previous year, including many fathers. However, this special Father's Day sermon was a one-time event that did not repeat itself in the years that followed.

This all started with her
A key figure in the founding of Father's Day in the United States was the 27-year-old Sonora Dodd, whose father raised his six children alone after the death of her mother. Inspired by Anna Jarvis' efforts for Mother's Day in the United States, Dodd wanted to create an official equivalent for male parents in 1909 because she was very grateful to her father.

She went to local churches, shopkeepers, and government officials to gather support for her idea, and got at last successful. The State of Washington celebrated the first nationwide United States Father's Day on June 19, 1910. Dodd originally suggested June 5 as the date for the holiday, which was the anniversary of her father's death. However, there was probably not enough time to organize the celebrations in time.
Official government recognition
In 1916, US President Woodrow Wilson spoke at a Father's Day celebration in Spokane, Washington, and wanted to make the holiday official. However, Congress had fears that it would just be another commercial holiday.

The Father's Day movement grew slowly and only became more popular in 1924 when President Calvin Coolidge asked all US states to celebrate Father's Day. However, this had to wait until 1972 when President Richard Nixon officially declared Father's Day a public holiday by law. Six years earlier, in 1966, President Lyndon B. Johnson had already defined the third Sunday in June as Father's Day.

Traditions on US Father's Day
Father's Day is not a statutory national holiday, but it is a world-known holiday to honor the contribution of fathers. There are many traditions that are common in each family. These range from a simple phone call or a greeting card to traditionally men's gifts, such as Sporting goods, electrical appliances, outdoor cooking utensils or tools. If you are looking for inspiration, check out our ideas for Father's Day gifts.

In the days before Father's Day, many schools also help their students to design a home-made card or a small gift for their fathers. Of course, it is also very popular when the children prepare a delicious breakfast for Father's Day. Since at the end of June the weather is usually good, a great barbecue in the garden or other outdoor activities and sporting events is also a good option.

Interesting facts about U.S. Father's Day
Sonora Smart Dodd from Washington inspired the tradition of Father's Day in the United States after a similar tradition for Mother's Day.
There are over 70 million fathers in the United States.
Father's Day is the fourth largest occasion for sending greeting cards, with around 80 million cards sent annually.
50 percent of all Father's Day cards are purchased for fathers by their children and almost 20 percent for husbands from their wives. The cards are also given to grandfathers, sons, brothers, uncles, etc.
The two best-selling varieties are "To Dad from Daughter" and "To Dad from us", together with funny cards that are very popular too.

If you are getting prepared for Father's Day and looking for one-of-a-kind memorable gifts, here are personalized jewelry gift ideas that may help you to choose one that will become a touching present for your father and will remind of your love, care and gratitude.
Personalized Gifts to Father's Day
Here is a lovely leather bracelet for men, a piece of personalized jewelry crafted of quality leather. Add a unique message with the quality engraving I make. I may engrave a quote, phrase, prayer in any language, names, roman numerals, GPS Coordinates etc.. A meaningful gift idea for dad!
Custom Gift for father
One more custom cuff bracelet made of genuine leather. Its metal part - a plate will be engraved with a custom text from you. A beautiful present to Father's day!
Text message gift for men
Look at the stylish bracelet is handmade of high-quality leather in the color you choose: black, gray, or brown. A metal piece is polished for shine and can be engraved with a name, a word, or a date. Great gift for him to any occasion!
Gift for dad
Classical men's bracelet handcrafted of high-quality sterling silver in an elegant minimalist style. Ready to be custom engraved for your dad! The cuff can be both sides personalized. Customize it with names, initials outside, and with some words of gratitude and love inside! A meaningful gift to Father's day your dad will treasure!
Unique Gift for men
if you are looking for a unique gift idea for a new dad, here is the best one! Personalized Heart Beat bracelet, finest gift idea. The message bracelet is designed to wrap the hand twice. It is trendy, and the engraving will make it truly unique. It can be engraved with the EKG picture, or heartbeat diagram, or any sound wave picture!
Custom EKG Bracelet for Men
Here is a romantic gift idea for your husband to Father's day! Custom sound wave engraved ring made of quality sterling silver. The best personal gift for him! Record a piece of his favorite song, or your declaration of love and get the ring with a unique engraving, he will keep forever!
Unique Gift for Father's Day
Custom accessories for the best men's gift
Great bottle opener keychain. Made of quality metal, the one-of-a-kind accessory can be engraved with any quote you want! Nice gift for your dad, friend, brother, uncle etc.
Engraved keychain
One more key chain with three metal discs. The custom accessory is made of different colors metals. Each one can be customized with a unique message of yours: words, children's names for fathers day, initials, dates etc.
Gift for Men
Gold Cuff Links to make the finest personalized gift for father. These custom engraved cufflinks come in silver or gold, as you choose in high-quality metal. The perfect touch of elegance! What makes the accessory special is a custom engraving that you can make - the same or different engravings on the two links.
Engraved cuff links
Personalized gifts are truly thoughtful and touching. But, well, if choosing such a gift, you should think well of words to engrave the piece for that personal touch. If you are a bit short of ideas, here are some message ideas to help. Feel free to mix and match.
Engraving ideas for the touching gift
Dad, I love you more than all the stars in the sky.
I am as lucky as can be, the best Dad in the universe belongs to me.
Dad, aren't you the luckiest Dad in the universe to have me as a daughter/son?
You are the brightest star in my sky, Daddy.
Despite the distance, we look up at the same starry sky and connect, Dad.
Some people don't believe in heroes. They haven't met you, Dad. Happy Father's Day
Thank you for being there every day for me. I love you Dad.
You give me every day the greatest gift: you believe in me. Thank you Dad.
No matter how tall I get, I will always look up to you Dad.
Dad, thanks for being there when I need you most.

For Dad with a good sense of humor, here are some funny messages to make him smile:

Dad, you are the luckiest man in the world. I would love to have me as a daughter/son.
Happy Father's Day to my Daddy who can fix it all except [insert there leaking faucet, broken favorite toy...]
You may have loved me since the day I was born, Daddy, but I've loved you my whole life. I win.
I love how we don't even need to say out loud that I am your favorite child.
Happy Father's Day from one of your most legitimate children.

Here are some quotes to choose from:
"My father was often angry when I was most like him." Lillian Hellman
"Dad, thanks for working so hard to pay for the TV that actually raised me"
"To be a successful father… there's one absolute rule: when you have a kid, don't look at it for the first two years." Ernest Hemingway
"The older I get, the smarter my father seems to get." Tim Russert
"A man knows when he is growing old because he begins to look like his father." Gabriel Garcia Márquez
"Dad, I promise that one day I give you grandchildren, who will annoy me as much as I annoyed you"

Of course, engraving of names, initials, memorable dates is nothing new for you. But consider, that modern technology allows to make as well a high-quality engraving of handwriting, pictures, logos - everything you need to get a truly the best and unique gift for your dad!

What gift will you choose this year?
Leave a comment
Comments will be approved before showing up.