Father of the Bride Gift Ideas and other Tipps for the Best Wedding Presents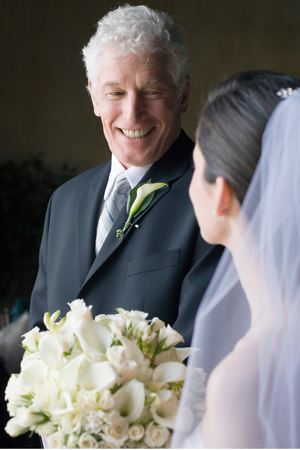 On the wedding day, love and gratitude are the focus. As the bridal couple, you would surely want to thank your loved ones for their care and support with gifts for the parents that come from the heart.

It's easier to get a particular gift for mothers, but it is getting much more difficult when it comes to the groom's and bride's father.

So here I've created for you a special father of the bride gift list to choose from.
Father of the Bride Gift Ideas 
Cufflinks for the bride's father
Gold Cuff Links to make the finest personalized gift for him. Elegant accessory for men, engraved cufflinks.
These custom engraved cufflinks come in silver or gold, as you choose in high quality metal. Perfect touch of elegance! What makes the accessory special is a custom engraving that you can make - the same or different engravings on the two links. The best gift for groomsmen, husband or bride's father.


Tie clip
Nice Anniversary Gift for Husband to birthday or anniversary. Custom Tie Clip for men.
The tie clip is handcrafted of high quality stainless steel and makes a good background to be customized with any text you choose. This can be not a text only, but also a sound wave, heartbeat picture or handwriting.
Custom anniversary to make a fine birthday, Christmas or wedding gift!
Personalized bracelet
High quality sterling silver cuff that is ready to be personalized for you! Engrave some words to inspire, motivate, or create an ID cuff with a signature! I can both sides engrave the cuff. You may send me a picture with a handwritten text and it will be quality engraved.
Custom engraved jewelry makes truly unique gifts. 

Crafted in minimalist style, the silver bracelet matches any taste. Great personal gift for boyfriend or husband!
Engraved bracelets are the top gift option to any occasion. This band is crafted of high quality sterling silver. What speaks loud is the custom engraving. Engrave any text you wish to make a nice gift for him!
Unusual bottle opener keychain. Made of quality metal, the one-of-a-kind accessory can be engraved with any quote you want! Nice gift for your dad, friend, boyfriend, brother, groomsmen etc.
Fine present for men, a custom accessory. The quality leather and metal keychain will be personalized with a message you want. I can engrave words/dates/names to create a really special accessory for you!
Personalized leather keychain, custom engraved accessory. Add some touching words, or dates, names to personalize the key chain, and this will certainly become the best gift for your dad, friend or husband!
Personalized gold metal keychain with customized text. Unique gift for him, musician gift idea.
This custom keychain is crafted in the form of a guitar pick and can be engraved with any text of yours. Add his favorite song lyrics or some meaningful words. The piece can be both sides engraved.
Fine gift for musician or your friends who are in love with music.

Wallet Insert Card
Gift for men, custom crafted wallet insert card for men. The silver metal plate has enough space to personalize it with sincere words to remember. This makes a nice gift idea for husband, dad, boyfriend, groomsmen etc.
Looking for more wedding gift ideas for the bride and groom? Here are some tipps how you as a guest can find the right wedding present for the bride and groom and what you should pay attention to when choosing!
I have summarized everything needed about the right wedding present for the bride and groom for you here.

First of all, you should find out whether the bride and groom have already expressed their wishes. Are there any notes on the wedding invitation? Some bridal couples create a so-called wish list to make it easier for the guests to choose the gift.

Give something useful
In addition to the traditional known by everyone practical wedding gifts, there are other useful gifts. How about a new camera to hold on all the beautiful moments of married life? The bridal couple has a common hobby, such as canoeing? Why not buy the right equipment? The main thing is that the bridal couple can really use the gift.

Bridal couple not only put their entire heart and soul into the planning of their wedding, but also usually a lot of money. Therefore it hurts twice when something goes wrong. Give your friends financial insurance for the dream wedding - best at the beginning of wedding planning.
Money gift for the wedding and the question "How much money do you give"?
The classics of wedding gifts is money. Some bridal couple ask their guests to give money, for example, to fulfill the dream of their own house or finance their honeymoon. Money gifts can also be useful if the bridal couple has not expressed any wishes, and have no ideas themselves.

Surely you also ask yourself "How much money should I give as a wedding gift? - If there are no rules, always bring in what you can also contribute. The average sum is right around $100, which is a great place to start, and you can increase based on how close you are.

Experience gifts
It is becoming increasingly popular to give away experiences. A romantic dinner for two, a great weekend trip or an exciting rafting or geocaching tour. Give the future memories. Whether as a voucher or already booked, experience gifts are just great. Important: You should definitely select something about what both are happy! A spa day can please both, but can also go backwards. If you are unsure, ask the parents or best friends of the bride and the grooms or choose a voucher.
Homemade and personalized wedding gifts
Nothing is more personal than homemade biscuits, self-knitted stockings, etc. Be creative and give a piece of your handmade creativity.
Great are also personalized gifts. Instead of giving away simple wine glasses, they could decorate them themselves or get engraved by professional. With the names embroidered towels and bed linen or a soap dispenser with photo, there are many opportunities to make simple things personal today.

Our first tip for a great personalized gift is jewelry.
You can choose rings for the couple, a necklace for bride or a cuff for groom. There are different options on how you can customize the jewelry pieces. Starting with initials and names, to inspiring quotes, verses, or even with a handwritten text, pictures and self-created logos.

Hopefully you have now some ideas in the head to start looking for the very best wedding gift. I wish you a lot of fun choosing and a great day to celebrate the love of your friends or family members.
Leave a comment
Comments will be approved before showing up.