Fashion Tips: How to Choose and Wear Modern Women's Bracelets. Trendy Bangles, Personalized Jewelry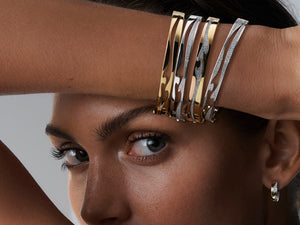 What is your favorite jewelry piece? What are you wearing every day?
Women's bracelets are jewelry type that can be found in the collection of every woman. Various styles of women's bracelets give a chance to transform an image easily depending on the style of wear. There are different ones for every day and for a special occasion. The main thing is to choose the right design and match the bands with the overall style correctly. When matching, it is important to consider the color, texture, and material of the jewelry before deciding what to match it with.

Jewelry can emphasize your elegance, complement any outfit, or even be a symbol, tell stories about what is important for you. So let's have a look on how to wear a bracelet properly on your hand and what to combine it with. Here you will find some tips on how to choose the right bracelet - the advice will help to make the modern look complete.

First, we should pay attention to the types of bracelets that are most trendy today. Many modern bracelets are universal accessories that can play both the main and secondary roles in style. Large metal bracelets with fancy patterns, accessories with enamel decor, plastic rings and elegant gold cuffs - the variety is really awesome. You can wear them individually, as a light detail, note, or a focal point, or combine, layer them. There are many original ways!

Here are the most common types of women's bracelets for everyday wear.

Bracelet Styles
Cuff bracelet - a metal bracelet sitting tight on the wrist.

Bangle bracelet is usually a metal round bracelet, usually, there are some bands on the arm combined in a layered look.

Look at this silver bangle bracelet. Crafted in shiny sterling silver, the classic design suits any wear and any occasion! What gives the band a special note is the engraving you choose. The cuff can be both sides customized with words of inspiration and motivation, so that you can easily choose it for a heart-breaking gift, to say how much you care! Such personalized jewelry makes the best gifts ever!
Custom Silver Bracelet
Here is one more bangle but in gold. The elegant gold bracelet crafted of shiny 14K gold filled makes a romantic piece that can be both sides engraved for a touching gift or for your favorite name bracelet to complement everyday look! Perfect to combine with similar ones for a fashionable layered look.
Engraved gold bangle for women

Chain ​​- a metal bracelet, featuring a number of links in different styles.
Elegant and very feminine chain bracelets are great to combine with pendants that can be changed - depending on the outfit and mood. If you travel, you may bring a charm from every country or city where you are traveling, a fashionable bracelet with all those pendants may then tell a story about you and your adventures, being a memorable piece.
Have a look at the delicate chain bracelet. It comes with an infinity link, that gives the design extra charm and romantic notes. A tag charm can be engraved with any initials. Romantic touch associated with eternal feelings.
Gift for her


Pendant bracelet - a chain or bangle bracelet complemented with various pendants, charms, and amulets.
Look at the bracelet with letter charms that looks tender and sweet. Such a bangle combines with different gold bracelets well. You may also order additional letter charms and create a gift for mom with the initials of her children!
Charm bracelets


Bracelets with gemstones, like diamond bracelets. Pearl bracelets take their special place in the line. Pearl is a mysterious gem, no other stones can compare with the pearl in its elegance and grace. Pearl jewelry, bracelets are a must-have of any jewelry collection!
Pearl bracelet
Bauble bands - homemade bracelets made of several multi-colored threads. 
Leather bracelets are now very popular with women too. Look at the wrap bracelet made of genuine leather and quality Gold filled components. It hugs the hand beautifully wrapping around it. A polished gold plate can be complemented with an engraved message.


Consider the option of personalized bracelets to engrave a secret message, inside, for her eyes only! This is the sweetest romantic gift for her!

According to fashionable gurus, the beauty of your hands should be showcased, and the approach to choose the jewelry for that should be creative.

Wide metal bracelets, smooth or with large, natural, often almost untreated stones, look great both on full hands and graceful fragile wrists. However, too "heavy" bands, with a deliberately rough structure, may look bulky on a thin hand, so it is better to prefer smoother lines and "airy" design, being careful with the width.


Geometric jewelry is becoming more and more popular, with designs featuring different geometric forms and figures. Designers are also inspired by the romanticism and grace of animate nature. Bracelets in the form of insects, garlands of leaves, flowers, fruits give the image special femininity and lightness.

Classic gold and silver bracelets are timelessly very popular. They can be combined almost with any wear style, giving not to bold still eye-catching elements to your perfect image. Choose gold bracelets considering your skin color, as there are jewelry pieces in gold of different hues, but you must choose the type that volumes the beauty of your skin best.

So, with regard to textures, colors and the number of bracelets - designers give us complete freedom in experimenting with those. With such a variety of material, you can endlessly create, combine and experiment for your own pleasure.

But you should be careful then with the rest of the jewelry. Add a ring, a delicate necklace or a chain with a pendant to your bracelets, but don't overdo and keep the balance in the amount of the accessories.
How to choose the bracelet according to the season
Let's learn how to wear the bracelets, how to combine and select them according to the time of year, as well as how to choose the right ones according to the outfit. Play with various combinations of bangles, chains, stripes, cuffs and bracelets with pendants - use your collection to the fullest! This instruction will help you navigate and wear the bracelets correctly. Before you wear a bracelet, start experimenting with the thinnest. Choose bracelets that are similar in style - thin chains, bangles, cuffs - tight-fitting wrist bands. Many thick bracelets will look bulky on your hand and make the image heavier.
Mix styles and textures. Pay attention to the differences in those. The combination of bracelets of various styles - chains, bangles, diamond strips - will make your image more interesting and diverse. Combine metal bangles with chains, or leather stripe bracelets, add some pearl for a chick look. But always pay attention to the overall look not to overdo.

Wear not adjustable bangles closer to the elbow, while thinner and more elegant adjustable bracelets - closer to the wrist. Do not overdo with diamonds or other gemstone bracelets. The secret of a successful fashion look is in the right proportions and the sense of proportion itself. One super-bright bangle is enough keeping other band layers discreet.

Before you pick up a bracelet, look at the outfit. For winter clothes, an exquisite wide cuff (or two) is best suited, which in cold weather can be worn over an elegant leather glove. A single thin metal bracelet will suit a bright spring look.
Summer is the time for light and colorful things, so this season is the best for combinations, layering of bright bead bracelets and baubles. Hand-made ethnic masterpieces of beads and multi-colored laces look bright on the hand in the company with bracelets carved from wood or bone. In the fall, massive gold chains and cuffs in the golden autumn colors, chic leather stripes and luxurious textures - such as "turtle shell" and "tree" match the earthy hues of autumn perfectly.

How to combine bracelets with a watch

A watch is a basis, but it's possible to create with it an infinite number of combinations. Before combining, start by choosing a watch. Of course, it should match your style, but at the same time be versatile enough to fit your wardrobe outfits. The watch can be on a leather or plastic strap, or a metal bracelet, with precious stones, analog and digital. Add an unusual cuff bracelet. Choose cuffs of simple designs. Add one or two thin chain bands. Thin gold chains look great on top of a watch as well as thin bangles!

What is your favorite bracelet type? The one you always choose for every day or that special occasion?


Leave a comment
Comments will be approved before showing up.