Cyber Monday 2019: Everything you need to know for successful shopping! Black Friday and Cyber Monday Shopping Secrets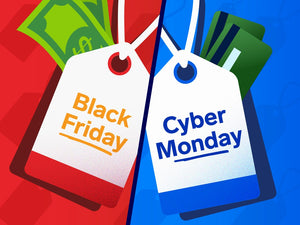 Black Friday takes place once a year - on the first Friday after Thanksgiving in the United States. On this day, the season of the famous Christmas sales starts, and on this special Friday, shopping centers and hypermarkets almost all over the world experience a small shopping Apocalypse, during which shoppers storm the shops. Moreover, it often happens that when hunting for discounts, people sweep away everything on their way - doors, and other people - just to get a desired product for the best price. The actual date of Black Friday and Cyber ​​Monday is changing annually, the date of Black Friday 2019 is November 29, and Cyber ​​Monday is December 2. And if the history of Black Friday is rooted deep into the middle of the last century, then Cyber ​​Monday is a very new event in comparison to it.

In fact, Cyber ​​Monday is not even fifteen years old - the tradition of this sale was started in 2005 by the US National Retail Federation. This was a carefully planned step to promote online shopping, as, during Cyber ​​Monday, all promotions and discounts are mostly online.
The second day of global sales was a really good decision, cause buyers got the opportunity not to go necessarily to shopping centers, but enjoy holiday discounts while sitting at home on the couch, in warmth and comfort!
Cyber ​​Monday is a continuation of Black Friday, a little delayed in time and transferred from ordinary stores to virtual ones. The main difference between Black Friday and Cyber ​​Monday, except for different dates, is that Black Friday offers can be found both in stores and online, while in Cyber ​​Monday all discounts are available on the Internet. At the same time, on both days you can find many interesting discounts on a wide variety of different goods - from shoes to gadgets.

The most interesting thing is that on Cyber ​​Monday it's quite possible to catch an even bigger discount than on Black Friday. This is because many stores find out what price will be approved for Cyber ​​Monday only after the end of the Friday sale - sellers need to evaluate how much and what was sold during the first wave of discounts. It often happens that stores simply do not risk immediately setting the maximum discounts for Black Friday, as they are banally afraid to stay empty for Cyber ​​Monday.
It's a good time for buying Christmas gifts! Do you already have a list? If not, it's time to create it! We are offering you to consider custom jewelry that makes a really personal gift. One-of-a-kind gifts that are chosen with much attention, care, and a personal attitude are doubly valuable. Beautiful designs, lovely ideas, precious metals and high quality of all the products - that's what you can find in our store!
Enjoy Black Friday and Cyber ​​Monday Shopping on Nadin Art Design Jewelry Shop
Starting this week we are offering discounts to give you a chance of getting really unique gifts for your nearest and dearest! Here you can find gifts to any case, for your family, friends, colleagues and special ones! What speaks loud, each piece will be truly unique! Have a look at the wide range of jewelry products already now, here you can find modern personalized jewelry: earrings, bracelets, pendants, necklaces, and different accessories. Each piece can be custom engraved. So you become a co-creator of the jewelry! A piece with an inspirational quote, initials, name jewelry makes a gift to remember! Do you want more? We provide a quality engraving of handwriting, soundwaves, GPS coordinates of a dream place, etc. Choose what you like and create an unforgettable gift!

Unique engraved bracelets for men
Enjoy fair prices and free shipping! 
Black Friday and Cyber ​​Monday Shopping Secrets
Well, if you want the shopping on Black Friday and Cyber ​​Monday meet your expectations and bring really cool purchases, you need to get prepared for them in advance - and then it will become an exciting pleasant adventure and not a disappointment. We have prepared for you 7 tips that will help you organize your shopping properly during annual sales. Check them out, they are really useful! 😉

7 tips for organizing the best shopping on Black Friday and Cyber ​​Monday

- First, decide what exactly you want to buy during the sale. Make an accurate list of proposed purchases and consider options in the stores - both regular and online shops where you can buy the things you need.
- Clearly determine all the characteristics of a future purchase - from technical parameters to the model and color. Keep in mind that the quantity of goods with discounts is usually always less than the number of people who want to buy it. Therefore, while you spend precious minutes thinking, someone else most likely has already finished proceeding an order and is safely paying for the goods that you might buy.
- Plan two budgets for purchases. In the first, you need to count the estimated costs for buying goods that you really need and have long planned, in the second - things that are worth buying if there is an unexpectedly big discount. In other words - divide purchases into two levels of importance.
- If you plan to make purchases during the sale online only, note the necessary sites in advance and mark the internet pages with the goods you are interested in. This will save time during online shopping - just a few mouse clicks and you can open all the pages, check availability, compare prices and immediately place an order.
- Create accounts on the sites of the online stores you need if you have not registered there, or login in advance so that after the start of sales you do not have to spend time on some kind of sudden troubles, for example, on a change of the password, updating personal data, etc.
- Keep in mind that due to the overloading of the servers, online store sites can hang and load for a long time, so be prepared to respond really quickly if necessary.
- If you plan to make purchases on Internet sites of foreign countries, specify in advance exactly what time the Black Friday and Cyber ​​Monday sales will start on them, and put a reminder on your smartphone. Remember that the larger the online store, the greater the number of buyers will gamble on his sales, and the faster the coolest goods will be sold. So you should start your hunt for discounts immediately after the start of the promotion - so you will have more chances to get a good deal!
What to buy on Cyber ​​Monday
There are several categories of goods that are most advantageous to buy on the sales days:
- clothes, shoes, and accessories: here you can easily create a wardrobe, especially low prices for summer clothes (50-80%), discounts on seasonal and luxury clothes are not so high, but you can count on 20-30%. Prices for children's clothes and shoes will also make parents happy;
- electronics: laptops, smartphones, tablets and all kinds of electronic gadgets, office, and home accessories, various devices, software, games, music, and films. Discounts reach 80%,
- household tools, instruments, fishing, and hunting equipment, etc.,
- all kinds of children's toys, carnival costumes, Christmas toys, and decorations (especially low prices due to huge demand),
- sports equipment and gear: from backpacks to snowboards and inline skates,
- cosmetics and hygiene products. Even food - coffee, tea, delicacies, can be purchased at discounts of up to 20-40%.
- jewelry and luxurious watches. Here don't wait for huge discounts.
Here are more rules to follow when shopping:
- Determine exactly what you need, make a list of necessary purchases. Do not be influenced by the excitement and euphoria of low prices. However keep calm, it rarely happens that you buy exactly what is planned.
- Take your time and learn the offers of your favorite or largest online sites offering the maximum discounts. Usually, in 2-3 weeks, stores announce discounts on different items. Subscribing to the store's mailing list is free, and the latest news will be in your mail instantly after the offers are published.
- Put in the basket the goods you need, and remember the prices without discounts. Do not be lazy to compare prices! Even if they promise you a tremendous discount, it will still not be amiss to find a similar product in the Amazon.com hypermarket (which is considered to be a standard of fair prices) and check.
- Do not forget to use cashback (rebate) services, which will help to additionally get a discount of 2 to 10%!

So are you ready for the best sales season in your life? We wish you being lucky and have the best deals ever! Enjoy!
Leave a comment
Comments will be approved before showing up.