Detailed love. Personalized jewelry.
The ever best gift ideas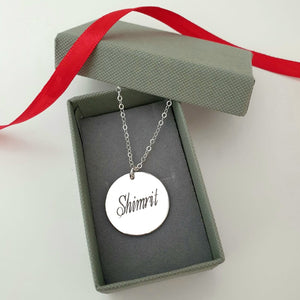 Are you still looking for the ideal birthday, Christmas or Valentine's Day present for your boyfriend or girlfriend?
Then you will ring the bell with personalized jewelry, because personal jewelry is more in demand than ever and is enjoying increasing popularity.
But what exactly is it that makes personalized jewelry so special? What details should you pay attention to when buying and what is personalized jewelry anyway?
What is personalized jewelry?
Before you choose the right piece of jewelry, it is necessary to clarify what makes personalized jewelry. The personalized chains, bracelets, rings or earrings are always original gift ideas that are suitable for very special occasions. Through the unique gift, the person becomes particularly aware of your affection, as a personalized piece of jewelry is always carefully selected and is created in one piece only. The accessories usually adores with a filigree engraving that contains personal messages, dedications or a very special date.

Here is a fine sample!
She'll admire the anytime appeal of this custom engraved bracelet.. Lovely Anniversary Gift for wife.
Handcrafted of quality gold filled, the wide cuff is ready to be engraved for you. Choose some words of love, gratitude or inspiring ones to make it meaningful for your loved woman. The bracelet can be both sides engraved. So you may send her a secret message inside. A classic look just for her, this cuff is certain to take her breath away.
Different types of personalized jewelry
You are now surely wondering what types of personalized jewelry are available? Today you will find a wide selection of beautiful pieces of personalized jewelry that are ideal for personalization. You can expect versatile designs that are sometimes elegant, sometimes playful and offer just the right thing for every taste. From simple pendants to romantically playful bracelets to extravagant necklaces or rings - nothing is left to be desired more, so that you can soon surprise your loved one with a very special gift.
In most cases, people use so-called charm pendants, which can be visibly different in shape, material and color. The pendants are available in the shape of a heart, as a zodiac sign, as letters or as geographical figures such as a triangle or a circle. You can also choose between gold, silver or rose-colored pendants that will refine your necklace or bracelet down to the smallest detail.

This name necklace is the piece to keep forever. A coin charm necklace that will be personalized for you.
The cute sterling silver necklace comes with a coin disc that is ready to be customized with initials or a name. Customize the design for a romantic gift for her, the pendant can be both sides engraved. This also makes a fine gift for best friends as a friendship necklace. Wonderful gift idea to her birthday. If you cannot find a suitable pendant, you can also fall back on fine cuffs, which offer enough space for a beautiful engraving.
Since rings are usually rather narrow and therefore offer a smaller area for the engraving, initials or an engraving of a special date are best suited for this.

This ring is the piece to keep forever! Nice gift for students, graduates, this personalized ring is crafted of sterling silver. Polished to shine, the band will be engraved with any words you choose: words of motivation, an inspiration quote, or just initials, names, dates, logos. Add a secret message inside. The ring is adjustable that also makes a great advantage for gift giving! Create your own University or College Ring.


Personalized gifts
As already mentioned, necklaces, rings or bracelets with engravings make excellent gifts. With the engravable pieces of jewelry you will literally become the designer of your own gift and you can upgrade a piece of jewelry - which at first glance might seem rather simple - into a very special highlight.
Immortalize your very personal message on the jewelry of your choice and make your partner, your friends, your parents or grandparents or just your siblings a very special pleasure.
If you don't know exactly which engraving is suitable for your piece of jewelry, here are a few ideas:

- an important date that connects you and your recipient
- the name of a loved one initials
- a life motto or
- a wisdom symbols and shapes like a heart or an infinity sign
- GPS coordinates of a dream destination
- hidden love message inside (the cuff, ring) engraved
- soundwave message

Here you will find unusual engraving ideas on the fine personalized pieces.

With its understated design, this Latitude Longitude Bracelet is perfect for men. Great Mens Birthday Gift!
Choose the Custom Coordinates cuff bracelet for a beautiful gift. The sterling silver band makes a great base for your engraving. I can engrave the Latitude Longitude of a special place for a really one-of-a-kind gift!
With some heartful words inside engraved, your loved person will for sure always keep the bracelet. Amazing birthday gift idea for him!
Personalized ring for Mountain Bikers. Personalized accessory to treasure.
The wide band ring is created of the finest black sterling silver and hammered for a distinctive finish. This can be both sides engraved with any words, dates or symbols you wish. With the drawing, it makes a great and funny biker gift!
The wide ring features adjustable size.
Really beautiful gift idea for men, Daughter to father bracelet. Voice Message jewelry for him.
Send him your voice message saying how much you care, perfect men's gift to any occasion! Order the bracelet engraved with a sound message: your words, his favorite song, or any other voice recording as well as a heartbeat engraving. Customized with a baby's sonogram, this will make a great gift for a new dad! Just send me a picture!

All ideas always come from the heart, so that the recipient will always carry a part of you with them in the future.

What occasion is the custom jewelry good for?

If the question has not yet been answered, we would be happy to explain to you again about possible occasions on which you can give away personalized jewelry with engraving.
Birthdays, wedding anniversaries, anniversaries, Christmas or Valentine's days are particularly suitable for making loved ones happy. Since you may have to plan the gift a little in advance, it is important that you clarify in advance which style your special one prefers. You can choose from a range of designs in my shop of modern personalized jewelry for men and women.

Consider the two Names Engraved Ring. Pure sophistication in silver infinity ring.
Handcrafted of high quality sterling silver, the ring is ready to be custom engraved for you. I can engrave it on the both sides. Would you like to send her or him more than a gift, but an expression of your love? Engrave the ring with an infinity sign that stands for timelessness, limitless wisdom, perspective, opportunity and of course infinite love.
Amazing birthday gift for your sweetheart! Two names engraved, great for couples.
She'll be reminded every day how much she means to you with this cute bracelet. Gorgeous gift idea for women to anniversary, birthday, or any other occasion.
Lovely cuff bracelet handcrafted of high quality sterling silver. Add your engraving to make the design personal: some meaningful words, a wish, or an inspiration quote. Prepare a fine girlfriend gift with a secret message inside inscribed. Beautiful gift, the cuff features an adjustable size and so will certainly fit!
While rose-colored jewelry and pendants are more suitable for women, for example, you can combine silver or gold necklaces, bracelets and pendants for all genders without any worries. It is only important that your personalized piece of jewelry meets the taste of your counterpart, so that nothing should stand in the way of a great surprise. Not sure, what style to choose? Enjoy the advantage of minimalist style jewelry, that is great for everyone!
Leave a comment
Comments will be approved before showing up.