Cool guide to men's style. How should men wear jewelry?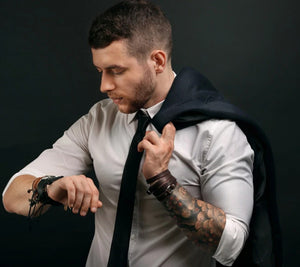 It's clear: most women adore jewelry, fancy or simple earrings, glittery chains and gemstone rings. For a long time, jewelry was considered a typical accessory for female fashionists, but what about the men's world? Can men wear jewelry and if yes, what and how? We've decided to provide you with a guide you can follow to understand: in what way should men choose jewelry for their style.

Role of Men's Jewelry
Men's jewelry has not played a major role in a fashion world for a long time, jewelry was more likely to be sold to women. Still men wear traditionally different pieces of jewelry too, like engagement and wedding ring as well as a chic wristwatch. But the fashion world is changing constantly. Today women wear cool boyfriend pants and sometimes wear more often sport clothes instead of elegant evening dresses and men now adorn themselves richly with chains, rings and bracelets. Accessories do add great accents to every look, so that men show their personality or that they understand something about fashion and value their own style.
Men's jewelry with meaning?
In addition to the pieces of jewelry that belong to a man just to complement the style, there is also jewelry that has a deeper meaning for the wearer. Without doubt, this includes the wedding ring, which should show the attachment to the loved one. But other accessories can also have a special meaning - for example the ring that has been bequeathed. Maybe you've been on a world tour and have bought a keychain in a distant country that has become your favorite one of your adventurous adventures. It is also possible to put bracelets on to symbolize a deep friendship with a buddy - or just share the memory of last summer's hip festival.
Different men - different jewelry to choose
If you go looking for new men's jewelry, you may get lost because the selection is large. Different materials, metals, colors, textures, designs... But no worries. We'll tell you which jewelry suits best every type of man.

Men's jewelry: the bohemian style
The elegant bohemian loves jewelry, but incorporates it rather cautiously and as a subtle accent. The bohemian men's favorite is a classic signet ring. This can be completed with a narrow bracelet that fits perfectly with the watch of your favorite brand. It is important to the bohemian that his jewelry looks exquisitely elegant.
Sleek and on-trend, this cuff bracelet adds a personal touch to the stylish look. Custom silver bracelet to any wear.
Crafted in solid sterling silver, this elegant minimalist design is accented with an engraving you choose. These can be words for inspiration and motivation, or just names and initials in Old English or a different font you like. I can both sides engrave the band.
This cuff can complement any wear well and make a fine gift to any occasion! Makes a wonderful gift to anniversary for husband!

Men's jewelry: elegant classic style
If you prefer classics, choose minimalist style, that is good both for casual wear and official cases. Personalize simple bracelets or rings to add though a personal touch to the accessories you choose.

Here the accessory you'll like! Crafted in minimalist style, the silver bracelet matches any taste. Great personal gift for boyfriend or husband!
Engraved bracelets are the top gift option to any occasion. This band is crafted of high quality sterling silver. What speaks loud is the custom engraving. Engrave any text you wish to make a nice gift for him! Send your loved man a hidden message, inside engraved!
Designed for those who love music! The musical band ring is created in durable, comfortable and fashionable metal. Custom engraved, it makes a great music gift for him or her to impress.
The open band ring is handcrafted of shiny sterling silver. I can both side personalize it: with Treble Clef , as well as with words, song lyrics, date. Make the gift to remember for the one who lives with music every day!
Perfect birthday gift, graduation gift etc.

Custom antiqued finish bracelet, men's gift idea. Fine black silver bracelet for men, elegant custom jewelry.
This is a fine sample of a modern men's cuff. It is handcrafted of high quality oxidized silver and showcase a fine antiqued finish. The open bracelet is created in minimalist style and there is nothing excessive. A custom engraving inside may add a unique touch to it. The engraving of a romantic message turns the cuff into a lovely gift for him!
Men's jewelry: the hipster style
Braided leather bracelets, chains with pendants, the current fashion trends for sure and a ring in the hottest trend of the season: for you, jewelry is an expression of your fashion knowledge and shows up again and again with the current style movements. You might like earrings not just of classic stud or hoop design, but fancier pendant earrings too.

Cool accessory for men, silver feather pendant earring. Dangle earring for him.
This Designer Earring for Men features a feather pendant in sterling silver. Lightweight and just perfect for casual wear.
Feathers symbolize wisdom, hope, lightness and faith. They also stand for truth and speed. Great gift idea for your boyfriend!
Modern leather Bracelet to satisfy any taste. Anniversary Gift idea for husband, best friend, girlfriend etc.
This is a unisex wrap bracelet that is handcrafted of high quality genuine leather in black or brown colors. You also choose a metal plate in silver or gold. But what makes the band one-of-a-kind is certainly engraving. The bracelet can be both sides personalized with any words or dates you wish to make it special! Enjoy custom jewelry gifts to any occasion!
Men's jewelry: the rocker
The rocker styles himself wild, has tons of tattoos and cool leather jackets. Hair is also probably long and untamed. For rocker types: such jewelry as long link chains with different pendants makes a good choice. Here the rule "less is more" isn't the right one, because the rocker is a statement in itself. So more jewelry! Layered bracelets, chains, rings are welcome! Pick up leather bracelets that you wear in the pack and decorate your hand with a large, colored ring.

Add interest to his attire with this skull pendant necklace! Wonderful men's jewelry.
Modern and fashionable goth style necklace handcrafted of a high quality braided leather cord and an antique silver pendant. High quality of each design piece is guaranteed. A skull is a symbol of change, a means of obtaining good luck or avoiding bad luck, as well as of courage, bravery or indifference to death and danger. Meaningful symbol for men!
Gift idea for men to any occasion!

Men's jewelry: street style
The skateboard is your best friend and sneakers are a part of every look? The only thing missing is the right jewelry. Decide on gold and silver chains, which you can also mix and play with different lengths. Bracelets are also fine to shine on the parties.

Fine ID pendant necklace. Birthday gift idea, neat gift for men.
Custom ID necklace for men. This sterling silver necklace comes with a tag pendant that can be custom engraved on both sides: with a name, word or date. This necklace will be unique with the engraving, just for him! This would be a great birthday gift for husband, boyfriend, brother etc.
Men's jewelry: Hip Hop Style
Wide baggy pants, oversized shirts and caps go perfectly with the typical gold or silver chains. These can be particularly long, large and heavy and even a little over the top. A typical hip hopper would also choose a single earring.

Simple men's hoops in punk/rock style. These are unisex earrings handcrafted of quality sterling silver and oxidized to a black finish. Suitable to any wear and any occasion.
What style is yours?
Leave a comment
Comments will be approved before showing up.