Best personalized gift ideas for your bridesmaids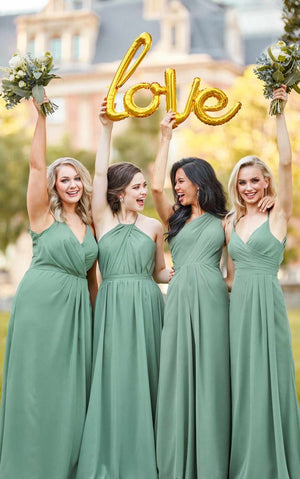 A wedding is always a day to remember! Of course, most wedding gifts go to the bride and groom. But if it's your wedding, you too can give gifts on this special day: small presents are welcome as souvenirs for the guests. If you want to give presents to the maid of honor or the bridesmaid, you can find lovely and symbolic gift ideas. The gift for the bridesmaids should fit the frame, not be too big and not too small, in a few words: beautiful, chosen with love, even if very simple!

The maid of honor and the bridesmaids are at the bride's side during the entire preparation and are happy to help with words and deeds. This support should be rewarded with appreciation! It's not about the value of the gifts, but about your attention. With the gift for the bridesmaid you say "thank you", and at the same time a personal gift is a nice reminder of the time spent together. Of course, nothing speaks against a larger gift. Just give what you can and what suits your budget!
Personalized gifts for bridesmaids
Jewelry is just wonderful as a gift, especially when custom engraved. First names or initials can be engraved on a necklace or bracelet. In any case, you can be sure that your gift will be a loving memory that will always be cherished. By the way, you can personalize the chosen jewelry gift not just with names, there are different unusual and beautiful ideas.
Here are some for you to choose from.
Two Names Engraved Ring. Pure sophistication in silver infinity ring. Handcrafted of high quality sterling silver, the ring is ready to be custom engraved for you. I can engrave it on the both sides. Would you like to send her or him more than a gift, but an expression of your love? Engrave the ring with an infinity sign that stands for timelessness, limitless wisdom, perspective, opportunity and of course infinite love.
This custom disc necklace is the piece to keep forever. A cute pendant necklace that will be personalized as you wish.
The sterling silver necklace comes with a disc tag that is ready to be customized with initials or her name. Customize the design, I can engrave something on the back pendant side as well. So you get a lovely name necklace for her birthday, wedding etc.
Perfect birthday or wedding Gift, a meaningful jewelry present. 
This gorgeous bracelet makes a great gift idea! Give it to your loved wife or friend with the personalized plate, both sides engraved. This could be a quote to inspire or your initials. Engrave it with coordinates of the place you met or kissed first. Add a hidden message on the back side for one more romantic note. A leaf charm with a crystal in the color of her birthstone finish the design beautifully. The bracelet suits any style!
Homemade with love: Decorative little things for the bridesmaids
Anyone who has enough of their own ideas and what is known as the "handicraft gene" has a free hand in the production of individual gifts. Everyone else - and this also applies to brides who have their own ideas but little time - will find lots of suggestions on various Internet portals and can also order ready-made wedding gifts and bridesmaid gifts here.

Those can be nicely framed photos or photo books. Handmade jewelry produced by a creative jewelry artist is a nice memory of the wedding. Even more so if the jewelry is matches the dresses of the bridesmaids! A "clutch" also goes well with the bridesmaid's outfit, which you can either make yourself with a little skill from fabric or order online.

Practical and at the same time decorative are small bags made of fabric, self-sewn and filled with everything that the bridesmaids should have at hand, for example, lip gloss, deodorant, sewing kit and a mini perfume fit as a filling. Powder compacts and pocket mirrors are also useful and pretty.
One more lovely jewelry gift idea is right here. Pearl necklace designed with the upmost elegance. Surprise her with a pearl birthstone pendant as remarkable as she is. Nestled in a gold filled setting, the pearl gemstone emit pure beauty. This stunning and formal design suspends from a delicate chain with a spring-ring clasp. Makes a fashionable addition to her jewelry box. A feather is a lovely symbol that stands for freedom, transcendence and communication with spiritual realms. 
One more necklace to create by ourself or choose ready just adding a suiting crystal. Sleek and so elegant, this gorgeous name necklace is the finest gift idea. Are you looking for an amazing birthday or wedding gift idea for your girl? This birthstone necklace is just what you are searching for. The round sterling silver tag can be both sides custom engraved with a name, initials or a word of love. A birthstone crystal makes the lovely design complete.
Give time before and after the wedding!
The period before the wedding is often jam-packed with things that urgently need to be done. If your bridesmaids do help you in this phase, you can return the favor with a time gift. Organize a girls' evening, plan a wellness day together or book cinema tickets for all the friends. A visit to a cocktail bar or a trendy bar is a good opportunity to review the exciting events surrounding the wedding after the honeymoon. Time spent together is one of those gifts with a real luxury character anyway. Take the chance to show your best friends: You are important to me, it's nice that you are!

If you have a tight budget, you can organize a joint cooking evening or a cozy round with small snacks. On this occasion you can look at the wedding photos, gossip about the outfit of the other guests, plan the next wedding with your friends and much more - you know your girls best and know what an all-round successful evening can look like!
An almost forgotten gift: the personal letter
Do you like to play with words, is it easy for you to forge your own rhymes? Then write a poem specially tailored to your bridesmaids. Whether romantic or humorous is up to you. To do this, write a few personal words, use nice writing paper and above all: write by hand! A letter or a lovingly designed card stands out from the daily flood of emails and text messages. You can also add a particularly successful wedding photo to the document.

Let your imagination run wild and the ideas for the right gifts for the bridesmaids will come naturally! It is only important that you stand by your personal style and that you do not put yourself under pressure. A lovingly selected gift will keep the memory of the moment forever!
Leave a comment
Comments will be approved before showing up.