Be my Valentine: 7 Unique Valentine's Day Gifts Your Sweetheart will Love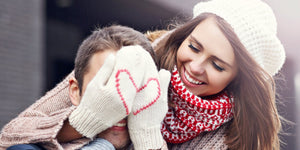 All you need is love! Love is the greatest muse of all times. 14th of February is the occasion to celebrate it!
Celebrating the day of love? Let it inspire you! 150 million Valentine's Day cards are exchanged every year, making it the second most popular card-sending holiday after Christmas. In fact, these are not cards but love that is given. There are different opinions about that holiday.. but what should we discuss it for? It's one more chance to share love, to say someone how much we care and to give a gift to see the smile on the face of someone we love!

What to give? Pick up some beautiful ideas here and then choose the best for your special one!

1. Give a unique personalized jewelry piece!
You can create something unique, just for her/him. And it's not necessary about an extraordinary design. Custom engraving is what makes such ideas unique! Choose a lovely bracelet or necklace and personalize it with a quote that will inspire! As it's Valentine's day, you may choose a quote about love. Like: "My bounty is as boundless as the sea, My love as deep; the more I give to thee, The more I have, for both are infinite" of William Shakespeare.
Here are more beautiful love quotes for you to choose from!

"If I had a flower for every time I thought of you … I could walk through my garden forever".– Alfred Tennyson

"How do I love thee? Let me count the ways".– Elizabeth Barrett Browning

"Love is life. All, everything that I understand, I understand only because I love. Everything is, everything exists, only because I love".– Leo Tolstoy

"Love is the voice under all silences, the hope which has no opposite in fear; the strength so strong mere force is feebleness: the truth more first than sun, more last than star". — E.E. Cummings

Add a secret message inside the bracelet or on the back pendant side and be sure: this would be the most romantic gift ever!


2. Serve breakfast in bed
Usually a romantic dinner is planned, surprise this time your boyfriend or girlfriend with breakfast in bed. It can be as simple as hot coffee and homemade pancakes. Or you can make a show! Choose a music, dance or sing or do what you want just to create a piece of festival mood! You may create a breakfast in Paris! Imagine, you both are in the most romantic city ever! Why not? Find beautiful music, order croissants and roses, don't forget roses for your loved woman. You create the breakfast for him? Kill him with Paris charm in a new dress every woman in France would envy!
3. Handmade paper flowers
The usual flowers are beautiful, but they can be extremely expensive around Valentine's Day. Not to save money but to create something unusual (and save money!) make your own flowers out of paper. One more advantage: they will last a long time and remind your partner how much you care. You may decorate your house with flowers or just create a sweet bouquet.


4. Kids' book
It's a really sweet gift idea: buy a kids' book with a sweet message. Kids books often have clear and lovely messages about loving someone. Find the one that could be connected with your particular relationship somehow! This is a really unique present that will surely cherished!


5. Share love
Do you both find the holiday too sweet? Don't you want to exchange gifts on it? Ok, than share your love with others making a donation to charity. This is not that traditional gift, but it's a beautiful expression of sharing love. This can be your tradition on Valentine's Day. Give your love to someone who needs it or lacks it in such a way.


6. Coupon Book
Create a coupon booklet with a listing of various household chores or just funny services you could do for him or her. Your loved one can use the coupons whenever he or she wants, so you will celebrate this Valentine's day the whole year!


7. Message in a bottle
Create a bottle with a personalized handwritten message of yours! Write some words of love or even your own poem. Present it with sea shells and sand. Or let him or her find the bottle. You may create a quest to find it! Let the quest lead your loved one to the bathroom. Decorate your bathroom with candles or make it look somehow as the ocean..and there on the bottom of the bath your message will wait for your special one.. actually you can spend your Valentine evening in the bathroom..(don't forget some wine!)
Love can never be enough! Create, share love, be love for your one and only Valentine!
Leave a comment
Comments will be approved before showing up.