Are you aware of finding wearable earrings?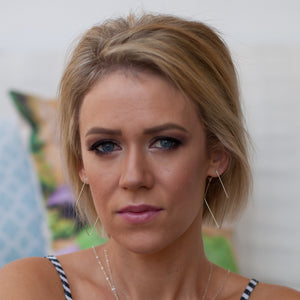 It is always a challenge to find a earrings of suitable jewelry to your taste and style for everyday cases. Besides this, you need to be happy and comfortable with what you wear.
Here are some earrings of advice for choosing a model and metals and closures and for understanding where to put on "your favorite".
Hoop Earrings in Sterling Silver and Gold Filled
Silver or gold- what comes to your mind the first?
My earrings is made of silver 925. What does it mean?
It means that – 1000 units of the alloy contain 925 units of silver, which is pure and it is pretty much.
Unfortunately, there is one drawback and it's the other metals oxidation process, which is contained in the composition. 
It means that Sterling Silver hoop earrings is getting darker when has contact with cosmetics, water, or air.
However, don't be discouraged because manufacturers didn't reinvent the wheel when started a procedure that allows wearing earrings longer and without pain
It is a rhodium coating.
A not less effective way of combating silver darkening is the cleaning and re-covering. Though be careful with this technique because if frequently made, can be serious damage. We believe that these small operating tips will prevent serious damage.
Designed Hoop Earrings - Minimalist Style Hoops
A piece on a cake is that silver is cheaper in comparison with gold.
Earrings made of gold are of course not bad, but sometimes the lower price means the worse quality. Say, golden studs or earrings of gold plated face oxidation that's why not highly recommended by the experts.

Gold 14K is must-have for manufacturers in making and for people's daily wear, a perfect option for "busy bees", who even sleep in earrings
Wait a minute, we forgot about gold of high quality which is designed for very special occasions. Additionally, golden hoops of different colors give some charm to their owner. So, how do you feel in lemon, yellow, rose or white gold? The emotions are unique for everybody.
Have special occasions – choose earrings properly.
3 inch Gold Filled Hoop Earrings
Even if you are a supporter of comfort and functionality, we have a good tip to pay attention to small earrings with a good back or an English closure.
Why?
Because they are dependable. And silver earrings is a cheaper analog. 
For special occasions, it's up to you what design to choose.
If you desire to buy large hoop earrings, make sure they are efficiently designed, like our earrings without backs, but can be worn with no fear of losing.
Here it's better to decide in the favor of a metal stud earrings of good quality or an English closure.
Сhoose a back/ closures for earrings.
We are always in the rush to make a good choice, but pay attention to the details if you decided to buy earrings. So, here is a dilemma in choice because it will depend on the size and weight of the preferable earrings.
In our experience stud earrings are in a winning position because it is the most reliable option and the owner will not lose the earring. They are known as comfy and secure and will not loosen and slide off in case of earring is pulled.
English closure snaps through the earlobe as on "grandmother's" earrings. It's the best option for those people who intend to buy heavy earrings because it's difficult to lose them but easy to put.
There are some varieties for English clap and are called "clickers", which are set onto the hoops.
It is clicked circumferentially and perfect for everyday wear.
Sometimes clickers are provided with pendant elements.

The lever back is more suitable for silver pieces of jewelry. 
It resembles a fishhook that pushes through the earlobe. The advantage is in easy putting on and taking off, though easily lost. So, if you have an active lifestyle, check the earring presence on your ears at least twice a day.
Leave a comment
Comments will be approved before showing up.