Anniversary gifts by year. From 11th till 20th Anniversaries.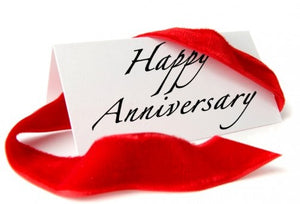 Is the anniversary getting closer? Let's talk about a beautiful part of the holiday - a memorable gift. 
Choosing an anniversary gift can be quite difficult, if you celebrate it every year. When choosing an anniversary gift, base it on a theme. Here we prepared a list for you: each anniversary has its theme. There are traditional themes associated with anniversaries and there are also modern ones on which you may base your gift buying. You may also celebrate the Date using the number of years you've been together as the basis for the gift. For example, if you have been together for two years, chose 'two items' for a gift – like, two tickets for a show. Whatever you choose, base the gift on an interest. Even if your partner doesn't have a particular interest in a subject, his or her hobby could be a start point for an idea for the gift. Think over, what kind of experience you could give him or her? Be romantic! Whatever you choose, this is an occasion to be romantic and thoughtful. It may seem old fashioned in the age of technology, but everyone still loves to receive a card, so add it to your gift. Anything personalized will be appreciated, cause it is one-of-a-kind, for your loved one only.

So let's start with the 11th wedding anniversary gift ideas. Here you will find both a Budget and Splurge ideas!
Traditional theme: Steel
Modern: Fashion Jewelry
1. Give your loved one a personalized jewelry piece. Inscribe some words of love, a secret message or some inspirational words to motivate every day!
2. Surprise him or her with a new bicycle, or even a tandem bike!
Modern Custom Jewelry for Gift


12th wedding anniversary
Traditional: Silk/Linen
Modern: Pearls
1. Give her a classic pearl jewelry piece. This is a must have for any woman. She will certainly keep it ferever. Speaking about him: black pearl cuff links is a chick accessory worth giving.
2. Make the bed with a new lovely set of 100% silk sheets.
13th wedding anniversary
Traditional: Lace
Modern: Textiles
1. Lace underwear for her or funny underwear for him.
2. Laced bed sheets or a fancy laced dress would be a nice gift for her. As for him: buy a new fashion shirt for his wardrobe.
14th wedding anniversary
Traditional/Modern: Gold Jewelry
When speaking about the 14th year, it's quite easy. Choose a fine jewelry piece. Personalize it with a special date: the day of your marriage or of the first day you met. This can be a ring personalized with an infinity symbol to say you want to be with your loved one forever. Choose a romantic gold bracelet for her, customized with your initials, or a pendant necklace for him.
Fine Gold Jewelry


15th wedding anniversary
Traditional: Crystal
Modern: Watches
1. Give her flowers in a crystal vase. Or choose a charming jewelry piece with an appropriate birthstone.
2. Get a crystal wine glass set or find a classic crystal chandelier. Fashion watches is the piece he will love!

16th wedding anniversary
Theme: Coffee/Tea
1. Start the day of your loved one with a cup of coffee, or make a date to a coffee shop you've never visited.
Give him a teapot with a note: "Tea for you, and you for me."
2. A fine espresso and cappuccino machine is always a good idea.
17th wedding anniversary
Theme: Wine and spirits
1. Get a recipe of a new cocktail and name it after your special one!
2. Give a bottle of good old wine with a note saying that your love has gotten even better with time. Go to a local winery or take a vacation to wine country!

18th wedding anniversary
Theme: Appliances
1. Get a waffle iron for making heart-shaped waffles, perfect for a romantic brunch.
2. Automatic stand mixer is a wonderful idea, add a note: "You and me—the perfect mix!"

19th wedding anniversary
Theme: Jade
1. Pick up a fine restaurant that has "jade" in the name. Easy still funny idea for a romantic anniversary evening.
2. Give a cosy sweater or scarf in a jade color. A beautiful jade pendant is one more idea to treasure, jade is a symbolic stone. Chinese poets have compared jade's melodious sound to the voice of a loved one. They've called jade "the concentrated essence of love.
20th wedding anniversary
Traditional: China
Modern: Platinum
1. Personalize a coffee mug or cereal bowl with some words.
2, Pick out a china pattern together!


So we hope, you've found here an idea for your inspiration! Be creative and make the gifts with love!
Leave a comment
Comments will be approved before showing up.