Amazing story of Christmas presents. Christmas gifts and traditions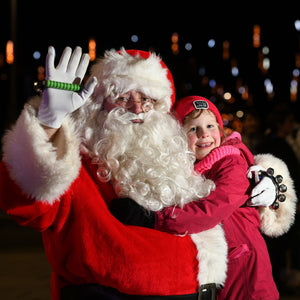 Why do we give each other gifts for Christmas?
Children and adults all over the world know and love Santa Claus, but hardly anyone knows his real story. Somewhere on the North Pole, he is supposed to run a workshop with many hard-working elves; over the year the eagerly awaited Christmas presents are made there. Nice story, but the truth is even more stunning!

If you look at the common image of the bellied, red-robed Santa Claus today, would the dignified church reformer Martin Luther come to mind? No? Nevertheless, the popular tradition of Christmas presents goes back to the former monk, who of course never wore a red robe and did not have a white beard.

In order to distance himself from Catholic customs and, above all, to make the children aware of the importance of Christmas, he set a different holiday above St. Nicholas' Day (December 6th) - Christmas Eve (December 24th), on which not just a saint but the Christ Child himself should bring the presents. This tradition spread quickly - first in Germany, then all around the world.

What began in the 16th century has long since that time dissolved into general goodwill and Christmas peace: St. Nicholas, who was fought by Luther, has now become the popular Santa Claus, who brings Christmas presents side by side with the Christ Child and makes children's eyes shine.

However, Luther himself did not stick to his established line that strictly, at least in this case: his own children could look forward to gifts every year not only for Christmas but also for St. Nicholas' Day. However, Luther and his wife could not order their Christmas presents on the Internet as easily as we like to do today!
Numbers and facts about Christmas presents
Despite all contemplation: Christmas gifts are an important economic factor and for many businesses the most important sales driver of the whole year.

Vouchers are particularly popular as Christmas gifts - which certainly has a lot to do with the fact that they can be purchased quickly, stress-free, and even at the last minute.

Of course, the billions of euros in sales are not only made with vouchers but also with books, jewelry, DVDs and CDs - and above all with toys, because parents and grandparents, in particular, make many Christmas gifts for their children and grandchildren. Overall, Christmas gifts represent around 18 percent of annual sales - an impressive percent!

Christmas gifts are generally bought for family members, friends, and sometimes even co-workers. Nowadays even happy pets can look forward to a present - in England, 7 out of 10 dog owners should give their darling pets gifts! Incidentally, a large part of the gifts are not used at all but simply exchanged after the party.

Cell phones are not usually treated in the way: Cell phones are the absolute bestseller in Germany. It is not primarily the top models that are mostly ordered, but mainly devices in the middle price range.
Sweet Christmas treasures, the chocolate gifts are very popular in Germany too.

While in some countries the gifts are exchanged on the 24th, in England, the presents are only given on Christmas morning, on December 25th. As soon as children get up, they can storm into the living room and see what Santa has brought.

In different parts of the world, Christmas gifts are sometimes very different too. In South America there is no winter magic at Christmas time, instead, summer temperatures prevail here. Nevertheless, Santa Claus distributes his presents there like almost everywhere.

The clocks tick a little differently in the Netherlands too: there is not Christmas Eve, but St. Nicholas Day is the most important date in the Christmas season. The children are allowed to put their boots outside and get them filled with presents, mostly sweets. The actual Christmas festival, on the other hand, is viewed more as a religious occasion.

In Italy, two dates compete with each other: on the one hand, gifts are traditionally given on Christmas Eve, on the other hand, there is also Epiphany as an occasion for gifts. On that day, however, it is not Santa Claus or the Christ Child who come, but a quirky old witch named "Befana".

In Spain, Epiphany steals a bit of the show from Christmas Eve, at least when it comes to gifts. They are brought to the good children on the Iberian Peninsula not by the Christ Child, but by the Three Kings. Disobedient children have to be satisfied with candy in the form of black charcoal instead.
Expensive watches are sometimes not just a particularly popular Christmas gift, an investment. This is not the case everywhere: no one gives a watch in China, cause it is a reminder of the impermanence of all being - and so it's regarded to be a bad sign.
This is why clocks are not used as Christmas gifts in China.
Even in countries that traditionally aren't that much connected with Christmas, Christmas gifts are getting every year increasing popularity. Christmas gifts are an important part of Christmas traditions all over the world because of course, most people are happy about suitable presents and gifts - especially children of all ages and all cultures love this custom very much.
Personalized Jewelry Gifts
Christmas 2020 is coming soon and people all around the world have already started to look for presents to show their love and care for the family and friends. If you have already started this hunt for the very best presents too, here are some ideas for you to choose from. Beautiful custom jewelry gifts are popular for a reason. First, jewelry is a thing that can be treasured for years to come. Moreover, you add a personal note to the piece with the engraving you choose.

Christmas gift idea for mom and dad

Show your love to the nearest people - parents, choose a bracelet or necklace to personalize with the children's names, some words of gratitude or appreciation.

Hre is an amazing family necklace. The necklace is made of a shiny chain and a round pendant. The custom pendant can be engraved with three names of your choice as well as customized with birthstone crystals to each of the names. The best mom's necklace with kids' names. Wonderful present!
Family necklace
Quality washer leather bracelet, custom engraved leather cuff. This is a classic ID Wristband that can be personalized with any custom engraving to make the dream band. Send him the gift with a personalized message. This will certainly be the finest gift idea for Father's Day, birthday, anniversary, Christmas, graduation!
Gift for dad
Christmas gifts for children, little brothers and sisters

Here you can create an encouraging present with some motivational words, a quote to inspire for the next years, or just remind how much they are loved. You can choose an unusual engraving such as handwriting, with the words written by you.
Or choose something small like an initial charm to make sure, this little thing accompanies your little one everywhere.
Awesome friendship bracelet. Just her style, gorgeous customized mantra bracelet created for a gift to remember.
Created in sterling silver, this lovely cuff will be personalized with names, a quote, or mantra you wish to make it special for your sister or your best friend! This could also become a romantic gift for her, with a secret message inside engraved. A beautiful gift to share your warmth!

Christmas gifts for your loved one
Here is a chance to create something really unique to show that your special one is unique for you too. Choose a design good suiting his or her style, think of a meaningful engraving, or add a hidden message, inside the cuff or ring for a romantic Christmas gift.
What Christmas gifts are you looking for?
Leave a comment
Comments will be approved before showing up.