9 tricks from the fashion world: how to transform your look easily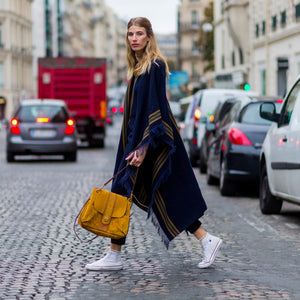 Do you know that those who work in the fashion world have int their arsenal some simple (yes, really, simple) tricks that always help one to look best regardless of the season. Some of the tricks are suitable for a particular person. Others are universal, and I'll just list you them, all those are easy to see in Vogue street style photos.

Are you ready to get some fashionable trump cards? Here you are.
Tricks of the Fashion World
Take your evening outfit into the sunlight
We know that sparkles look great in the light of a disco ball, but have you ever seen how great they look in the light of day? Whether it is a disco image from head to toe or a t-shirt with sequins, do not wait for the darkness, let the outfits shine in the sun.
Just put it on your shoulders
This is the oldest trick. You do not need to be a Marvel superhero to deal with it. It works with any style: just throw a jacket on your shoulders - and this simple action will transform your look giving it some extra charm.

Socks and sandals want to be together
Fashionistas like to challenge the rules, and now 'the ugly fashion' has penetrated the mainstream. Just everyone laughed at socks paired with sandals. But this combination, combined with high heels is now in the trend. Do you not believe it? Ask Prada.
A smartphone is your perfect accessory
People in the fashion industry are always busy, very busy, and what is the main sign of business? Of course, the phone in your hand, everywhere and always. Choose a case suitable for the outfit, and do not underestimate the phone as an accessory.
Shoes are everything
Shoes can completely transform the outfit. Celebrities often wear the most ordinary outfit and then choose unexpected shoes for it. A midi skirt paired with sandals, a pair of exquisite heels with sweatpants, or a pair of sneakers for an evening dress is no longer an exception, but a fashionable rule.
Layered cake
A dress over trousers, short sleeves over long sleeves or knitwear, a combination of contrasting textures that may make your look unique and still trendy.
Do not change dishes, but spices
It seems to us that people in the fashion world have thousands of different clothes. They do... but sometimes less than we think. Often such an impression is gotten with a well-chosen basis for the wardrobe, giving the opportunity to combine things in different ways. And also - well-chosen jewelry and accessories that can completely change the same outfit. Therefore, if you want something new, think that it is probably easier to add several accessories to your style than to completely update the wardrobe. The effect could be even better.
Colors and shades
A smart fashionista knows about the compatibility of colors, and she also knows which shades suit her best. And you should know that too. Learn to combine colors and find out what suits your skin, hair, and eye color best. It is known that red goes to every woman, the question is in the shade. Otherwise, you will have to wear all black. If so, everything is simple.
Sunglasses forever
Do you want to be like a true fashionista? Never leave home without Sunglasses. Good sunglasses create a unique fleur.

Well, tell me what you feel like and what not :)

Here you will find a range of accessories for women and men to spice up any look well.
Modern fashion jewelry for women
Modern jewelry for women
Amazing leaf ring, fashion jewelry to make a statement! The leaf ring looks tender and sweet. It features an adjustable size and will fit any finger well.

Summer style goldfish choker necklace, an elegant jewelry to any occasion. This 14K gold filled choker necklace is designed with a small fish bead. The minimalist style choker looks gorgeous on its own as well as layered with different necklaces. The gold fish is a well known symbol standing for good luck in marriage, relationships. It also represents fertility, abundance and harmony with the flow of life. Make the symbol yours!

Layering is in! Shiny layering gold filled necklace with a long custom pendant. This fine jewelry piece can be customized with Latitude Longitude coordinated of a special place for you. I can also engrave any names/initials to create your dream ID necklace.
Shiny necklace is crafted of high quality sterling silver and consists of a ball chain and a crystal heart pendant. The shiny heart comes with the word MOM.
Great gift idea for mother's day, birthday or any other Jewish holiday etc.

Beautiful personalized bracelet with a sparkling crystal. The finest sterling silver 925 metal plate is a shiny background for the engraving of your choice. These may be any words, dates, names or GPS coordinates of a place where your heart lives.
Gift for her


Awesome friendship bracelet. Just her style, gorgeous customized mantra bracelet created for a gift to remember.
Created in sterling silver, this lovely cuff will be personalized with names, a quote or mantra you wish to make it special for a sister or your best friend! This could also become a romantic gift for her, with a secret message inside engraved. A beautiful gift to the anniversary, birthday or just to share your warmth!
Custom bracelet
Geometric earrings are in trend right now! Choose the hoops made of the finest sterling silver! They look elegant are lightweight and ready to complement any fashion or everyday look of yours!
Big hoops for women
Stylish Jewelry for men

Stylish Accessories for men
Diamond CZ studs for guys, Sterling Silver earrings for him. Shiny accessory for men. The small earrings for men are crafted of sterling silver and clear cubic zirconia crystals in 3 sizes. Be sure, the studs are comfy and so perfect for everyday wear. Cool accessory for guys to complement any style!
Pinky Ring for Men, fine accessory for him. Here is a cool signet ring with a bold black Onyx gemstone. The ring is crafted of black stainless steel for the perfect match with the gemstone. A stylish accessory for him!
Personalized ring for him, he will surely love the minimalist style ring made specially for him. This is an adjustable band ring crafted of fine gold filled. The adjustable ring can be one or two sides engraved with initials, names, words or dates you wish. Add a meaningful engraving and the perfect gift is ready!
Stylish ID accessory, unique personalized cuff bracelet for men. Make him a perfect gift with a custom engraving! The cuff is handcrafted of top grade leather and quality stainless steel. The metal plate can be personalized with a unique monogram made with a custom font or any other message you want! I guarantee high quality of each piece!

Fine military Jewelry for your hero serving in the US Army. Stylish black metal bracelet for men.
The best Independence Day Gift with your personalizing. It is handcrafted in two variations: shiny or oxidized sterling silver. The black bracelet can be both sides customized as you wish: with any words, names, Army motto, logo or dates.
Choose it also as a Memorial KIA Bracelet, Veteran gift idea.
Military Cuff
Fine leather wristband, a men's accessory to make a statement. Everyday leather bracelet for him. The handmade bracelet is handcrafted of top quality leather and stainless steel. Comfy accessory for everyday wear. Looks great with any style, to any occasion.
To go bracelet
Hamsa necklace, a symbol jewelry to become his favorite accessory. Protective Hamsa men's jewelry, amulet present!
The lovely necklace is handcrafted of a quality leather cord, and a metal Hamsa pendant - an ancient Middle Eastern amulet to bring its owner happiness, health, and good fortune.
Symbolic gift
Choose cool accessories for you or to make the best gifts!
Leave a comment
Comments will be approved before showing up.