8 Top Jewelry trends you should go for 2023 - Bracelets, Necklaces, Earrings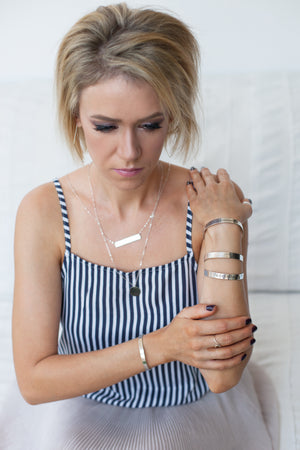 Jewelry is constantly getting more importance in a fashion world, because this is what really makes the difference and gives the look unique charm. Let's talk here about main modern jewelry trends we will choose next year.
Jewelry trends 2023
Personalized Sterling Silver Jewelry - engraved cuff bracelets, rings, necklaces
Single statement
Statement earrings are coming back. But the trend is coming in a new way: in the coming year we will only wear one statement piece on the ear, on the other ear the earring will remain filigree, discreet and delicate. If you want, you can adapt the statement earring to the outfit, balancing a suitable statement and understatement. You decide how big the statement earring should be. I'd just day, make sure, it suits the overall look well.
Long crystal earrings
Here are long fashion earrings for you. These dangle earrings are handcrafted of shiny gold filled and little crystals. They are comfortable enough to be your everyday earrings and at the same time fancy enough to complement your party outfits.
You can choose any crystal color to make the accessory suitable for your dress. It can also be the color of your birthstone, thus you will get both: a stylish accessory and a talisman. If you don't know your birthstone, just write me your birth-date and I'll select the appropriate color for you.
It's also an awesome gift for any occasion. Beautiful and charming.
Statement men's earring
Modern jewelry for men, one earring in nautical style for modern vikinger. Fine pendant hoop earring.
This is a must have for the men who love the sea. The earring is crafted of solid sterling silver. The pendant features a whale tail. This makes the design meaningful. Whale symbolism includes wisdom, spiritual awareness, good luck and long lasting love. Beautiful symbolic gift for him to any occasion!

Silver
Lately jewelry trends were mainly fixed on gold jewelry so that we almost forgot about silver. Sure, we've combined it with gold, but next year we'll wear silver all by itself again. Whether chains, earrings, bracelets, or rings - fashion houses like Louis Vuitton, Hermès, and Chloé choose silver for the next year! And I am happy about it, cause to my mind silver always looks smart and you can't go wrong with it.
Silver cuffs
High quality sterling silver cuff that is ready to be personalized for you! Engrave some words to inspire, motivate, or create an ID cuff with a signature! I can both sides engrave the cuff. You may send me a picture with a handwritten text and it will be quality engraved.
Gift for him? Add that secret message inside for his eyes only!
Custom ring
Inspirational gift idea for your loved one. Custom wide ring with a hidden message inside.
The personalized ring is handmade of solid sterling silver. The wide band ring features enough space to be both sides customized for a really special gift. Personalized with some inspiring words, this becomes a gift to remember. Nice gift for her!


Why Wear Pearl Earrings?
To celebrate the versatility of pearls, we're exploring some of the best outfits to wear with pearl earrings and discussing how they are the perfect finishing touch to almost every look.

Read on to discover what looks good with pearl earrings as we explore some styling tips and talk about how they are an accessory that suits all different occasions.

If you've been following recent red carpet events with lots of celebrities, you've probably noticed that many of these globally famous women are accessorizing their costumes and enhancing their facial features with pearl drop earrings, pearl chandelier earrings, and pearl dangles.
Even though certain pearl drop earrings can be worn with casual or professional dress, pearl dangle earrings often follow a more glamorous path.
The dress code and event must be formal given that pearl earrings make a statement depending on their style and coordinating metals or gemstones.
New Pearl Jewelry
The fact that pearl jewelry is back is nothing new to us. We already love it. However, we will see and wear more unusual pieces in the coming year. We leave sweet pearl necklaces and small ear studs in the jewelry box for now. Instead, pay attention to asymmetrical pearls and special jewelry shapes. Modern jewelry with freshwater pearls makes the statement next year. What remains the same, nothing can look more elegant than pearl!
Modern pearls
Wonderful pearl jewelry, wedding earrings. These are Gold Filled wire wrapped freshwater round pearl studs. Classics that is a must be in every jewelry collection.

Chains
Here they are again - good link chains. Ok, they were actually never really gone, we were just wearing very filigree and minimalist chains. In 2023, the links are larger again, as we see in designs of Hermès, Victoria Beckham, Jacquemus. Chain necklaces and bracelets stay basic for every jewelry collection, and that's why we love them.
Solid antique silver chain bracelet for men. Metal bracelet to become his favorite accessory.
This chain bracelet is handcrafted of Stainless Steel metal.
The high quality material band will keep its original look. The massive bracelet comes with a durable and safe clasp that is closed with a double click. You won't lose it! Great band for every day! Nice gift for him!
Men's chain
Antique look thick Black silver chain necklace. Fine accessory for men, suitable to any wear and style.

Bold rings
The motto for 2022: more is more! At least when it comes to rings. Whether signet rings, band rings, or rings in unusual shapes - all models have one thing in common for the coming season: they are really bulky and wide. Bloggers, influencers, and fashionistas already love the bold rings and wear them layered on one hand.
Custom bands
Statement Ring that can become a perfect Christmas gift. Message ring to make a special gift for your true love.
The unisex ring is adjustable, perfect for everyone. Fashioned in high quality sterling silver, the band ring can be both sides engraved. I can customize the ring with your special message, for him or her only.
Stylish and elegant circle ring. Adjustable ring to become to favorite accessory!
This high quality 925 sterling silver ring features a simple circle representing the circle of life. The adjustable ring is shaped to fit the finger, making it very comfortable to wear.
Each ring is handmade and has a highly polished finish. Choose the Karma ring for yourself or to make a meaningful gift!

Pinky Ring for Men. Birthday gift for men, fine accessory for him.
Here is a cool signet ring with a bold black Onyx gemstone. The ring is crafted of black stainless steel for the perfect match with the gemstone. A stylish accessory for him!

Eye-catching hoop earrings
Hoop earrings are currently getting an upgrade: striking, large earrings are in. A real statement! The shape does not necessarily have to be round, angular earrings catch the view. Geometric earring add that eye-catching detail to wear in any style!
Geometric earrings are in trend! Choose the hoops made of the finest sterling silver! They look elegant are lightweight and ready to complement any fashion or everyday look of yours!

Gold and silver in the mix
An absolute no-go for many, but in 2021 it will be THE trend: gold and silver in a mix! So feel free to combine gold watch and silver rings, wear chains made of both metals. Finally you do not have to decide for one metal.
Gold cuff
Vintage jewelry
"Diamonds Are A Girl's Best Friend" - we all know that for a long time. In fact, jewelry is also a good investment for many. Because some pieces of jewelry not only gain in value over the years but also acquire a very special value in our hearts. Who doesn't like to wear a precious grandmother's wedding ring or a watch that has been treasured for more than 50 years? In 2021, vintage jewelry, especially from great designers like Chanel and Versace, will experience a real comeback.
Leave a comment
Comments will be approved before showing up.