7 Most Creative 1st Anniversary Gift Ideas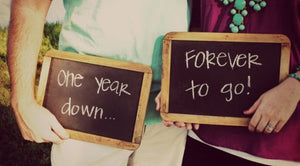 Celebrating love, what can be better? 
So you are going to celebrate the 1st anniversary of your love. Of course, you're thinking of the best gift you can ever choose for your loved one. Here we're going to help you with the ideas! But first let's look at what symbols that are associated with the day.

1st Anniversary Traditional Gift
Paper. It symbolizes the strength in paper that comes from the interlaced connection of the paper's individual threads.

1st Anniversary Modern Gift
Clocks. Henry Van Dyke wrote, "For those who love, time is eternity."

1st Anniversary Gemstone
Gold Jewelry, Pearl, or Peridot

1st Anniversary Color
Gold or Yellow

1st Anniversary Flower
Orange Blossom

If you want to follow the tradition, we've chosen some truly traditional paper present ideas as well as more unusual ones. Don't forget to add your own personal touch on the gift to make it extra special!

Journal
It's a rather traditional way to present your partner a journal for your anniversary. Find a cover that matches the style or personality of your loved one (a sophisticated leather-bound or a funny one with a funny picture or quote). Write the sweetest memories of your first year of marriage: from your honeymoon to your first trips you have enjoyed together, memorable things you have shared or moments you laughed about together, all the milestones. Find some photos your partner might have forgotten about, create a unique masterpiece featuring your words from the heart.
Jewelry
Well, now about not so traditional approach to the 1st anniversary gift and the paper tradition. Paper is also about letters.. Send her or him a letter.. with jewelry. You can choose a sophisticated personalized jewelry piece: a ring, necklace or a bracelet. Customize it with your declaration of love. It would be even more romantic if you send a hidden message. Send your "letter" engraved inside the cuff or the ring for your loved one only.
This can also be a wish engraved or a date of your marriage, the name of your first kid or just your initials. Let your imagination fly... You may order the same rings, bracelets or pendants for you both. Or find a special symbol to engrave, to wish something meaningful with the gift. Create a gift to treasure forever.
Anniversary Gifts for Him and Her
Tickets
They are also paper, aren't they? Share the next unforgettable experience with your spouse, book a trip to your dream destination. Or go just to the next city but with booking a fancy restaurant and the best hotel. This may also be a night at the movies, to the theatre...in any case the tickets can be a great first anniversary gift idea.
Map
If you travel extensively, this gift idea is for you – a map. Take a map of the world and mark out all of the places you have been together and those you dream to travel to. Perhaps add some love or funny notes, pictures! These may be some photos attached to each destination to bulk up the appearance. Make a motivator you need, to send your dreams to the reality.


Book
Are you both fond of books? Then it's no need to highlight what paper gift should be chosen for that occasion. A new book would be the perfect gift. That of a favourite author, or in limited edition... You could choose the one you both like..and then create those romantic evenings where you can read each other in the cosy light.. Add a special surprise inside the book - a love letter.
Memory board
Launch into a memory board project. It makes so much fun creating it. Include some of your favourite photos, a timeline of important dates in your relationship and some notes with words of love of course. You may use a cork board or blank canvas as your base, or stick with paper that you can then frame.

You may also combine some ideas creating a pretty box with new paper money, confetti, love notes, romance, magazines, love coupons, paper flower, pictures etc.
Create the gift full of your love! This is the first year of your story..that will go on. Celebrate it and stay happy!
Leave a comment
Comments will be approved before showing up.