6 universal tips to combine jewelry correctly. Smart Jewelry-layering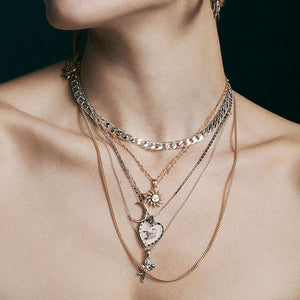 Well-selected
jewelry and accessories
can transform a simple look into something special. However, in order to achieve the desired effect, you need to know how to choose your accessories smartly - it is easy to overdo with it. Discover here how you should combine jewelry and which mistakes you should avoid.
Jewelry combining tips
1. The key to choosing accessories is the "less is more" principle.

How Much Jewelry is Too Much Jewelry?
It all depends on what you are wearing. If you opt for a monochrome outfit in muted colors, you can wear earrings as well as a necklace and a ring. However, if there are a lot of different elements in your image at once, e.g. vivid colors or characteristic patterns - just put on simple earrings, e.g. studs.

The answer to the question of how to choose jewelry correctly also depends on the type of outfit itself. If you like to dress in rock or boho style, nothing prevents you from completing the outfit with a few bracelets or rings. For formal attire, limit the number of jewelry pieces so that they don't attract much attention on themselves.

Remember not to wear too many statement pieces of jewelry at once. If you put on a solid bracelet with stones, take off your rings. If you choose a necklace with a big pendant, don't choose big earrings to complement the look.
2. Choose jewelry according to the type of your face shape
Well-chosen accessories can perfectly emphasize the beauty of your appearance and cover-up its imperfections, but the wrong choice can mess it up. Which jewelry should you choose to get the best effect?

Stylists differ 4 main types of appearance.
If your type is springtime (warm shades of skin, blonde, light red or light brown hair and blue or light green eyes), reach for jewelry in gold, rose gold, brown, and brass colors;
Fine Gold Jewelry
if your beauty type is summer (fair complexion with a cool hue, platinum blonde, gray-blonde, dark brown or black with cold tones hair and gray, gray-blue or gray-green eyes), choose silver, platinum, steel, and white gold;

if your type of beauty is autumn (golden complexion, often with freckles, warm shade, red hair or with red or brownish-red reflections and green or brown eyes), then opt for jewelry in brown, gold, or brass;

if your type of beauty is winter (very light complexion with a blue or pink hue, black hair, dark eyes), accessories made of silver, platinum, and white gold will suit you well.
Silver Jewelry for Women
3. Will gold and silver be friends?
Until recently, the answer to the above question was "no" and stylists kept repeating that the best combination is gold with gold and silver with silver. Currently, however, this rule is slowly becoming a thing of the past and the problem of combining these two color tones is viewed rather liberally.

However, this does not mean that there is full freedom here. How do you combine silver and gold? Remember that color isn't everything - jewelry elements also have to match each other in terms of style. It is also worth knowing that the more important the occasion itself you are choosing the jewelry for, the less freedom you can afford. In other words, an important meeting or banquet is not a place for experiments, but a casual get-together with friends - definitely is!

If you want to try combining gold and silver but fear you're doing it wrong, get yourself earrings, a bracelet, or a necklace made from these two metals. Such designs are getting increasingly popular among designers.
4. Is it possible (and how) to combine bracelets with a watch?
I probably won't surprise you when I say that "the less - the better" rule applies to this matter too. Combining a bracelet with a watch is allowed, but remember not to overdo. The watch should be the focal point here - so choose thin bracelets, e.g. a delicate chain, or a simple cuff.

Another rule is - the accessories should stay in the same style. If you have a watch on a gold or silver bracelet, it is better not to choose a bracelet made of a cord or a strap - such a design goes better with a watch on a leather bracelet. And vice versa - bracelets made of precious stones or expensive metals do not fit a sports watch or a watch on a leather bracelet.
5. Combine jewelry colors correctly
According to the principle that gold jewelry goes perfectly with warm colors, earrings, bracelets, necklaces or rings made of this metal look great in combination with red, yellow, and orange, but also in combination with plum violet or dark blue outfits. Avoid wearing gold jewelry with a white shirt or dress - this metal goes much better with off-white or beige.

If, on the other hand, you want to wear an outfit in a cool color, choose silver jewelry. Not only blue, turquoise, violet or green prove themselves here, but also pastel colors and basic colors - black, white and gray.
6. Smart Jewelry-layering
Layer necklaces
Let's talk about one of the big jewelry trends: jewelry layering with necklaces. Here are my tips for stylish chain layering:

- Put on different lengths
The essence of successfully combining necklaces is the length. Two to three chains are ideal, all of which are best chosen in different lengths. On the one hand, they don't get tangled up so easily and, on the other hand, each necklace can work on its own and as a whole look.
Layered Necklaces
- Choose a key piece as a basis
When layering necklaces, I usually opt for a base - a striking necklace that should be the key piece. This could be a coin necklace, for example, or the one with a fancy pendant. Then I choose a shorter and longer chain that play around the statement piece. Filigree chains are particularly suitable here.
- Set contrasts
Mix and match with necklaces work best with different styles and colors. A tight-fitting choker, for example, goes well with a long, filigree chain in gold. Add a chain with a pendant that goes to your collarbone and voilá - the successful mix of styles with necklaces is ready.

Jewelry layering with rings
Rings are incredibly versatile when it comes to jewelry layering. You should own a few rings in silver, gold, or rose and mix them differently again and again - which also changes the effect of the individual rings over and over again. You should keep this in mind when combining rings:

- How many rings on one hand?
To combine rings stylishly, wear several rings on different fingers. Most of the time I tend to use the ring, middle and index fingers. What I also like: one ring on the index finger and two on the ring finger. If there are filigree rings with small details in your jewelry collection, they can be layered so well on several fingers.
Custom band rings
- Mix different styles
If it comes to layering, here you shouldn't be afraid of overdoing. You should try and experiment. You can wear filigree rings with large rings or put a ring with a stone on each finger. If you wear a highlight ring, you can decorate the remaining fingers with simple rings. That would be a perfect everyday look. Many modern simple rings are ideal for layering.

- Signet rings as a star on the finger
Such rings due to their engraved plate or colored stone make a good highlight on the middle finger. I would advise combining simple, single-colored rings on the index and ring fingers.

Combining bracelets
Bracelets and bangles, cuffs, engraved bands - those can tell a story about you. So when combining them you may write a story to tell.

- Variation with pearls and stones
It's nice to vary simple, golden and silver bangles with materials like stones, and pearls. Pearl bracelets can be layered depending on the occasion and the season. Like in summer you should definitely go for shell bracelets and colorful, braided boho ribbons made of cords or leather. In the evening you can choose solid, large statement bracelets.

- Minimalistic bracelet layering
If you prefer to decorate your wrist with filigree bracelets, you can best layer here, going with three to five narrow bracelets. It is best to use bracelets in a similar style in one color, this creates a restrained but still special look.
- Create asymmetry
When it comes to layering jewelry, I like asymmetry. I just lay bracelets on the left wrist, putting rings then on the right hand.

Combining jewelry makes fun! Learn the main rules, know the basics, and then feel free to experiment!
Leave a comment
Comments will be approved before showing up.