6 tips to find the perfect jewelry gift. Jewelry gifts as a symbol of your emotions.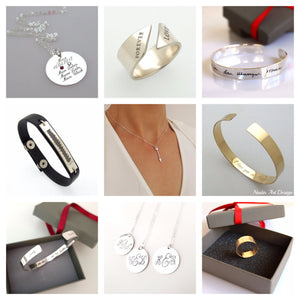 Life is shaped by numerous milestones and unforgettable moments that we would like to keep in memory forever and carry with us. In keeping with this feeling, some traditions have emerged over many years. For example, rings have been exchanged during the marriage ceremony since ancient times. They should be used daily to remind the couple of the bond they have formed. The ring, a circle without end, is a symbol for the infinity of love.

In addition to this emotional meaning, jewelry can express a lot more. A jewelry gift can just as well convey a message of friendship or simply express that you love the other person very much and know him or her well enough to appreciate your connection. But one thing is certain: Hardly any gift is as durable as jewelry and reminds us years later of the wonderful feeling we got with the piece.
Unique occasions deserve unique gifts
Special occasions such as birthday, anniversary, graduation or wedding deserve a gift that emphasizes the uniqueness of this day. When you give jewelry as a gift, you are choosing a gift with a high value. This gesture alone will leave an impression on the recipient! But the emotions are not neglected here either: Especially with jewelry gifts, the symbolic meaning of the piece usually exceeds its material value. With an engraved message, you can personalize the piece of jewelery with your own words. So your loved one can always carry your personal dedication with him or her and will remember the joy and enthusiasm of this special day for many years to come.

Here you will find wonderful samples of modern personalized jewelry!
Here is a handsome leather cords provide a straightforward look of versatility and a metal plate adds some shine. Perfect personalized bracelet to tell him about your love!
The custom cuff is handcrafted of genuine leather suede in brown color and sterling silver. The hammered plate features a polished finish and is ready to be engraved: with a name, initials, date or any words of love: outside, adding a secret message engraved on the back plate side. These can be words to inspire or one more declaration of love!
Stylish sophistication in the personalized ring for women. Inspirational gift to keep forever!
Handcrafted of high quality sterling silver, the ring is ready to be custom engraved on both sides. Do you want to send her more than a gift, but an expression of your love and care? Engrave the ring with a quote, some words to motivate and inspire, or just express your love! Wonderful birthday gift for your loved woman!
Underline the magic of the special occasion with jewelry
In hectic everyday life we ​​often forget to thank those who are our most important companions and people who are close to our hearts. The holidays are therefore a wonderful opportunity to show our loved ones how much we love them. Christmas, for example, the most important family celebration for many, is particularly suitable to express the intimacy of the family with a piece of jewelry or to give a special joy to the loved ones who are far away.

Not only Christmas is a festival that is carried by great emotions. On Valentine's Day, millions of couples around the world celebrate their love for one another. A necklace is a romantic gift idea for this soulful day. It is worn close to the heart and accompanies your loved person stylishly in everyday life.

Create your personal necklace with a custom engraving. This gold filled pendant necklace makes a touching gift no matter the occasion. Choose a message to engrave to tell how much you love! This may also be an inspiration quote or a date to remember!
Choose jewelry gifts you can find nowhere else. The high quality of each piece is guaranteed!
She'll be all smiles when you present her with this charming customized ring. Personalized ring to make her a beautiful gift.
Consider this sterling silver ring to make a lovely gift. Birthday Gift idea for daughter, best friend, mom, sister etc. Customize the ring on both ring sides - each up to seven characters. Make the gift to remember! The ring is adjustable and so perfect for gift giving.
On Mother's Day, personal gifts usually make mother's hearts beat faster. So how about an engraved piece of jewelry as a Mother's Day gift? Thank your mother with a personalized message that touches her heart.

She'll be reminded every day how much she means to you with this cute bracelet. Gorgeous gift idea for women to anniversary, birthday, or any other occasion.
Lovely cuff bracelet handcrafted of high quality sterling silver. Add your engraving to make the design personal: some meaningful words, a wish, or an inspiration quote. Prepare a fine girlfriend gift with a secret message inside inscribed. Beautiful gift, the cuff features an adjustable size and so will certainly fit!

With these 6 tips you will find the perfect jewelry gift
Whether you want to give jewelery to a woman or a man - one thing is certain: It takes a sure instinct to select the jewelery gift so that it meets the taste of the recipient and arouses true joy. But don't worry! With the following tips you are perfectly equipped for buying jewelry:

Tip 1: Pay attention: how to wear it

Your loved one doesn't have pierced ears? Then earrings are a bad choice. The same can apply to rings. If the recipient never wears rings, just ask if there is a reason for this. If you want to be on the safe side, buying a bracelet can be the solution. Bracelets are practical everyday companions and are usually adjustable in length.

Tip 2: dare to do it! Classify the style

There is no point in giving the person a multi-row chain set with diamonds if the or she wears a rather minimalist jewelry style. Pay attention to the style of the person and don't just buy the first lovely thing you see just because it's expensive or fits into the budget.

Tip 3: being attentive is everything

We wear what we like. If your loved one prefers sterling silver, then you should stick to the color silver. The same applies to yellow gold and rose gold.
Tip 4: Define the occasion and context

Does your friend work in the office and take part in many meetings there? Then a watch would certainly be a suitable everyday companion. Just imagine the person wearing the piece of jewelry you have in mind. If this picture feels right for you, then buy it!

Tip 5: Rely on quality

You have decided to give your special person a jewelry gift. Always choose a high-quality piece of jewelry made of, for example, 925 sterling silver. Other metals can cause allergic reactions and skin irritation.

Tip 6: ask directly

Sometimes you can just show your special one the piece of jewelry you have chosen and ask if he/she would like it. But be careful! This tip is only for the experienced ones, otherwise the surprise could be spoiled.

Giving your partner jewelry is a sign of your deeply felt love. Thank your girlfriend or wife for the time together, their loving manner and special charisma! A piece of jewelry with a personalized engraving or with a heart pendant is therefore an emotional gift to give your deep love a special expression. With an individual engraving, you can either immortalize a personal message, a special date, meaningful initials or the name of a loved one - or you can simply say "I love you!" With heart-shaped jewelry.

Women don't just want a beautiful piece of jewelry that fits their style perfectly. They also love surprises: The best way to create the perfect moment is to create a romantic atmosphere - the right place and time are crucial. How about a homemade dinner and a nice glass of wine? Stay romantic! Cheers!
Leave a comment
Comments will be approved before showing up.