5 Stunning Facts about Bracelets. Women Bracelets Styles.
Fashionable Personalized Bracelets for Women. Romantic Gifts for Her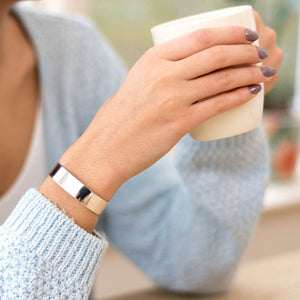 Choosing beautiful jewelry and accessories may be a ritual. If you go attentive to choosing this may help you to transform the look, accentuate what you'd like to accentuate and hide what you need. 
Women's wrist is probably one of the most beautiful parts of the women's body, tender, fragile, and sensitive. To emphasize the beauty of the wrist there is nothing better than a lovely bracelet or bracelets to adorn it. There is a wide variety of modern bracelets to choose from. The variety of designs meets any taste, both of those who like minimalist style cuffs and those who prefer fancy accessories.
We decided to introduce a selection of modern women's bracelets to you so that you could choose a couple of new ones to complement your elegant style.
Women's Bracelet Styles
Charm bracelets
Dainty bracelets paired with charms are one of the favorite options among women.
Here is a love bracelet with a cute heart charm. This silver bracelet comes with an engraved initial to make it personal.

One more charm bracelet featuring awesome initials leaf charms with birthstone crystals. The sterling silver bracelet with a shining finish looks beautiful and makes a fine accessory for everyday wear. Two leaf charms will be hand-stamped with initials of your choice and tiny birthstone color pendants. The bracelet looks tender and sweet for a romantic look.
Charm bracelets for her
Choose timeless elegance of pearl jewelry with the pearl bangle bracelet. The delicate gold bracelet is complemented with white freshwater pearls. Beautiful combination to complement any elegant outfits, both everyday and evening wear.
Pearl bracelet
Symbols bracelets
If you want not just charming and lovely but also meaningful jewelry to add to your individual style, here come symbol bracelets.
Have a look at the personalized bracelet crafted of high-quality gold filled. It comes with a hammered charm that will be engraved with any initials. What adds it a meaningful note is an infinity symbol that adds a romantic touch associated with eternal feelings.
Infinity Bracelet
One more example of meaningful symbolic jewelry is this gold bracelet. One-of-a-kind gold bracelet, Jewish jewelry piece. The focal point of the design is the Israel map with the Star of David. Lovely Judaica gift for the one who loves the country and always keeps it in the heart. This could also become a talisman that brings good luck.
Symbolic gift


Personalized bracelets to make an unforgettable gift for women
Custom engraved cuffs make wonderful gifts to inspire, motivate, and share good words and care. Here are beautiful modern bracelets that are ready to be personalized exactly as you wish.

This classic, elegant custom bracelet may be crafted in Sterling Silver or Gold Filled. This will become your favorite one-of-a-kind bracelet when engraved with an inspirational message of yours. It looks fine when stacked with other bracelets as well. Wonderful Christmas, birthday or wedding gift!
Custom Jewelry
To make a romantic gift, send her a secret message, just for her eyes. The cuff bracelet is handcrafted of shiny sterling silver 925 to be engraved with your words. It can be inside engraved to send a secret message for her only. A wonderful romantic gift idea to any special occasion!
Secret message gift


Sterling silver bead bracelet comes with a hammered, polished plate to be engraved with a name, date or some words of love. This may become a meaningful gift for a daughter or mom to show how much you care!
It comes with crystals charm shaped in a heart. The bracelet is adjustable, for small and medium-size hand! Perfect for gift giving!
Custom gifts
Personalized bracelets get their special meaning and strength with engraving. Your message makes a statement.
Like this Women's Bracelet above expresses so much of love you feel toward your sister in Christ. Beautifully wrapped, the bracelets make a nice gift especially for the friends that have truly become sisters. Sisters are special people in our life, whether they are biologically our sisters or come into our lives in a different way. Such relationships between women are so important to growing in love and faith. You can embody the symbol of the friendship with the bracelet! Handcrafted in sterling silver, it is ready to be engraved for you: with a symbol like a cross or a four-leaf clover that brings good luck. Add some words, your names, or a Bible verse. Meaningul gift that can carry a secret message inside engraved!

Here is one more beautiful custom message Gift for her. Handcrafted in the finest sterling silver, the polished bracelet features the engraving you choose - outside and inside, a secret message or a showcased symbol you wish. The adjustable size will surely fit! Perfect mother daughter gift!
Silver rose bracelet
One more gorgeous custom cuff but in gold, nice personalized jewelry piece to make an unforgettable gift. The elegant gold bracelet is crafted of shiny 14K gold filled. The romantic piece can be both sides engraved to prepare a touching gift for her to remember!
Gold cuff
Leather bracelets for women
Leather jewelry always looks distinctive and smart. Perfect for everyday wear, boho style.
Have a look at the fashionable Quality Wrap Leather bracelet with a small silver initial charm. The genuine leather wrap bracelet comes with a letter charm in Sterling Silver or Gold Filled. This is a lovely accessory to any occasion and wear!

Here is a custom leather bracelet that comes with a hammered metal plate. It will be personalized with any words, date, names, prayer or a phrase to make it unique. Looks stylish and one-of-a-kind. Nice personalized jewelry piece for the best gift!
Leather bracelets

Trendy braided leather bracelet with an initial charm. The bracelet is crafted of high-quality leather and a round charm that will be engraved with your initial. I may add additional charms as well.
Custom gift


5 STUNNING FACTS ABOUT BRACELETS

If you like not just wearing jewelry, but also is interested in the process of its creation, you should get to know the history of bracelets - these accessories are not as simple as they seem to be at first glance.

1. The bracelet wasn't always familiar to us jewelry. In ancient times, this accessory was worn not for beauty. It had to protect against the enemies. Ancient bracelets were made from fangs of animals, bones, or other improvised materials. They were worn not only on the wrist but also on the ankles.
Amulet bracelets were considered to have magical properties. Their creation was sometimes a big ritual. As a rule, they were worn without taking them off. Even now, some tribals in African countries wear unusual bracelets made of plant seeds, tree bark, bird feathers, shells, stones, and colorful minerals for similar purposes.

2. The bracelet is translated from French as "wrist". This was originally a men's accessory.
Bracelets were mostly worn by men. The very first bracelets were seen as practical things, or those having magical properties to help the warriors, and also listed their special social status.

3.The world's oldest bracelet that has come to us was discovered in 2016 in the Denisova Cave, which is located in Altai. According to archeologists' studies, the age of the finds is at least 40 thousand years. The bracelet had been artificially carved from a polished mineral.

4. In the Renaissance, the bracelet became a royal decoration. Since the precious stones and metals were used for producing them, bracelets became not only an amulet but also a sign of wealth. They pointed to the level of society the person referred to.
In Europe, back in the Middle Ages, jewelry bracelets became a favorite accessory among court ladies. But since at that time long-sleeved clothing was in fashion, the bracelets were worn directly on top or sewn along the lower edge of the sleeve.
In the Renaissance, when dresses with a shortened sleeve appeared, precious bracelets began to be worn on the wrist. During this period, such a luxurious accessory could only be worn by members of the Royal Family or very rich and noble people. Some ladies wore several bracelets made of stones with engravings on them, the first engraved letters of which formed a certain word (for example, love, happiness, or marriage).

5. The most expensive bracelet in the world is made in the form of a panther
A chic bracelet made of onyx and diamonds in the form of a panther with emeralds like eyes was made by Cartier in 1952. The jewelry was owned by American Wallis Simpson, wife of the Duke of Windsor. The Duchess was known for her elegance and sophisticated taste. The bracelet in the form of a panther was presented to her as a gift by the King of England, Edward VIII, as a symbol of love.
Throughout his life, he gifted his beloved with lots of precious jewelry pieces. Each decoration of the duchess had an engraving of a personal nature, according to which you could track a specific stage in the development of a couple's romantic relationship.
In 2010, an anonymous buyer acquired a platinum bracelet with a length of 19.5 centimeters at the Sotheby's auction. He raised the price three times from the start, despite the absence of several stones, and paid a record 12.4 million dollars. They say, this was bought by Madonna, but there was no official confirmation of this.

Share with us, what is your favorite bracelet? Maybe it also has a story?
Leave a comment
Comments will be approved before showing up.