5 simple tips on how to find your perfect jewelry gift.
Personalized Jewelry for her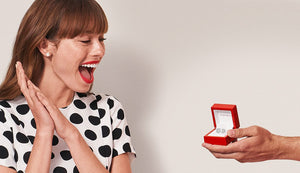 You are certainly familiar with this situation: A holiday such as Christmas, Easter, a birthday or a wedding anniversary is coming closer and you are wondering how to find a gift to surprise your loved one.
What about a wonderful jewelry gift? A matching piece of jewelry transfer your loved one happy feelings for sure!
What makes jewelry so unique as a gift?
Many things that are given away, such as flowers, chocolates, handbags or items of clothing, are undoubtedly beautiful gifts. Unfortunately, they are soon withered, eaten or integrated into everyday life.
It is different with jewelry. Jewelry arouses emotions. Because you are not only giving a piece of jewelry, but also a memory of a special moment at the same time!
When wearing it, your loved one will always remember you fondly. Hardly any other gift is so durable and still brings back beautiful memories of a wonderful moment like jewelry even after many years.
It is therefore important that you find the right piece of jewelry in which the style, material and quality meet the taste of your loved ones so that he / she will be happy about your gift for a long time.
In this post I have put together some tips that will help you choose the right jewelry gift. You can find also some wonderful jewelry gift ideas to choose from.
1. How do you find the right jewelry style?
The chances that your loved one will also like to wear the jewelry increase enormously if it fits their style. Does she love it subtle or sparkling? Should the ring be narrow and delicate or large and expressive? Does she tend to wear rings on her ring or middle finger?
If your lady likes to wear extravagant clothes or accessories, for example, then she will certainly be happy about extraordinary, unique and individual jewelry that is not available everywhere. If the lady is more of a reserved, modest type, then delicate jewelry such as filigree earrings can turn out to be a perfect jewelry gift.
It is also worth taking a look at the jewelry that is already there. What is she wearing and what is not? A new gift should ultimately match the existing jewelry.

This custom disc necklace is the piece to keep forever. A cute pendant necklace that will be personalized as you wish.
The sterling silver necklace comes with a disc tag that is ready to be customized with initials or her name. Customize the design, I can engrave something on the back pendant side as well. So you get a lovely name necklace for her birthday, wedding etc.
Sophistication and simplicity in one protection Necklace. Beautiful gift idea for the woman you love!
This is an evil eye necklace that shines awesomely. The delicate design is fashioned in sterling silver, the necklace features a small evil eye pendant. The talisman brings positive energies and protection against the evil eye.
A lovely gift for your mom, sister, best friend or special one to birthday or any other occasion!
2. Large jewelry / dainty jewelry
Most petite women think they should only wear small pieces of jewelry. If your loved one is delicately built but still likes to wear an eye-catcher: Go ahead, larger pieces of jewelry also make petite women look great!
For strong, tall women, I have a clear recommendation: You shouldn't wear jewelry that is too small, because it then looks rather lost. A large, colored piece of jewelry is a real eye-catcher. Both a more elaborate chain in the décolleté and a piece of jewelry on a long chain are a very good choice here.

Look at the personalized pendant necklace, a trendy jewelry piece in boho style. The stainless steel round washer can be engraved with a custom message up to 10 words. These can be words in any language, GPS coordinates of your hometown, names, dates etc.
3. What color should the piece of jewelry be?
Pay attention which colors your loved one likes to wear. Maybe you can take a look in the closet. If not, observe the colors of your wife / girlfriend's clothes for a few days.
Because jewelry in the colors of the clothes she wears leads to a very harmonious addition to the outfit, jewelry in a contrasting color, on the other hand, is very noticeable, and doesn't always make a good contrast.

Are you looking for a romantic message gift for your loved one? Consider the personalized signature band ring, great gift for him and her.
The gold filled ring makes a perfect background for your custom message. Let your special one know how much you love with this meaningful gift! You may write any words, dates and I can engrave your handwriting on the outside, and a hidden message - inside. Created in high quality metal the ring is strong and durable, one can wear it everyday.
The loveliest gift to any occasion: anniversary, wedding or birthday!
Unique 3D silver earrings, you can find nowhere else!
These are twist hoops, earrings handcrafted of high quality sterling silver. Big still lightweight, they are wonderful to any wear and any occasion! If you prefer gold, you may choose the earrings in gold filled.
4. Which material is the right one?
Does your girlfriend or wife like to wear silver or gold jewelry? Here, too, just take a look in the jewelry box or watch what she is wearing for a few days. She wears both? Then you can also give jewelry in both types of metal. Earlier jewelry was made with one of the two precious metals. Nowadays, jewelry made of silver and gold can be combined excellently.
Is the recipient allergic to certain metal components such as nickel or alloys? Then you should use metal-free jewelry.

A personalized gift makes it hundred times more personal! Like this drawing ring, custom engraved gift for her, the gift she will treasure!
This band ring is handcrafted of shiny sterling silver. It will be both sides engraved for you. Engrave a drawing, like on the picture: The Little Prince. Or send me a picture with your customized art to be engraved. Add a hidden message inside with some words to inspire!
Meaningful and truly unique gift idea for your wife, sister, special one or best friend!
5. The agony of choice: necklace, ring, bracelet or earrings
Necklaces and earrings actually always fit in terms of size. For rings or bangles you either need the ring size or the arm circumference or you need to look out for adjustable variants.

Looking for adjustable cuffs to make sure, they will fit? Here you have a wonderful choice of custom adjustable bracelets.

Personalized bracelet with infinity symbol to make the finest Graduation Gift. Husband bracelet with a personal message engraved.
With its minimalist design, this love symbol bracelet is just perfect for your special one. Lovely way to send him or her your love message or to make a thoughtful gift for a special occasion!
Crafted in sleek sterling silver, it won't rust or fade and is long lasting. The custom cuff can be both sides personalized with any words and even a symbol, such as a sign of infinity. It symbolizes balance, harmony, and the connectedness of all things, but above all a mature love, of course.
This fashionable cuff style adjusts and will certainly fit.
Custom cuff, nice personalized jewelry piece to make an unforgettable gift. The elegant gold bracelet is crafted of shiny 14K gold filled. The romantic piece can be both sides engraved to prepare a touching gift for her to remember!
What would you choose?
Leave a comment
Comments will be approved before showing up.