5 jewelry trends you'll love this summer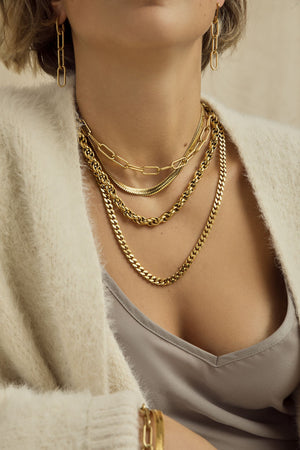 After the endless winter, it is warmer again at last. And we can finally slip into our summer dresses and show more skin. But not only that! Our accessories are also becoming real eye-catchers this season. I'll show you the biggest jewelry trends you'll love this summer and will give you some fine examples of fashionable pieces to choose from.

Already on the big fashion shows in London, New York, Milan and Paris, there were first indications of where the jewelry world was going this season. And there was one thing that all designers agreed on! The summer's motto is: Overstatement. Minimalist gold or silver jewelry is left yesterday. The 2021 must-haves impress with their large, unusual shapes, bright colors and natural materials. Here are my favorite jewelry trends of this summer, and not mine only:
Bold rings
Bold what? What sounds a bit adventurous at first is actually the easiest trend of the year. No matter whether these are large signet rings, link rings or rings with large stones and diamonds: the main thing is that the rings 2021 are big and wide. Fashionistas and influencers already love the bold rings!
The best thing to do is also to stack the large rings or wear them at different heights of the phalanx. This creates a particularly cool look. You can also mix a wide variety of metals, e.g. silver, gold & rose gold, with each other. The main thing is that no more delicate designs this summer!
Here are some fine samples for you!
Show your loved how big your love is with this large personalized ring. Lovely gift for her!
Fashioned in gold filled, the ring highlights the engraving you choose to motivate and inspire! This would be a nice personalized gift both for men and women. Customize the cigar ring with any words to motivate and give inspiration. I can also make the engraving inside for a hidden message.
A thoughtful gift your special one will treasure always, this ring comes ready for gift giving.
Parallel bar ring to add a stylish note to your image. Perfect for fans of minimalist style jewelry!
The double bar ring is handcrafted in sterling silver and rhodium plated metals. You may choose it for any occasion. Even if you wear the ring without taking off, it won't change its original look. You may wet it, when washing your hands, swimming with it in the pool or in the sea. 100% high quality is guaranteed! The ring is adjustable: you can wear it on any finger! Great to combine with other rings as well!
Statement Ring that also can become a perfect gift. Message ring to make a special gift for your true love.
The unisex ring is adjustable, perfect for everyone. Fashioned in high quality sterling silver, the band ring can be both sides engraved. I can customize the ring with your special message, for him or her only.
Chunky chains
Big, bigger, chunky! When it comes to necklaces, we stay true to the motto of the year and rely on eye-catching thick and heavy pieces. Whether worn alone or in combination with other filigree chains - chunky chains really spice up every look and make even the jogging suit look elegant.

This year, solidly crafted link chains and bracelets accompany us through summer. Alone or layered with delicate chains, the chunky chains are an eye-catcher that goes particularly well with soft, feminine looks. Another trend when it comes to necklaces are long necklaces with eye-catching pendants.

Chokers that fit tightly around the neck are a thing of the past year. The focus now is on longer necklaces. Most of the trendy items have pendants in all shapes and colors. An exact length is not specified, but the chains can even hang deep into the cleavage - which may be reminiscent of the 00s. The layered look, in which chains of different lengths and different styles are worn together, is particularly trendy.

Look at the gorgeous monogram necklace. The gold necklace features a round hammered pendant. It can be personalized with a unique monogram consisting of any 3 initials you want. Beautiful gift for your special one, mom, sister or friend!
Delicate Gold ID Necklace consisting of a long chain and a vertical pendant. I can engrave a name, initials, date or any message to customize the ID bar and turn it into a gift to remember!
Resin jewelry
Beautiful jewelry made of resin - definitely one of the favorite jewelry trends for this summer. Because the earrings and bangles, the grain of which shimmers sometimes in yellow-brown amber tones, sometimes in green, aquamarine blue or pink, just look wonderful with tanned skin. They can also be combined with almost anything.

Fortunately, no real tortoise shell plate from the shell of turtles has been used as a material for several decades, but a synthetic resin. A solid plastic, a polymer compound made of resin and a hardener, to which different colors are added when mixed. This is how the beautiful, but very light pieces of jewelry that we want to wear every day are created.
Colorful pearls & stones
The year 2021 will be colorful: Whether colorful pearls or stones - colored elements are welcome details in the current jewelry collections. If you think of grandmother's pearl necklace when you think of pearls, you are wrong. What is more in demand are natural freshwater pearls or baroque pearls, often in combination with a lot of gold. Colorful gemstones also create a positive atmosphere this summer.

Pearls are the girl's best friends now. Natural freshwater pearls that go in duet with handcrafted precious metals are in great demand - and are guaranteed not to remind you of grandma's bourgeois pearl necklaces.

What about dark pearl studs? The little studs are crafted of quality gold filled and black pearls. The pearls feature awesome luster and will add a charming touch to your style! Pearl jewelry is always in style!
Natural Pearl earrings, elegant drop earrings for women. Symbolic gemstone earrings as a beautiful sample of wedding jewelry!
These lovely dangle earrings are handcrafted of high quality sterling silver and freshwater pearls in 2 sizes, small and large.
The symbolic pearl jewelry, perfect bridal or bridesmaid earrings! The gem itself has become a symbol of perfection representing purity and love. Pearl symbolizes wisdom, patience and peace as well. The June Birthstone, this makes not just a wedding but also a lovely birthday gift!

Sweet pearl necklace, a delicate wedding jewelry piece. The necklace is handmade of a sterling silver chain and a white freshwater pearl. Pearl jewelry is a timeless classics. Great wedding gift idea!
Colorful jewelry
After the dark winter, we all are in the mood for the warm season with a little color. And so colorful pieces of jewelry enhance boring monochrome looks. The trend is evident in the form of colored stones, but also as statement jewelry with a colorful all-over look.

Gorgeous Wire Wrapped Peach Freshwater Pearl Studs. These are wonderful stud earrings, perfect wedding jewelry. You can choose Black, White and Peach pearls. Choose what you need to complement your outfit best!
Jewelry with a heart
Speaking of hearts: If you have a big heart, you should show it. For this reason, fashion jewelry featuring a heart is very popular. Whether fine gold and silver jewelry in the form of rings, necklaces or bracelets, cute studs or classic medallions: heart jewelry is the ideal gift for your partner, best friend or yourself.

Are you looking for simple yet eye-catching earrings? Or maybe for some studs for your second piercing? If so have a look at the tiny heart studs!
The heart earrings are handcrfated of high quality sterling silver. The studs are lightweight and just perfect for every day. Great for mulitiply piercings.
Are you a lucky mom of a beautiful daughter? If so, give her this custom bracelet engraved with her name.
Sterling silver bead bracelet comes with a hammered, polished plate to be engraved with a name, date or some words of love. A meaningful gift for daughter or mom to show how much you care!
It comes with crystals charm shaped in a heart. The bracelet is adjustable, for small and medium size hand! Perfect for gift giving!

What trend is yours?
Leave a comment
Comments will be approved before showing up.