15 Very Best Ideas for New Year Party. Crazy Gift Ideas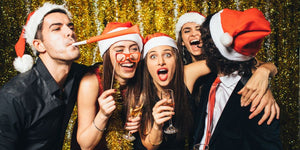 The very best ideas for New Year Celebration!
New Year is the brightest holiday in the year, it's an opportunity to have fun, take a few days off from work, analyze the achievements of the passing year and make plans for the future. Do you and your friends or colleagues plan to celebrate the New Year 2020 with a loud party?

Here you get original ideas for a great New Year party! Choose the one you like most!

INVITED SINGER
New Year songs, as well as songs of popular stars, are an important part of the holiday. Why not invite your favorite stars to your party? What singer to invite depends on how much money you are ready to pay for the star of the evening.
We advise you to check the prices on the market for such services, sometimes the costs can turn out to be different than you thought, and "a distant star" may take less money than "a local one".
COSTUMED PARTY
Rabbits, snowmen, and snowflakes are common heroes on the holiday of your child in kindergarten, but also in your office, such figures can cause unprecedented excitement. Think about yourself in a costume of a snowflake, your favorite chef with ears and a tail and fluffy friends. That all can amuse you much more than any invited star.
There are two options for such parties. First: all office employees or all friends dress up in carnival costumes that they like, without any requirements, relying on their own intuition in choosing a costume. The second is a theme party. In this case, the theme of the holiday is chosen, and all guests should be dressed in a certain style.
We advise you to choose an unusual topic. If you celebrate at your corporation, and your boss is a handsome man who is always stylishly dressed, then let him play the role of James Bond, and the role of his girlfriend can be played not by a secretary, but by an accountant because this is also an important person in the structure of the enterprise. And the whole team can transform into secret agents.
For the celebration with your friends, you can choose a circus theme. Think about how many characters can be taken: clowns, gymnasts, actors, animals, etc.
A Stars-party is another option to celebrate the New Year holiday choosing an image of famous artists. Extravagant Lady Gaga, blond Paris Hilton, eternally young Monica Bellucci, handsome George Clooney, sexy Madona ... The stars may walk along the red carpet and even sing their hits.
QUEST
In order not to sit the whole party at the table, eating and talking, you can be solving a quest. Going into a quest room and passing all obstacles in a limited time is not as fun as developing your own script and route.
Depending on the size of the team, you can choose a theme and direction the team must move solving some tasks. If you decide to offer a quest, be prepared for the fact that you will have to work first on the idea and development of tasks, and then someone could help you with their implementation.
CULINARY TASTING
If you and your friends are gourmets, why deny yourself a tasty treat, a delicious holiday?
You can organize your party in the chicest restaurant. You can organize the party at a restaurant with one of the national cuisines, or Brazilian, Japanese, Mexican, Georgian, Italian, Indian ... It is only necessary to arrange with the chef to prepare a special menu with tiny portions for the party in advance. After all, this is a tasting and not a regular dinner, you can taste at least a dozen dishes.
And you also need to prepare the info about all the goodies, maybe invite a qualified sommelier, who will teach you how to understand wine and what to drink it with.
CRAZY SANTA CLAUS
If you are going to celebrate just with your nearest and dearest, you may organize a surprise by yourself. Be Santa! A crazy one, that means, be generous enough to prepare the gifts your family and best friends were dreaming long for. And make a presentation of the gifts. For example, if your friend has been dreaming about a trip to a destination, book a tour, but first, prepare the slide-show about the destination, and only after showing it surprise your dreamily smiling friend with the gift!
Don't forget a personalized jewelry gift for your loved one! New Year is the time of wonders and the day to make love confessions again!
Handwriting Engraved Jewelry Gift


MASTER CLASS
Learning something new will never be superfluous. Nowadays there are so many workshops that it's hard not to get confused and choose the one that will appeal to all participants. First, you need to take into account what would be interesting for every one of your friends.
For example, your team consists of young mothers, so choose a workshop about babies' health or of time-management one that is certainly needed.
If you have creative friends, a photography workshop by a popular photographer will please everyone. The results of your workshop - pictures - may decorate your new year night then!
EXCURSION TO THE CHRISTMAS TREE TOYS FACTORY
Take your children with you and go to the Christmas tree toy factory. The tour may begin with a workshop in which the future toy is born. You can follow all the stages of the process of making beautiful Christmas tree decorations that everyone loves. Hand-painted toys will bring you into fairy tales.
You will also be able to create an exclusive Christmas-tree decoration with your own hands or buy a toy that will be specially made for you. The fabulous atmosphere will stay with you, be sure. Bring the toys home to decorate your Christmas tree and celebrate bright with the magical notes given from this art!
TRAVEL
Traveling together is a great idea for a longer New Year holiday. Going to a fabulous new city, living in a luxury hotel and going along Christmas decorated streets together with friends is so wonderful! If your budget allows, you can go all together abroad, recharge your emotions and enjoy the New Year travel in its fullest.
SKATING OR SKIING
Snow fun on the New Year holidays is always welcome. Go all together to ski, skate or sledge. Make a snowman and play snowballs, and it doesn't matter that you are no longer school children. Have fun!
KARAOKE
Joyfully singing "Jingle Bells" or "All I want for Christmas is You" in karaoke, dancing to singing can create a better mood than any other activity! Choose your DJ, the music taste of which you trust, and sing like a star!

THE CIRCUS
Book your circus tickets in advance. Laughing, watching the awkward clown, watching gymnasts making impossible tricks, - another idea for a fabulous New Year party.

NEW YEAR'S SHOW
Prepare your own special holiday show. Why you think, it's only on Broadway the best show? Make better! It's New year! Everything is possible! All your phantasy can be freed for that, and friends will be happy to help with the preparations, cause the preparation itself may be even more joyful than the party ; )
PHOTOSESSION
You can capture the last moments of the passing year with the help of a photographer who will take vivid photos. A collective photo shooting is an excellent idea. You can take pictures in a photo studio, at home or outdoors if the weather is snowy. When else taking pictures if not on the days when everyone is in a good mood and looking forward to miracles?!
BOOK WITH NEW YEAR RESOLUTIONS FOR THE NEXT YEAR
Before the start of the New Year celebration, you can suggest all the friends create a common book in which all the goals and plans for the coming year will be visualized: goals, together with some planned methods of their achievement, encouragement, wishes, and dreams.
Make some preparations, picking up all the necessary stuff for creating a colorful book with Pinterest pictures, or prepare some magazines to cut from them pictures, relevant to the visualization of the wishes.
Believe us, this is not a boring monotonous occupation at all. After all, all the ideas expressed can be discussed in a funny way, a bottle of champagne and tangerines are necessary too, of course. And exactly one year later, at the next New Year's party, it will be so nice to take the book and see what came true...
The best time to visualize dreams is the New Year and Christmas holidays.
NEW YEAR'S PARTY FOR FRIENDS ON A DISTANCE
The fact that your best friends are far away does not mean that you and they cannot feel the holiday spirit. There are many ways to celebrate, hey, the internet is a good invention, isn't it? You can create a joint movie viewing or arrange a game battle in online games.
Also one of the most popular holiday games that is suitable for this case is Secret Santa. The essence of the game is to exchange gifts between friends. The name of the person to whom you give the gift is selected randomly and is only reported to you. Not a single participant knows who got his or her name. There is also an agreed fixed sum one can spend on the gift. You need to prepare the gift secretly. Parcels with gifts are sent on the appointed date, the only condition is not to tell the name of the sender. Guessing exactly who became your Santa Claus is just as interesting as getting an unexpected gift.
Let your dreams come true! And start with the dream of the best New Year party you can arrange by yourself!
Leave a comment
Comments will be approved before showing up.