10 Wonderful New Year Gifts to make your Friends smile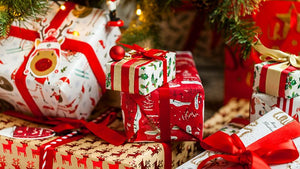 This wonderful winter time of year presents an opportunity for us to share love with all the friends and family, give gifts that are meaningful.
If you choose a personal thing, this would make a gift more special. No matter what your budget is, you can always find something special for your loved ones and friends. Handmade gifts have that power to bring a unique emotion, cause these are one-of-a-kind pieces and nothing can be more special.
We've selected here gifts that you or your friends will surely find useful with the new year around the corner. You are invited by your friends to celebrate the beginning of the new year? Bring some joy with the unique gifts! Here you will find your idea for the friends you will surely like!

Handmade jewelry piece
Handmade bracelets, pendants, earrings, rings are really unique. You can choose a design that suits your friend's style best. From a wide range of the jewelry creations choose the one that reflects the personality of your friend. In this case your gift would be certainly loved.
If you celebrate with a couple of your friends, you may choose a pair of similar rings or pendants for them. Such things are appreciated by the couples as well. This is a kind of a gift to keep forever!

Unique personalized jewelry
Custom bracelets, personalized necklaces - these are gifts that feature that unique flavor. Especially if you choose a meaningful engraving for your friend. This may be a quote to motivate, some funny words, an inspirational moto or a date to remember. You may create a protective, symbolical thing.. the possibilities are endless. Unchain your fantasy!


The Productivity Planner
A good planner can help to achieve balance in Business, Family, and Personal Life. A Productivity Planner has a system that helps to rate your productivity at the end of each day. Perfect for those who want to achieve daily goals consistently.


Fujifilm Instax Mini 9 camera
This is a fun camera that produces instant credit card size photos. It is a great present for anyone who likes to collect the moments. Printing pictures is much better than accumulating digital files. Great camera for parties, so you can start taking first New Year pictures together!


Fitness watch
The wearable technology gives you now an opportunity to understand your body more than ever before. Simple, super light, it can be with you while you're running, walking, cycling, swimming. It tracks heart rate at the wrist, activities such as steps, sleep, distance, pace, calories burned etc.
Available in different colors and designs!

Wine Glasses
Do you like spending calm evenings with your friends at fire drinking wine? If so, wine glasses would be a great gift! Don't forget to add a good bottle of wine to the gift!


Fondue Tower Set
One more perfect idea - chocolate fondue set. Include dark, milk, and white chocolate bars to the gift, buy some fruits - and the dessert for the new year party is ready!


Monopoly Bobs Burgers Board Game
Make the tradition of spending evenings with friends playing board games live! There is a funny one: Bob's Burgers movie with this themed twist on the classic Monopoly board game. The game's rules are the same, but everything - from cards to money - is customized to resemble the Belcher family's animated world.

Pet Bed
Do your friends have a pet? They say, small dogs like the security of a dome-style bed, So your friends who have such a dog will surely be happy with a stylish hideaway.


Cocktail Shaker Set
Encourage your friends to up their cocktail game with an adorable tool set that'll match most home décors. Cocktail set is one of the best New Year gifts ever! Let your night be tasty!


New Year is about new beginnings, plans, but also about much fun and warm wishes, personal gifts! Can you combine all those components into a perfect gift? We are sure, you can!
Leave a comment
Comments will be approved before showing up.