10 Unique Christmas Gifts for Couples Who Have Everything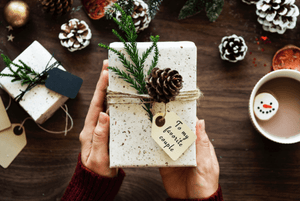 What is your favorite season? Maybe it's winter, cause the most wonderful holidays are there. 
Christmas is coming! Hurry up! Last chance to prepare best gifts for your friends! We'd like to share with you some wonderful gift ideas for married couples to surprise your favorite lovebirds. When it comes to choosing gifts for couples, you may face the problem, they already have everything. But if you take some time to look for a beautiful sentiment, you will find out: there are a lot of ideas to choose from.

Even if your couple seems particularly hard to please, we do hope, our thoughtful gift ideas will help you. Discover the most unique couple's gift for your married friends!

Personalized Jewelry
Personalized bracelets or pendants are one of the best gifts for couples who have everything. Choose a jewelry piece in a unisex design, so that both become similar pieces. Personalize the bracelets with their initials or names. You may also engrave a wish, a prayer or a motivate quote. Make the pieces really special! Choose a classic minimalist design in order to be sure: your choice will be loved. It is an original and unique gift that will always remind of you as well!


Couples Sweatshirts
Sweatshirts are a wonderful way to celebrate the couple's love. Whether they have been married for years or are just newlyweds, this gift will paint a smile on their faces. Choose sweatshirts with a Christmas pattern or with a funny quote! What's important the gift holds functional value as well.


Scratchable Travel Map
Do your friends like to travel? For those with wanderlust, a scratchable travel map will be a great gift! Perfect gift to keep track of the places they've been or dream of. Let's be honest: just rubbing off the top foil layer to reveal a lovely map underneath is a pleasant process itself! In a few years or even months, they will get a beautiful wall hanging to show their adventures for everyone. you may point with a pin to the place there you could travel together next year.


Love Picture Print
Your couple would surely cherish a photo print of them. Memorable photos hold lots of meaning for couples. Thus a picture may hold the most memorable day for them, like a wedding one with a special date added. Don't they have any good pictures together yet? Don't leave it like that! Give them a photo certificate to make those family portraits and print them! Yes, in our digital world printing pictures gains a special meaning again.
Custom Portrait
Custom portrait of Couple is one more thing to appreciate. A custom portrait is meant to capture and bring out their personality. Do they have four-legged family members? Include them to the ordered portrait too!


Funny Key Rings
Custom couples' key rings featuring a funny or romantic quote will surely become treasured keepsakes. Perfect gift for any pair of lovers. Be sure, they will smile every time they open and close the door looking at the keychain!

Couples Pillow Cases
Funny custom pillowcases are top among the gifts for the couple who has everything. Order to personalize them with the whimsical concept and your friends will always remember your thoughtful gesture.


Pet Portrait
To make a portrait theme complete, let's think about their fluffy friend! Renaissance pet portrait is a great gift idea for married couples. Lovebirds adore their four-legged friends, and so no gift can compare with the custom portrait of these. Don't forget to frame the picture beautifully to make it ready for viewing on the wall!


Relationship Journal
A Relationship Questions Diary To Build Trust And Emotional Intimacy provides couples with meaningful questions to explore the deeper emotions and needs of each other. Great gift for couples who like spending evenings together speaking and enjoying discovering each other.

Double Hammock
Colorful hammock that can securely hold two people, as well as packed up and moved easily, so that your couple can take this hammock with them for trips or hikes. What can be better? A comfortable and unusual way to lounge outside, and a romantic one, what important!


Choosing gifts for couples their hobbies and interests may become a starting point. A gift they might need for their hobby or likes is always a good one. What they need for the home is a nice option as well. But don't forget, it's Christmas time! So add some glance of wonder and romantic to the gift!
Leave a comment
Comments will be approved before showing up.