10 Stunning Gift Ideas for boyfriend. Personalized Jewelry Gift ideas for men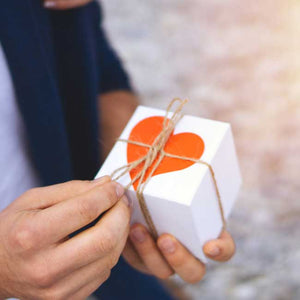 Do you feel the same way sometimes? You can't find any suitable idea to give your loved one for a birthday, Christmas, Valentine's Day, or any occasion like that? I can absolutely understand that!

That's why here is one more list of great gifts for him from me. I tried to avoid typical ideas like cinema vouchers or restaurant visits, here are a few more creative ideas that can stay in memory for a longer time.

When it comes to a gift, it's actually about the gesture, attention and not the material value, right? The main thing is the wish to give him something special comes from the heart!
1. Personalized Jewelry
Give him something really special, uniquely made for him like a custom jewelry piece. What can it be? A cuff bracelet or a ring with a love message from you. Actually, personalized jewelry gives you so many options to choose from! You may choose a gift to remember, one to motivate, inspire, send words of encouragement, or just to express how much you care. You may go a classic way and choose an engraving such as initials, names, or dates, Or you may be creative and choose an unusual engraving such as GPS coordinates of a place you were happy together, lyrics from his favorite song, symbols etc.

Here are some samples of fine modern custom jewelry for men to choose from.

This is a custom pinky ring for a stylish look. Message ring to make a wonderful gift for him.
The ring is perfect for a man who prefers simple-yet-powerful expressions of love. Fashioned in high-quality sterling silver, the signet ring looks great as it is, or can be both sides custom engraved. Send him your love message, for him only, inside the ring engraved. Beautiful boyfriend gift for a birthday!
Ring for him
Consider the high-quality sterling silver cuff that is ready to be personalized for you! Engrave some words to inspire, motivate, or create an ID cuff with a signature! I can both sides engrave the cuff. You may send me a picture with a handwritten text and it will be quality engraved. Gift for him? Add that secret message inside for his eyes only!
Message cuff for him
You may order a gift for you both, personalized uniquely.
Created of quality sterling silver, the wonderful couple's style band rings make a fine gift for her and for him. Customize them both inside and outside with a custom soundwave engraving! Record your message or heart beating to tell about your love and I'll engrave the waveform.
Couple Rings
One more unusually engraved gift. Custom leather wristband with a one-of-a-kind engraving, a special gift for him. I can engrave the leather cuff with a soundwave message. You must just record a message on your smartphone, make a Print Screen of it and send it for engraving after ordering the product.
Custom Gift for boyfriend
If you can't spend that much or are looking for a little addition to the main gift, you can consider some inexpensive gifts for your boyfriend.

2. A photo album with pictures of happy time together
Shared experiences and unforgettable moments are what really keep two people together. So why not keep all these memories in the form of a photo album and give them to your boyfriend?
Just choose the funniest, most beautiful, and loving pictures from the last months or even years and stick them in a lovely photo album. Then write a note to some pictures - and a great gift is ready!
3. Cooking evening with his favorite food from abroad
Does your boyfriend or husband have a very favorite cuisine? Maybe he is very fond of Thai, African or Mexican food?
Then just give him a self-made voucher for a cooking evening together. Order all the necessary ingredients, maybe some can be brought from abroad specially for you, and then cook together. After all, it's a lot more fun and always provides much fun! :)
4. Best beers of the world gift box for men
Well, you may say, beer as a gift doesn't seem particularly exciting and creative at first glance. But! The beers of the world in a gift box, however, do. Especially if your boyfriend not only likes beer but also likes to travel. The gift box may contain different types of beer from different countries. For example the popular Tiger beer from Singapore or the Saigon beer from Vietnam. Don't forget to add a small information brochure for each beer. You may pick the bears for the set by yourself, or choose a ready beers gift box.
5. Wooden grill cutting board with individual engraving
Is your boyfriend an absolute barbecue lover? If so, then he will definitely enjoy a barbecue cutting board with an individual engraving and his name on it. You can choose and determine the engraving + name yourself of course.
Add some more grilling utensils, and organize together a grill party for your friends.
6. Scratch-off world map
A scratch map is a super cool and creative gift idea! With a scratch map, he can scratch off all the countries he has visited. This turns the initially monochrome map into a colorful and extremely colorful world map over time.
It's just a really nice feeling to uncover the map piece by piece together with your partner. Before you set out on our world tour together, present him a map and enjoy making it colorful with experiences of visited countries!


Shared experiences
...still make the best gifts of all. You will experience an unforgettable time together, which will burn itself deeply into your memories and which connects you more closely. Here are some ideas for you.

7. Go wild camping together
It costs little but is a unique experience and a little adventure. The special thing about wild camping: you are completely alone and on your own. There are no other campers around you and you have nature just for you.
Preparing a little something on the gas stove together, watching the starry sky in the evening and then falling asleep in a sleeping bag together not only welds together, but is quite romantic in its own way.
If you don't have a tent, sleeping bags or other equipment, you can definitely borrow it from friends or a travel firm.
8. A city trip together
Surely there is at least one city where you both always wanted to go. If such a tour does not exceed the budget, a city trip there is certainly a wonderful gift for your boyfriend or husband.
Can it be something more beautiful and romantic than getting to know the new corners of the world together. Even if it is "only" a new city.
9. Overnight in an extraordinary hotel
There are bad hotels, there are good hotels, and then there are extraordinary hotels. Accommodation where you immediately think: "Wow, how great! I really want to stay here."
Give your boyfriend a night in a really special hotel for a special occasion. Of course only in a double room so that you also have a place to sleep ;)
No question about it, hotels like this usually cost a lot of money. Nevertheless, the prices vary, and you can afford it once in a while for a very special occasion. Its exclusiveness turns it into a gift to remember.
10. Massage course for couples
Honestly. Everyone loves to be massaged by the partner. And what do you think of giving your boyfriend a massage class for couples? You both learn there the most important basics, you can practice on each other and have a lot of fun and relaxation. In addition, future massages at home will be significantly better. Sounds great, doesn't it?


So, I hope you picked here some nice ideas. Search in my blog for more! Enjoy!
Leave a comment
Comments will be approved before showing up.