10 CUTE THANKSGIVING GIFT IDEAS to show your love and gratitude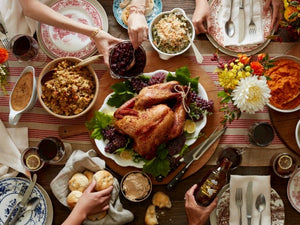 Thanksgiving Day is a holiday celebrated by Americans on the fourth Thursday of November. The holiday celebrates the story of the Pilgrim's meal with the Native Americans and is reserved as a time to spend with loved ones and for giving thanks.
Saying Thank you - how often do you do it? The holiday reminds us of importance of these words. 
Families gather to have a large meal, there are different variations of this celebration. The tradition to mark the harvest season with special meals and festivals of thanks dates back to ancient pagan festivals. Earlier the day was seen as a celebration of the harvest, a commemoration of the pilgrims' successful harvest with the help of Native Americans. Today Thanksgiving Day is a communal celebration marked as a sense of gratitude people feel for all the good things in life. This is the day when the family comes together.
Family feast is an important and beautiful tradition during Thanksgiving. The entire family comes to the table to spend the time together, sometimes to meet relatives living in different places, the finest occasion to come together and celebrate.

This is also a chance to share the gratitude we feel to people we love. Often we forget to say the words of love to those nearest and dearest. Perhaps we think, they know it by themselves or it's not the right moment. Maybe these holidays and occasions do exist to remind us of the necessity saying "Thank you" and "I love you". Share your warmth, love and gratitude in the cold autumn days with your family. Give something to give them a reason to smile. That can be something small just like a sign of your attention or something to keep, remember and treasure.
Warm light
Make the autumn cozy with the candle light. A candle is always a nice choice for a gift, especially in that rainy season. Choose one with a tasty scent. Have one burning in the house with that scent is always a good autumn idea.

Bar accessories
One more great gift, for fans of mixing cocktails or or for those who just moved into a new home and might be hosting their first Thanksgiving. Give a funny bottle opener, custom personalized, with a six-pack or two of local craft beers.

Custom Bottle Opener Keychain - Personalized Mens Keychain
A gift to remember
Do you want to give something special. A personalized jewelry piece would become a perfect gift to treasure. Order an engraved bracelet or necklace with a beautiful quote to inspire or motivate! You may engrave the words of gratitude to your mom or dad for being always there for you. Or give your sister a custom jewelry with the words saying you are grateful for having such a friend only sister can be. This is a beautiful way to express your feeling with a beautiful piece that may always remind of you..and just complement a personal style of the person.
Fancy Chocolate
What can be better that an autumn evening with hot tea and chocolate? Choose some chocolate masterpieces in a fancy box, enough for all those autumn evenings. Chocolate makes everything better. If you add some coffee from your favorite coffeeshop, what more can one wish in autumn?
Board games
The holiday is also about coming together, getting the head out of the smart phones and iPod. Spend an old-fashioned Thanksgiving Day with a fun board game. Choose a traditional game all your family members know or a new popular board game and bring it to Thanksgiving dinner.

Homemade gift certificate
It's a cute idea to become a "Thanksgiving helper" on the turkey day. You know, sometimes cooking Thanksgiving dinner can be a stressful, overwhelming responsibility! Offer your help for the Thanksgiving Day. You as an assistant of the chef, party planner, and organizer, your attention and time can be the best gift the hostess will be forever grateful for.
Family movie
One more way to spend a fun evening together, laughing and being joyful: a classic or new DVD to watch after Thanksgiving dinner (if of course there isn't a football game as the drawing card).

Thanksgiving gift basket
Gift baskets are always a fine gift idea because they are truly irresistible: practical, thoughtful, and they can be both inexpensive and precious. They suit all personality types and lifestyles.
Decorative Plate for Future Dinner Parties
Subtle and elegant plate to serve cheese or the delicious dishes to the guests for years to come.


Write a letter
If there is someone in your life you are especially grateful for, let them know now. Maybe it's a mentor, friend or someone who lives far away. Write an old-fashioned, handwritten letter to let the person know what he or she means to you and why you are grateful to have the person in your life. Nowadays handwritten letters mean so much more, so show that to the person you care about. Chances are you will make their Thanksgiving day much sweeter.
Being grateful is an important component of being alive, being happy and make other people happy. Just being grateful is not always enough.. Sometimes we should share the feeling, say the words of gratitude, make the gifts to remember.
Leave a comment
Comments will be approved before showing up.