10 Best Christmas Gift Ideas for your (not so) Small Daughter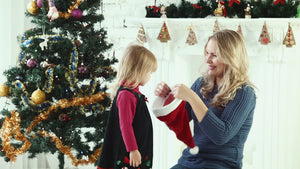 Choosing a daughter gift to Christmas and looking for a piece of advice? Let us ask you: how old is she? Then it will be easier to guide you through the article.
Cause for mom 10 y.o. daughter and 30 y.o. daughter may still be a little girl to take care for. We understand that, so we have chosen some ideas that may become a perfect Christmas gift for your daughter regardless of the age. This means, these gifts may have different variations: to make a fine surprise for a little princess as well as for your grown up lady.

PERSONALIZED BRACELET
Every girl and woman loves jewelry. The tastes differ. But if we are speaking about a gift, this should be something memorable, a piece to treasure, then this will be for sure loved. Choose a fine personalized jewelry piece, like a custom bracelet. Engraved with the words from your loving heart, this piece will stay in her jewelry collection forever. What to engrave? It's up to you. Christmas time: so you may just remind of a magic moment of the passing year with a date engraved, or these may be some words of love and gratitude. You may choose a quote that will always inspire her. Send your daughter a hidden engraved message for a secret, you can share only.
Inspirational Mother Daughter Bracelet


AN INSTANT CAMERA
This is a fine toy both for small and big girls. An instant film camera is a fun way to carpe diem, what means to catch the moments! It's a toy for those who like quality photography. But let's be honest. The camera is not about pictures themselves, but about the way of taking them..a simple magic! And yes every single girl is delighted by its cute design.


A COOL (AND COMFORTABLE) BIKE
A bike is the best gift for every occasion for those who love riding! But most importantly, if you choose both a comfortable and easy to ride one, a lovely looking as well, your daughter will surely keep it for years.


A GIFT SET
Can't decide what to give? Difficult to make a choice for one thing? You don't need to.. Combine some things into one gift set that always makes a great gift. These may be lotions, bath bombs, and soaps. Does your daughter a chocolate addicted one? Well, Christmas is a good time to pamper her with most delicious chocolates. This can be a cosmetics set with her favorite items.


A SET OF PENS
If you're looking for a gift for a little girl, these can be pens for making her unique pictures. If for a big girl, quality pens to write with are always a practical thing. Mostly we don't spend money for those lovely and expensive ones. But you can choose those pens she will never buy for herself, unusual and beautiful ones she can use all year long.


WIRELESS HEADPHONES
Quality headphones designed in a modern style. Headphones that sound great and feature bright colors, completely wireless in addition - would be appreciated by every music fan.


A SALT LAMP
Salt lamps help detoxify the air. This is also a cool addition to her room.


A RECORD PLAYER
Are you a vinyl-loving hipster? Turn your daughter into the faith. A Bluetooth player, easy to use and portable to set up anywhere can become the best gift ever, especially for those who have a good music taste and can't live any single day without music.


TRAVEL MAP
Is your daughter of that adventure type? Find a beautiful world map and plan together with her dream trips for the next years. If your daughter is too small to travel alone, you may plan your family trips or just dream together sitting under the Christmas tree.


LARGE BLANKET
Give her your warm hug with a big colorful blanket. You may also order a personalized one with some warming words. The best gift for cold winter days!


Surprise your daughter! Give her a gift she doesn't expect! Cause Christmas is the time of surpises and some magic. You believe in it, do you?
Leave a comment
Comments will be approved before showing up.